First Alert: Tracking a slightly cooler & breezy Saturday
A cold front pushed east this morning, giving way to breezy winds, slightly cooler temperatures and clearing of the clouds.
Published: Apr. 21, 2023 at 5:34 AM CDT
|
Updated: Apr. 22, 2023 at 9:02 AM CDT
MONTGOMERY, Ala. (WSFA) - A cold front that brought showers overnight has quickly moved east. Behind the front, we will be drier conditions and plenty of sunshine. It will be slightly cooler post front, as highs return to the 70s this afternoon. Winds will also be noticeable today around 10 to 15 mph out of the north with gusts occasionally over 20 mph.
Tonight, temperatures will dip into the 40s and 50s under partly to mostly clear conditions. Winds will remain out of the north around 10 mph early in the evening, becoming light to calm through the night.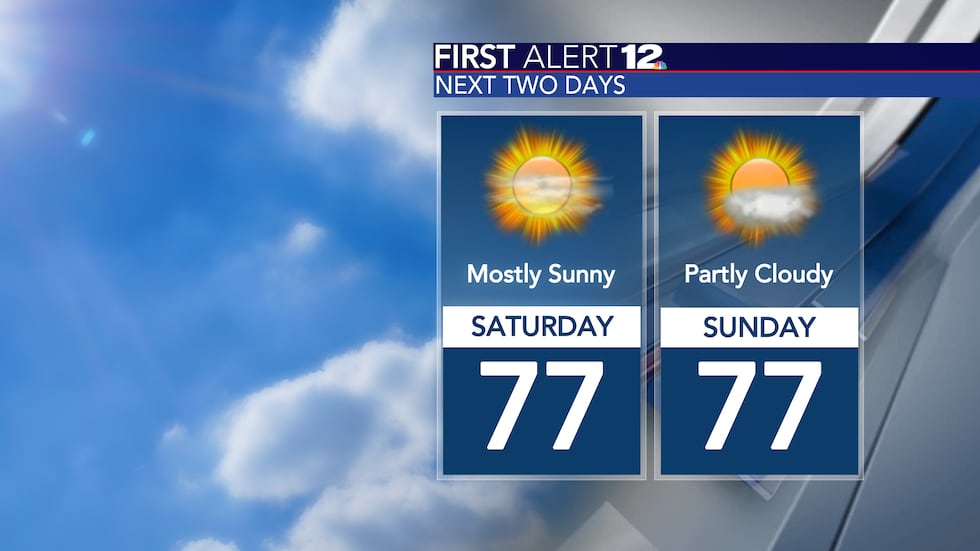 Sunday will feature mostly to partly cloudy skies. Afternoon highs will again top out into the 70s with north winds around 5 mph. Clouds increase Sunday night and lows will hover in the 50s, north winds will remain in place around 5 to 10 mph.
Monday will feature dry conditions under a mix of sun and clouds. While Monday is looking dry, we are tracking an unsettled weather pattern starting Tuesday lasting through the end of the week. Right now, the forecast favors Tuesday and Wednesday as being the wettest days. Some thunderstorms are possible midweek but it's too early to discuss the prospects of any severe weather at this time.
Confidence greatly decreases to close out next week. Our two main long-range forecast models diverge substantially Thursday and Friday regarding both rain chances and temperatures. So we'll take the middle of the road path for now with highs staying in the 70s and a 40% chance for wet weather Thursday and Friday.
As of this writing, next weekend also features a few rain chances, something that the First Alert Weather team will keep track of through the weekend and into next week.
As always, remember to download the free WSFA 12 News First Alert Weather app. That way you can gain the latest weather information from the First Alert Weather Team wherever you go. Just search WSFA Weather in the Apple App Store or Google Play store today.
Copyright 2023 WSFA. All rights reserved.