'Best birthday': Kentucky woman wins $500K from husband's lottery scratch-off gift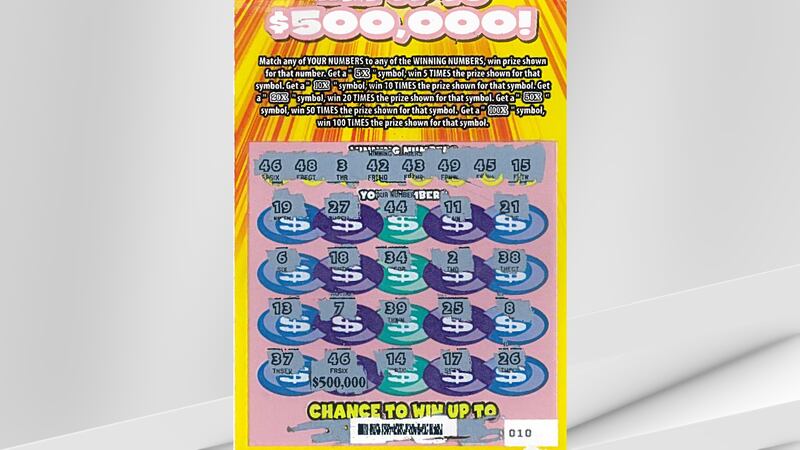 Published: Apr. 24, 2023 at 10:43 AM CDT
LOUISVILLE, Ky. (WAVE/Gray News) - A Kentucky woman is having a great birthday after she won $500,000 from her husband's lottery scratch-off gift.
The man, who wished to remain anonymous, said he bought the Kentucky Lottery tickets as a gift because he couldn't think of anything to get her, WAVE reports.
"It's hard to buy for somebody who has everything, so I thought, 'I'll give her $100 in scratch-offs,'" he told lottery officials.
On Tuesday, the man went to Our Place Liquors in Louisville, Kentucky, where he normally goes to play the lottery. He purchased two $20 tickets and asked a friend to pick the rest.
Lottery officials said the man bought a total of $100 in tickets.
The man handed a birthday card filled with the tickets to his wife when he got home.
"She comes walking in the living room and she says, 'Please tell me you didn't give me a joke card.'" he told lottery officials. "I said, 'What?' She said it again, and I said, 'Babe, I don't joke about money.'"
The woman had matched the number 46 on the bottom row of the $20 Wild Numbers 100X ticket, winning the game's $500,000 top prize.
Officials said the man showed up at lottery headquarters the next day and took home a check for more than $356,000 after taxes.
"I told her this will be the best birthday we'll ever have," he said to officials when picking up the check. "No way this will ever happen again."
"If it happens on any day, that's a miracle but for it to be her birthday, are you kidding me?" he said.
The couple said they do not have immediate plans for the winnings and will place it in savings for now.
Kentucky Lottery said One Place Liquors will receive $5,000 for selling the winning ticket.
Copyright 2023 WAVE via Gray Media Group, Inc. All rights reserved.