First Alert: Scattered storms Wednesday and Thursday
Cool start, warm finish for Tuesday
Published: Apr. 24, 2023 at 5:33 AM CDT
|
Updated: Apr. 24, 2023 at 10:45 PM CDT
MONTGOMERY, Ala. (WSFA) - The last week of April is upon us, but it's not as warm as you might expect. We struggled today to heat up today, even with sunshine making a comeback this afternoon; temperatures only climbed into the upper 60s across central Alabama and low/mid 70s for far southern portions of the state. Are we complaining? Probably not, but it is worth noting that these numbers are cooler than normal! Milder, more seasonable days are ahead, but that increased amount of warmth means wet weather might not be too far behind...
We will deal with a few clouds tonight, otherwise it is quiet and lows dip to either side of 50°. Temperatures may start off cool during the morning hours, but we finish a little bit warmer in the upper 70s and lower 80s.
Scattered showers and thunderstorms are possible on Wednesday... a better chance of rain and storms will occur Thursday into Thursday night as an area of low pressure swings on through.
Depending on how this system evolves and progresses, there could be some strong storm potential.
This is just something we're monitoring at this point, not something to be concerned about. If anything changes we will provide updates!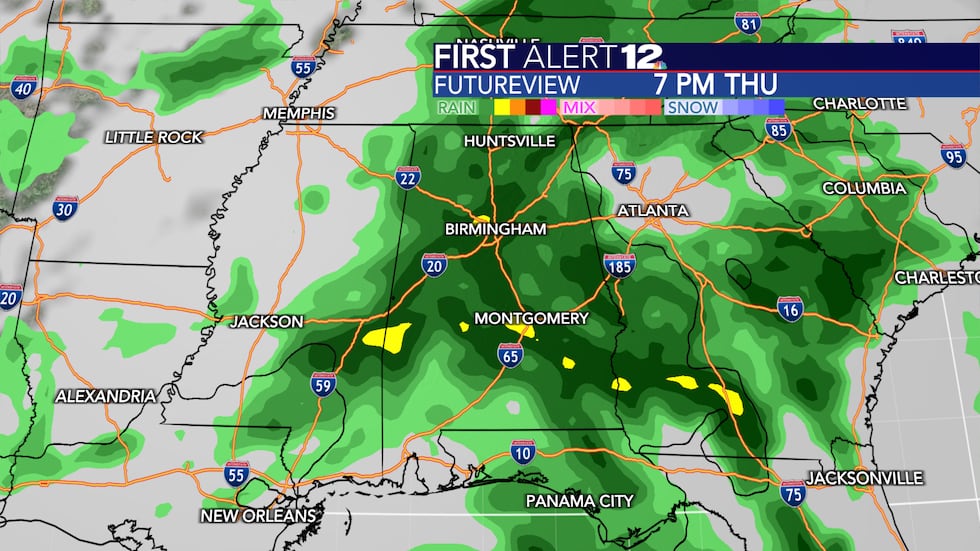 Conditions dry out briefly Friday into Saturday before another system arrives late Saturday into Saturday night; this one will bring a lower chance of showers and thunderstorms with it.
I would not worry about Saturday plans at this time, but know the scattered chance of rain is at least there later in the day Saturday.
Things will dry right back out for the second half of the weekend with cooler temperatures.
Highs will go from near 80 on Thursday, to the upper 70s on Friday, to the lower 80s on Saturday, back into the lower 70s for Sunday. Some upper 40s are even possible as you wake up next Sunday morning!
As always, remember to download the free WSFA 12 News First Alert Weather app. That way you can gain the latest weather information from the First Alert Weather Team wherever you go. Just search WSFA Weather in the Apple App Store or Google Play store today.
Copyright 2023 WSFA. All rights reserved.