12 years ago: The April 27th tornado outbreak
The outbreak brought 3 different waves of severe weather to Alabama
Published: Apr. 27, 2023 at 9:59 AM CDT
|
Updated: Apr. 27, 2023 at 5:39 PM CDT
MONTGOMERY, Ala. (WSFA) - April 27, 2011, will forever be implanted in the memories of Alabamians for all the wrong reasons. That exceptionally dark day brought one of the worst weather days in the state's history.
The 2011 Super Outbreak spanned four days and impacted 26 states. Alabama was the hardest hit by far.
There were three rounds of severe and tornadic thunderstorms that moved across the northern half of the state that Wednesday. The first came early in the morning in the form of a quasi-linear convective system (QLCS). This intense line of storms produced widespread damaging winds and numerous tornadoes, including multiple strong (EF2+) ones.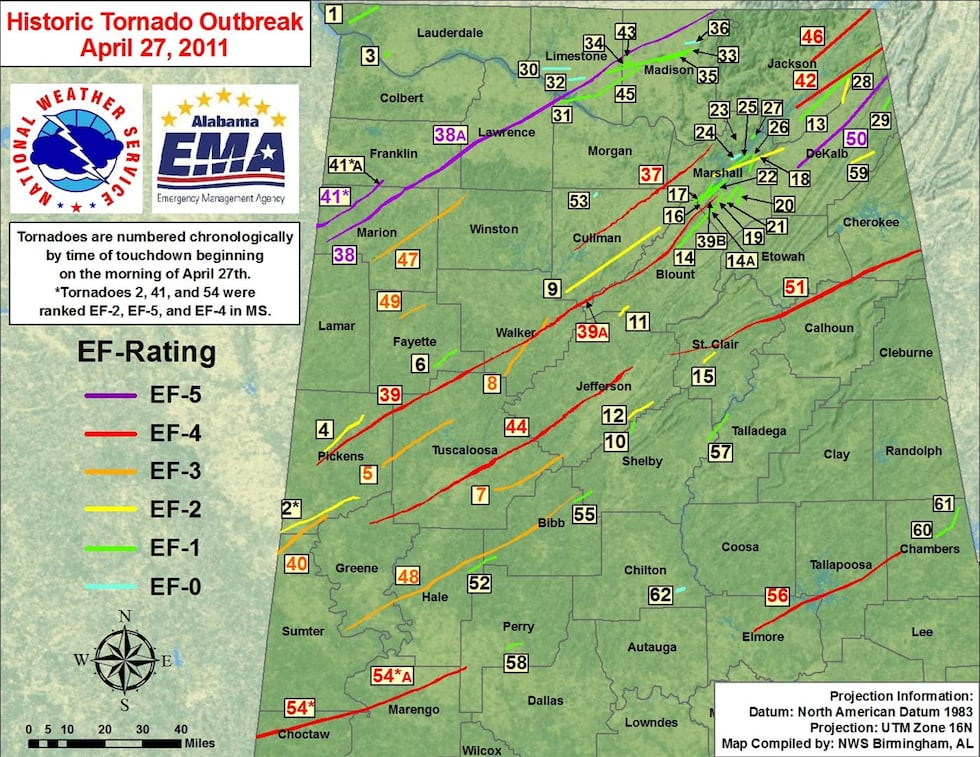 The second round came through around lunchtime. It was also a QLCS, and produced a handful of weaker tornadoes up near the Huntsville and Decatur areas.
The third round begin in the middle of the afternoon and continue well into the evening hours. It was this round that brought the most devastation across the state. This wave featured numerous supercells that produced strong to violent and deadly long-track tornadoes. This includes the Tuscaloosa-Birmingham EF4, the Cullman EF4, the Lake Martin EF4, the St. Clair County to Cherokee County EF4, the DeKalb County EF5, the long-track Hackleburg and Phil Campbell EF5 that began in Marion County and ended north of Huntsville in Tennessee, and the long-track Pickens County to Marshall County EF4.
An unprecedented -- and record-breaking by a large margin -- 62 tornadoes touched down that day, impacting dozens of counties along and north of U.S. 80. Many counties were hit by more than one tornado over the course of the event, which lasted about 18 hours in Alabama.
Let this sink in: Marshall County was hit by 15 different tornadoes.
Many of the 62 tornadoes were strong to violent and long-track that were responsible for injuring and killing people. An incredible 11 EF4/EF5 tornadoes either touched down in or moved across some part of the state. That's unheard of.
The strongest, most violent tornado of the entire outbreak was the Hackleburg-Phil Campbell EF5. Maximum winds in that deadly tornado reached an unfathomable 210 mph. The tornado tore a 132-mile path of destruction, killing 72. It was the nation's deadliest single tornado in over 50 years.
Here's how all 62 Alabama tornadoes break down on the EF scale:
EF5 (max winds of 201+ mph): 3
EF4 (max winds of 166-200 mph): 8
EF3 (max winds of 136-165 mph): 7
EF2 (max winds of 111-135 mph): 9
EF1 (max winds of 86-110 mph): 29
EF0 (max winds of 65-85 mph): 6
A total of 348 fatalities occurred across multiple states, including 253 in Alabama. Those 348 fatalities were the most in a tornado event since April 5-6, 1936. More than 3,000 others were injured during the multi-day outbreak. Of those, at least 2,092 were in our state.
Severe weather and tornadoes occurred on all four of the outbreak days, but April 27th was in a class of its own. No other day was anywhere close to measuring up to what transpired on the 27th.
In total, there were about 360 tornadoes that touched down across 26 states -- marking a new record for a continuous outbreak. Nearly 25% of the 360 were strong to violent on the Enhanced Fujita Scale. The tornadoes that tore across Alabama alone carved a total path length of about 1,200 miles. That's equal to the distance from Montgomery to Boston, Massachusetts.
This event is not only impossible to forget due to its tornado count, violent tornado count, death toll, and injury count, but its costliness as well. A jaw-dropping $10.2 billion (2011 USD) in damage was done. That makes the April 2011 Super Outbreak the costliest tornado outbreak in U.S. history.
Not reading this story on the WSFA News App? Get news alerts FASTER and FREE in the Apple App Store and the Google Play Store!
Copyright 2023 WSFA. All rights reserved.