Coley McCraney sentenced to life in prison for 1999 double murders
Published: Apr. 27, 2023 at 9:22 AM CDT
|
Updated: Apr. 27, 2023 at 3:54 PM CDT
DALE COUNTY, Ala. (WSFA) - A jury has recommended a sentence of life in prison without the possibility of parole for Coley McCraney, a man who was found guilty Wednesday for the 1999 murders of J.B. Beasley and Tracie Hawlett.
McCraney faced the possibility of being sentenced to death, which two jurors voted for on one conviction.
Capital murder during the commission of a felony (rape) - 2 voted for death penalty

Capital murder for the deaths of 2 or more people – Life in prison

Capital murder for death in a motor vehicle – Life in prison

Capital murder for death in a motor vehicle – Life in prison
Alabama Attorney General Steve Marshall, who is the lead prosecutor, held a press conference to discuss the nearly 24-year-old murder case and prosecution of McCraney for the brutal deaths of teens J.B. Beasley and Tracie Hawlett. Marshall was joined at the news conference by family members of both victims.
"They were on the precipice of being able to begin their lives. They were daughters. They were best friends. They were pillars of their own clique and group of people. They were siblings of brothers and sisters. They were who we are as a community," Marshall stated. "And yes, I appreciate words from the defense saying they're sorry about the loss of their life, but let's don't forget who committed this crime and took those girls away. They'd be 41 years old now. Can you imagine what they would have been able to do with their lives over the last 24 years, and what we have lost because they didn't have that opportunity."
Marshall thanked his team, investigators and the victims' families. He also addressed the numerous rumors surrounding the case and McCraney's involvement, saying "this case has shown conclusively who committed this offense, who should be held accountable, and the jury got it right."
"It was an honor to return to my prosecutorial roots on behalf of two young ladies that were never forgotten," Marshall added. "The verdict handed down today sent a clear message—we have no tolerance in this state for those who callously take the lives of others, especially our youth. This timely resolution during National Crime Victims' Rights Week is a poignant reminder that we must not ever allow the plight of crime victims to be minimized or their voices drowned out."
McCraney's defense attorneys, David Harrison and Andrew Scarborough, held their own news conference following Marshall's team. There, Harrison said they will file a motion for a new trial within 30 days. He said they will then have 42 days to file an appeal.
"There are some issues that we feel like that are appealable and we plan to do forward with those issues," he said.
Harrison did not specify those issues but said he does not feel the state proved its case "beyond a reasonable doubt."
He also addressed the social media aspect of this case, saying this will be part of their motion for a new trial.
"In my experience in trying cases, I do not believe that I have ever seen social media come into play like it did in this case," he said. "I think that on a motion of a new trial there's going to be some issues where we believe that there were some jurors that may or may not have been posting on social media during deliberation and maybe during the trial."
Family members of both victims talked about losing their daughters.
Carol Roberts, Tracie's mother, said the hardest part of losing her was the holidays. She also talked about missed milestones like being able to pick out a wedding dress with her daughter.
"She was a precious gift from God," Roberts added. "Tracie will never be forgotten. She was my best friend and daughter."
J.B.'s mother, Cheryl Burgoon, said losing her daughter was something she could not get over.
"It hurts so bad…I'm so angry," Burgoon told the courtroom.
Friends and family of McCraney say he is a kind, generous and Godly man. His wife said that she felt for the victims' families but that she "needed" her husband, adding that he has six children and 12 grandchildren.
McCraney's daughter, who lives in Texas, also joined the hearing via Zoom. She told the courtroom she grew up living in a loving household and her father was never aggressive.
In closing, Marshall called McCraney "a monster, a murderer, a rapist."
On Wednesday, a Dale County jury found McCraney guilty of two counts of capital murder- shooting into an occupied vehicle, capital murder of two or more people, and capital murder during the course of another felony (rape).
McCraney was indicted in 2019 for the 1999 murders of the 17-year-old Dothan teens. The teens' bodies were found in the trunk of Beasley's vehicle. Both had been shot to death. Their deaths remained part of a high-profile cold case for years until DNA evidence was revealed that implicated McCraney.
Some of McCraney's supporters waited outside the courthouse prior to his sentencing, many holding signs saying, "Coley Strong."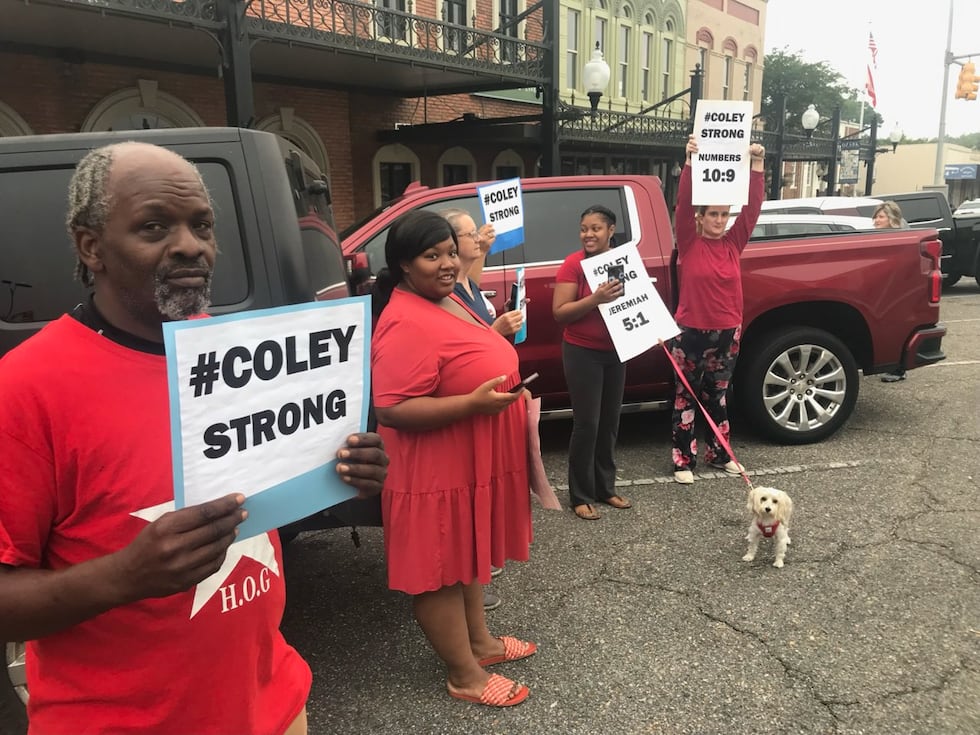 Not reading this story on the WSFA News App? Get news alerts FASTER and FREE in the Apple App Store and the Google Play Store!
Copyright 2023 WSFA. All rights reserved.