First Alert: Tracking more rain/storms this weekend
Friday is trending drier, showers and storms are back into the forecast Saturday going into Sunday.
Published: Apr. 27, 2023 at 5:30 AM CDT
|
Updated: Apr. 27, 2023 at 10:07 PM CDT
MONTGOMERY, Ala. (WSFA) - A majority of us will remain dry through the night, but there is a low threat for a few passing showers and storms. The aforementioned threat is thanks to a cold front pushing through, locations with the best chance to see a few storms tonight will be West and Northwest Alabama.
Friday is trending drier and warmer. Expect to see a mix of sun and clouds through the day with afternoon highs warming to either side of 80 degrees. There is a very low end chance for a quick hit of sprinkles for some, but most will remain dry and warm. Winds will be out of the west around 5 to 10 mph becoming calm through the night. Lows will hover in the 50s under a mostly clear sky.
Another system arrives later Saturday and lingers into early Sunday. This will bring a chance of showers and thunderstorms to Central and South Alabama. Models are still not in perfect agreement on how exactly things will come together, so we are capping any rain chances around 50%. It seems as though Saturday evening, Saturday night and Sunday morning is the favored window for highest rain coverage.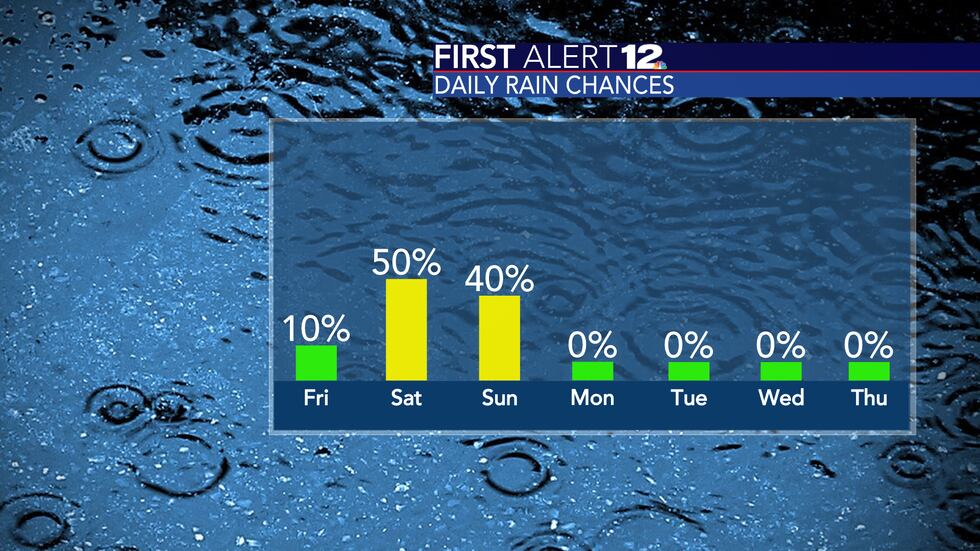 There is a low chance for rain and storms on Saturday afternoon, all thanks to the aforementioned system. Primary threats with storms on Saturday will be damaging winds and quarter sized hail. While the tornado threat is very low, it is not zero, something we will track closely through the day Friday and into the day on Saturday.
After a cool day Thursday due to the rain and clouds, lower 80s can be expected Friday and Saturday before a dip back into the 70s heading into next week.
The overnights and mornings will also cool off as May gets underway. Upper 40s are looking like a good bet for many as you wake up Monday, Tuesday, Wednesday, and Thursday!
Next week continues to look dry with plenty of sunshine. No rain is in the forecast Monday, Tuesday or Wednesday. That dry weather could very well continue through all of next week thanks to high pressure taking control.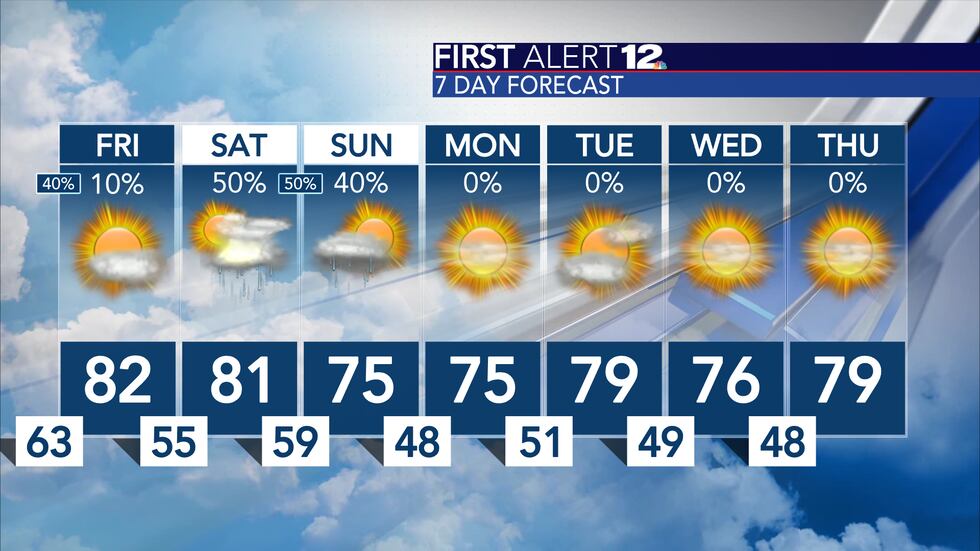 As always, remember to download the free WSFA 12 News First Alert Weather app. That way you can gain the latest weather information from the First Alert Weather Team wherever you go. Just search WSFA Weather in the Apple App Store or Google Play store today.
Copyright 2023 WSFA. All rights reserved.