Alabama Senate OKs ban on trans athletes at a college level
Alabama could soon join states that ban transgender women from playing on female sports teams in college, under legislation nearing final approval in the state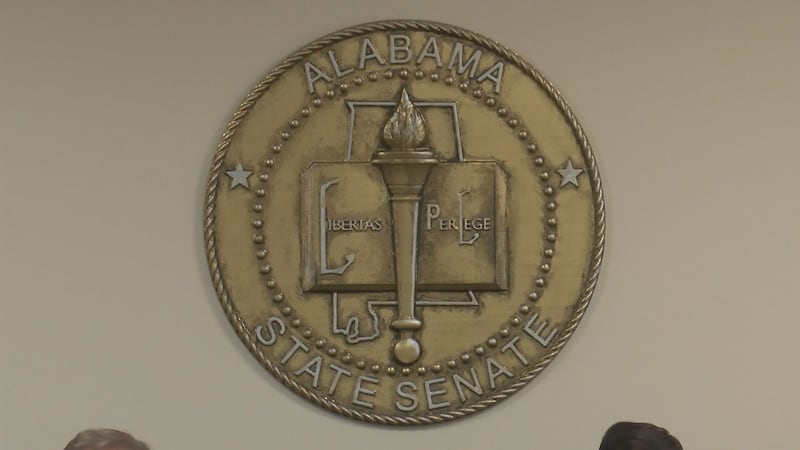 Published: May. 3, 2023 at 6:25 PM CDT
|
Updated: May. 3, 2023 at 7:23 PM CDT
MONTGOMERY, Ala. (AP) — Alabama could soon join other states that ban transgender women from playing on female sports teams in college, under legislation nearing final approval in the state.
State senators voted 26-4 on Wednesday for the House-passed legislation that extends a 2021 ban on transgender athletes on K-12 sports teams to also include college teams. The bill now returns to the Alabama House of Representatives, where lawmakers must decide whether to accept a minor change to the bill.
The bill is part of a wave of restrictions on transgender people being pushed in conservative states. At least 20 other states have now imposed restrictions on transgender athletes at the K-12 or collegiate level, or both. Supporters said transgender women have an unfair advantage in competition.
"They are bigger than women. They are stronger. They're faster. They have larger hearts, denser bones, stronger muscles," Republican Sen. April Weaver, of Brierfield, said. "I don't think that is something any hormone therapy can undo."
Opponents have said the bills are about shaming transgender people and are rooted in discrimination and politics. An advocacy group urged Ivey to veto the bill when it comes to her desk.
"HB 261 is part of a coordinated effort by extremist politicians trying to advance their anti-LGBTQ+ agenda. These politicians know that state and university sports leagues already have their own governing bodies to determine the best regulations that work for their students. And, they know that an outright ban on transgender athletes exacerbates discrimination against LGBTQ+ people, is not based on the facts, and does not help women's sports," said Carmarion D. Anderson-Harvey, Alabama director of the LGBTQ+ advocacy group Human Rights Campaign.
The bill states that sports teams "designated for females, women, or girls shall not be open to a biological male." Similarly, a "biological female" would also not be allowed to participate on teams for boys and men.
Democratic Sen. Rodger Smitherman, of Birmingham, asked Weaver how a school would know a person's gender at birth. Weaver replied that the person's original birth certificate would suffice.
The bill has faced nominal opposition in the Alabama Legislature. The bill cleared the House of Representatives on an 83-5 vote with more than a dozen members abstaining on the vote.