First Alert: Big pattern change arrives this weekend
Temperatures, humidity, cloud cover, and rain chances all go up
Published: May. 3, 2023 at 5:29 AM CDT
|
Updated: May. 3, 2023 at 7:03 PM CDT
MONTGOMERY, Ala. (WSFA) - The unseasonably cool start to May will continue tonight, ahead of a major pattern shift that occurs as we move into the weekend. Lows tonight will be chilly in the 40s. Temperatures will fall to near, or below, record lows, under a mostly clear sky. Winds will be light to variable through the night.
After the chilly start to Thursday, thing will start to change as we move towards the end of the week and into the weekend. Less breezy conditions will stick around through the weekend, but the direction of the wind will start to change. Highs will be in the upper 70s for most Thursday, with some towns hitting either side of 80° thanks to a ton of sunshine.
Temperatures are back in the 80s area wide starting Friday as a warmer and more humid pattern takes over across the Deep South. That increase in humidity will subsequently result in daily rain and storm chances. Friday will be dry for most of us, then the chance for randomly isolated to scattered showers and storms enters the forecast.
The weekend will not be a washout despite the rain chances. At most we're talking hit or miss showers and storms with coverage around 30-40%. High temperatures will be in the middle and upper 80s.
The warm temps, noticeable humidity and chances for scattered daily showers and storms stick with us as we head into the second week of May. No severe weather or flooding are in the forecast, just typical summertime activity that affects some and not others!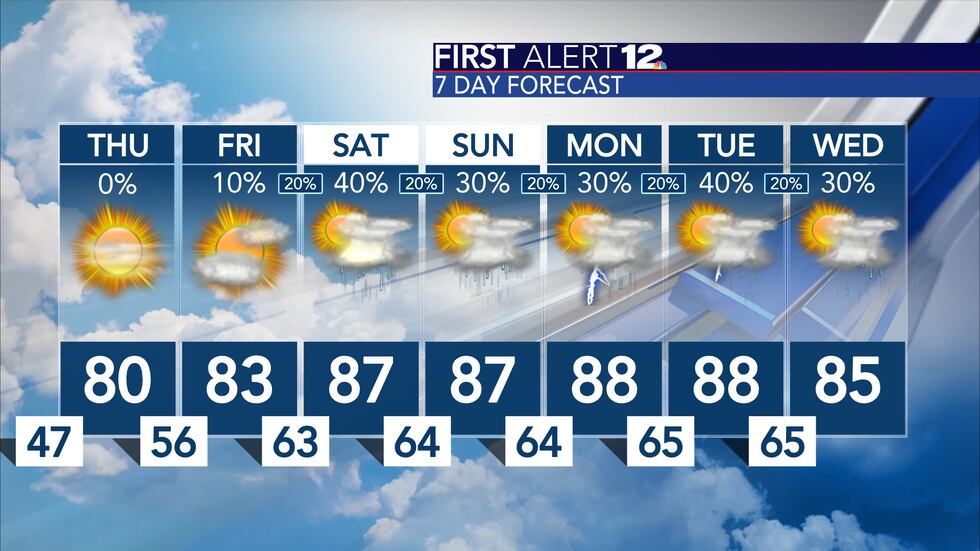 As always, remember to download the free WSFA 12 News First Alert Weather app. That way you can gain the latest weather information from the First Alert Weather Team wherever you go. Just search WSFA Weather in the Apple App Store or Google Play store today.
Copyright 2023 WSFA. All rights reserved.