First Alert: Summer heat, humidity and storms
We have officially entered a summer pattern that has no end in sight
Published: May. 8, 2023 at 5:57 AM CDT
|
Updated: May. 8, 2023 at 7:34 PM CDT
MONTGOMERY, Ala. (WSFA) - The summer pattern is going nowhere as the second week of May gets underway... most days will be in the 80s with plenty of humidity. Today was actually the coolest of the next week and it's all thanks to a most cloudy sky and a few passing showers. Even though coverage of rain isn't particular high any given day, the opportunity for showers and thunderstorms on a widely scattered basis will still exist in the forecast.
Plenty of dry time will occur each day between any showers and storms; it's also reasonable to say that some towns could go the entire week without seeing much rain or thunderstorms.
Most of what falls should come during the daylight hours given the summery pattern. It is possible a few showers and storms linger into the nighttime depending on how things go.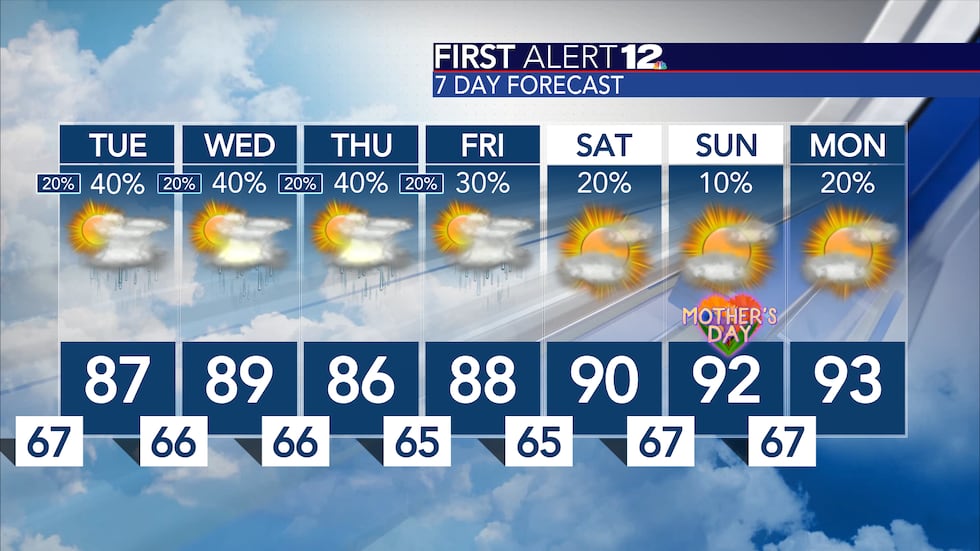 No organized severe weather will occur in this type of pattern. However, a strong storm here or there is possible given the heat and humidity. Just a heads up that heavy rain, lightning, gusty winds, and small hail are possible in the most intense storms this week!
By Friday and the weekend the chance and coverage of any rain comes down to 20% or less. It will still be hot and humid with highs in the upper 80s and lower 90s. Overnight lows will be warm all week long in the middle to upper 60s thanks to the humidity and cloud cover.
As always, remember to download the free WSFA 12 News First Alert Weather app. That way you can gain the latest weather information from the First Alert Weather Team wherever you go. Just search WSFA Weather in the Apple App Store or Google Play store today.
Copyright 2023 WSFA. All rights reserved.