Bill banning land sale to 'countries of concern' passes Alabama Senate
Published: May. 18, 2023 at 5:32 PM CDT
|
Updated: May. 18, 2023 at 8:51 PM CDT
MONTGOMERY, Ala. (WSFA) - A bill aimed at preventing some foreign ownership of Alabama land has passed the state Senate by a vote of 26-7, moving it closer to being signed into law.
"The Alabama Senate supports this piece of legislation and the unwavering efforts of Senator David Sessions in conjunction with Representative Scott Stadthagen to protect Alabama and our citizens from the influence and control of foreign entities that have no business intruding and purchasing Alabama property," Senate Pro Tempore Greg Reed said.
Alabama House Bill 379, called the "Alabama Property Protection Act" initially prohibited non-resident citizens of China, the Chinese government, or Chinese entities from buying property in Alabama. But it prompted pushback from Alabama residents who are Chinese citizens who called the bill discriminatory.
The legislation passed the House by a wide margin, 73-23, before being sent to the Senate where it was later amended to focus on government entities, not individuals, and to expand the ban beyond China to other "countries of concern," like Iran, North Korea and Russia.
"We started with a broad bill and worked diligently to find a solution that was agree upon by all parties," Sessions said, calling Alabama's land "priceless to the American people, our economy, and our very way of life."
The legislation would ban the sale of land, specifically near military basis or critical infrastructure to include "agricultural and forest property, chemical manufacturing, refineries, electric energy producing facilities, water treatment/wastewater treatment plants, liquid natural gas terminals, telecommunications central switching offices, gas processing plants, seaport facilities, aerospace or spaceport infrastructure, airports, military installations, and real property defined as land, building, fixtures and other improvements to land."
Because the Senate's version is different, the legislation will have to go back to the House for concurrence before it can be sent to Gov. Kay Ivey's office for final approval.
Lily Moore of the Central Alabama Association of Chinese said opponents are happy the word "individuals" was removed but are still upset about the specificity of the bill still naming countries. They want it to just say "based on the us department of treasury asset control."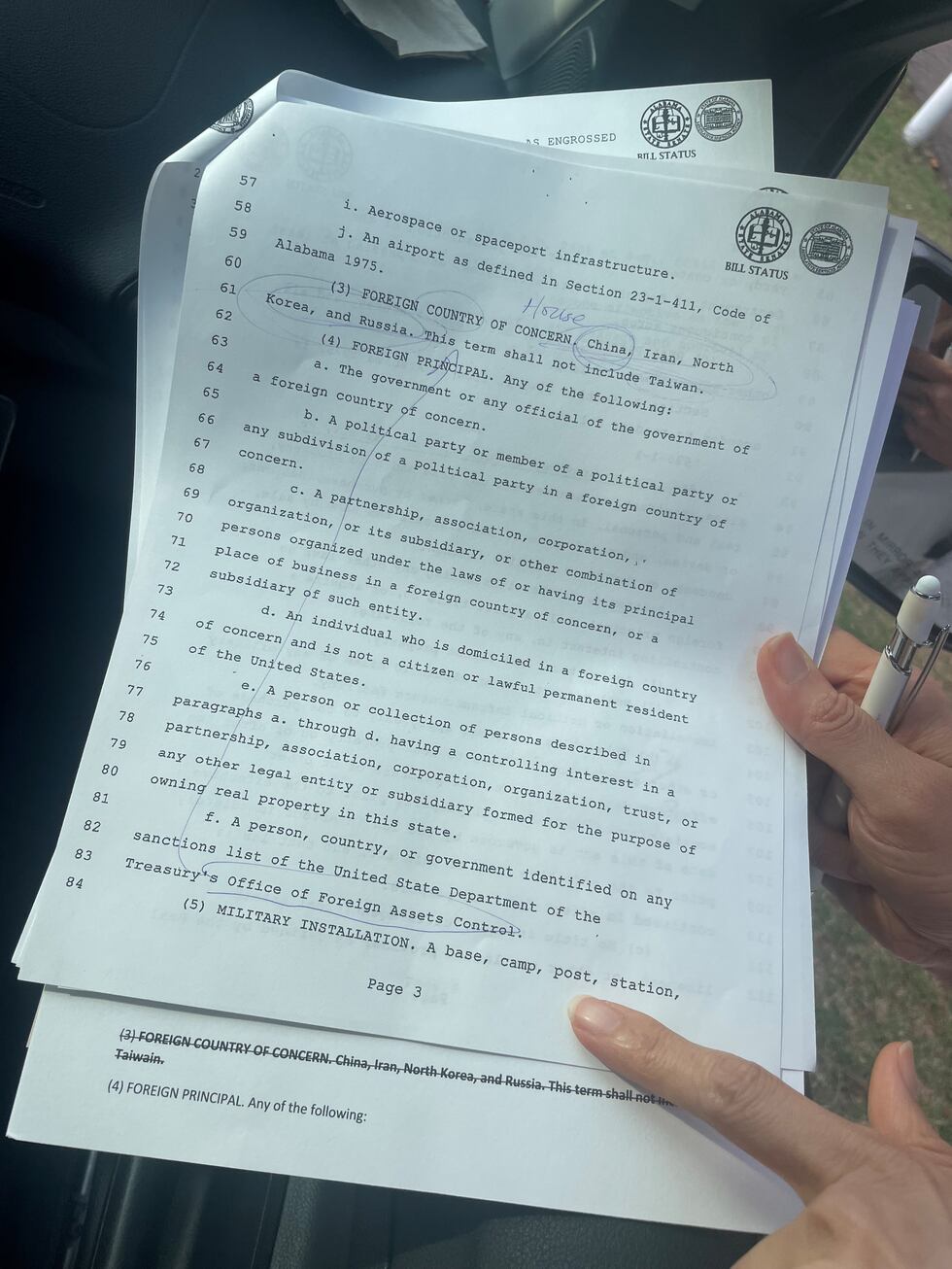 Not reading this story on the WSFA News App? Get news alerts FASTER and FREE in the Apple App Store and the Google Play Store!
Copyright 2023 WSFA. All rights reserved.