First Alert: Cool, wet Tuesday followed by nicer weather!
Things turn much drier by Wednesday
Published: May. 22, 2023 at 5:22 AM CDT
|
Updated: May. 22, 2023 at 10:02 PM CDT
MONTGOMERY, Ala. (WSFA) - Before we get to the cool, wet details of Tuesday's forecast - the early look at Memorial Day Weekend is a good one! It's still early and subject to change, but the data we have now suggest a (mainly) dry, comfortable and pleasant three-day weekend for central and south Alabama. Fingers crossed that trend continues!
Now, let's discuss the rain and storms that will be around to kick off the new workweek...
Showers and thunderstorms are likely today, tonight and early Wednesday. It will not rain in your neighborhood or city that entire time. Rather, on and off showers and storms will affect the region.
Highs will reach the lower 80s today before getting stuck in the lower 70s tomorrow. That is way below normal for late May.
It won't rain all day today, all night tonight or all day tomorrow. However, it is very possible that we see some periods where it rains for a few hours straight. That scenario is not a guarantee for everybody, though it's certainly a possibility when rain coverage peaks late today, tonight and early tomorrow.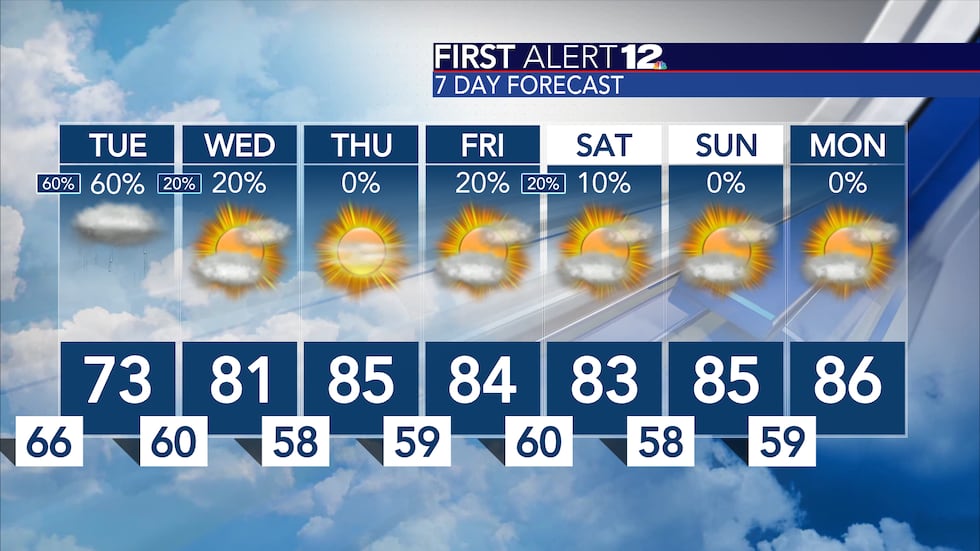 Conditions will dry out Wednesday as less humid air returns to our atmosphere; the noticeably more comfortable air mass will discourage rain and storms from Wednesday to Memorial Day.
We do want to add that some modeling suggests a chance of a shower or storm Friday, Friday night and Saturday. Even if it does rain at some point over that 2-day stretch, it would be very scattered and would not last long. Right now the forecast is keeping rain chances at or below 20% until better model agreement is reached.
Minus those low-end rain chances, the forecast features mostly sunny to partly cloudy sky each day beginning Wednesday.
Temperatures will top out near 80° on Wednesday, then rise into the low and mid 80s through the end of the workweek.
As always, remember to download the free WSFA 12 News First Alert Weather app. That way you can gain the latest weather information from the First Alert Weather Team wherever you go. Just search WSFA Weather in the Apple App Store or Google Play store today.
Copyright 2023 WSFA. All rights reserved.