Graham Rahal to replace Stefan Wilson in Indy 500 after practice crash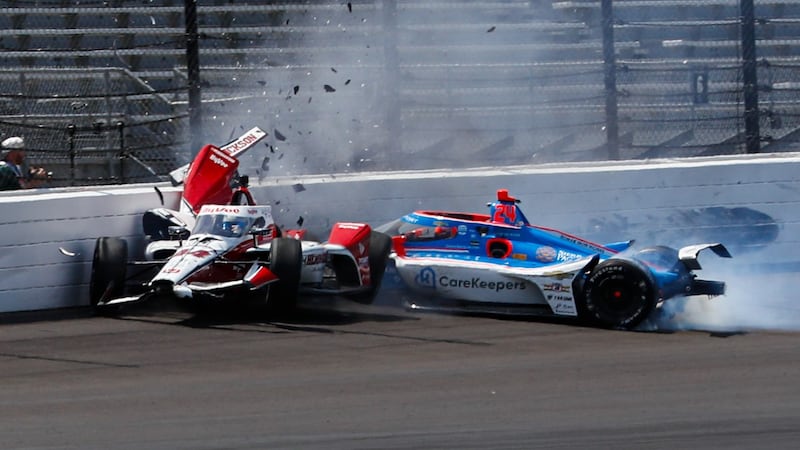 Published: May. 23, 2023 at 9:19 AM CDT
INDIANAPOLIS, Ind. (WTHR) — Stefan Wilson will not be able to race in Sunday's Indianapolis 500 due to injuries suffered in a crash during practice Monday.
On Monday, Cusick Motorsports announced Graham Rahal will replace Wilson in the 107th Running of The Greatest Spectacle in Racing.
Wilson was taken by ambulance to the hospital Monday after a heavy crash with Katherine Legge in practice for the Indianapolis 500, the first wreck of the two-week buildup to the Indy 500.
Wilson was immobilized and wearing a neck brace but gave a quick thumbs-up after the safety team spent about 10 minutes carefully removing the British driver from his car. Legge, a fellow Brit, climbed from her crumpled car on her own.
Further testing at IU Health Methodist Hospital determined Wilson suffered a fracture of the 12th thoracic vertebrae in the crash. He remains at the hospital and continues to undergo tests.
"Based on this type of injury, Wilson will not be allowed to compete in this Sunday's 107th Indianapolis 500 Mile Race," Dreyer & Reinbold Racing/Cusick Motorsports tweeted Monday evening.
The team said more information will be released "in due course."
It was unclear who will step into Wilson's car for Sunday's race, though JR Hildebrand has been at the speedway. He has made 12 consecutive starts, nearly winning as a rookie in 2011 before finishing second, but could not put together a ride for this year.
Three of Hildebrand's starts in the Indy 500 were with Dreyer & Reinbold, including an 11th-place finish in 2018.
Legge and Wilson were going through Turns 1 and 2 about an hour into the 2-hour session when the entire field appeared to slow. Legge closed fast on Wilson and hit the rear of his Dreyer & Reinbold Racing car, sending them skidding into the wall. Legge hit with a glancing blow to the rear, but Wilson was pointed nearly head-on when he made contact with the SAFER barrier.
"I can tell you that he's doing well," said Dr. Julia Vaizer, the chief medical director for IndyCar and Indianapolis Motor Speedway, adding that Wilson was being taken to the hospital for advanced imaging. "He's in good spirits."
Wilson's brother, Justin Wilson, was the last IndyCar driver killed on the track. He was competing in a 2015 race at Pocono when Sage Karam crashed ahead of him, and a piece of the car struck Wilson in the helmet and sent him into the wall.
Legge is the only female driver in this year's field, and she was the only driver on struggling Rahal Letterman Lanigan Racing that made the 33-car grid on the first day of qualifying. Christian Lundgaard and Jack Harvey joined her Sunday when Harvey bumped teammate Graham Rahal in the final seconds with a dramatic qualifying run.
Legge's team said it would attempt to repair her car in time for Carb Day on Friday, when teams get one last chance on the track before the race. It was already removing shattered pieces by the time Monday's session ended.
"I know it's another blow to the team," Legge said. "After yesterday, those guys don't deserve it. It's not right."
Will Power paced the field with a lap of 229.22 mph on Monday, providing a jolt of confidence to Team Penske, which put only the 2018 Indy 500 winner in the Fast 12 of qualifying. Scott Dixon, Takuma Sato and pole sitter Alex Palou were next on another strong day for Chip Ganassi Racing as it thrived in the same kind of heat expected on race day.
"We've been having vibration problems. I think we somewhat got on top of that," said Power, who turned 88 laps, the second-most in the session. "I think the car is pretty good. I think we're in a good spot, a really good spot."
Pato O'Ward, who will start fifth for Arrow McLaren, shut down practice early as the team tried to diagnose a problem.
"We just found a big disparity from set to set," he said. "It's just frustrating because you know, one run will be fine and another will be, 'What is this?' We just need to analyze and see what's going on, see if it's a problem from our side or not."
Dale Coyne Racing also was scrambling after an electrical problem developed in David Malukas' car.
"We only managed one or two runs. We're trying to figure it out," Malukas said. "We're going to have a lot to do on Carb Day."
RAHAL LEFT WATCHING
Some wondered whether Rahal Letterman Lanigan would buy its way into the field or replace Harvey with Graham Rahal after the son of team owner Bobby Rahal, who carries significant sponsorship, failed to qualify. That did not take place.
"I don't believe in buying my way," Rahal said, while watching from Harvey's pit stall. "It's going to be tough. Everybody put so much into our team and the No. 15 car. It is not what we want for them by any means. But I also don't think it's right to replace anybody here. All of these cars need to represent their sponsors the best they can for themselves."
DON'T BE TARDY
Just before practice, drivers were supposed to line up alongside the BorgWarner Trophy on the famous yard of bricks for the traditional photograph of the field. Felix Rosenqvist, who will start third on Sunday, was last to arrive, running down pit road to take his seat while the other 32 drivers sarcastically clapped for his arrival.
That wasn't his only shaming. Ed Carpenter Jr. was standing behind Rosenqvist's stool, and with a quick hand and perfect timing, he yanked it out just as Rosenqvist was taking his seat. Rosenqvist went sprawling as the rest of the drivers laughed.
Copyright 2023 WPTA. All rights reserved.