Pike County woman charged with chemical endangerment following stillbirth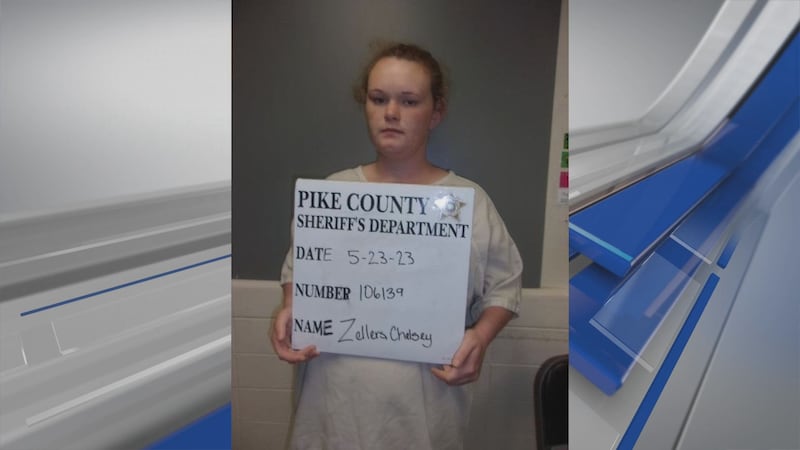 Published: May. 23, 2023 at 11:25 AM CDT
|
Updated: May. 23, 2023 at 4:18 PM CDT
PIKE COUNTY, Ala. (WSFA) - The Pike County Sheriff's Office has arrested Chelsey Leann Redmon-Zellers, 24, on a charge of chemical endangerment of a child resulting in death, a class A felony offense under the laws of the state of Alabama.
According to the 12th judicial circuit district attorney's office and Pike County Sheriff Russell Thomas, Redmon-Zellers gave birth to a stillborn baby boy on May 18 following a full-term pregnancy. During the pregnancy and at the time of the birth, Redmon-Zellers tested positive for numerous illegal substances, according to the DA.
The DA and sheriff said the autopsy showed the baby had high levels of methamphetamine, amphetamines and fentanyl in his system, resulting in his death.
Thomas said an arrest warrant was issued for Redmon-Zellers on May 1. He said she refused to turn herself in and tried to run away when deputies came to arrest her Tuesday. She was caught after a short foot pursuit.
She was placed in custody in the Pike County jail with bail set on the arrest warrant at $200,000.
"This is a tragic situation where one of the most vulnerable among us died due to the actions of the one who should have cared the most, the baby's mother," 12th Judicial Circuit District Attorney James Tarbox said in a statement. "It is this office's hope that pregnant women who intend to use drugs and other harmful substances will seek the help and assistance they need rather than follow a path that leads to the death of their baby."
Not reading this story on the WSFA News App? Get news alerts FASTER and FREE in the Apple App Store and the Google Play Store!
Copyright 2023 WSFA. All rights reserved.