A long stretch of dry, warm weather
Memorial Day Weekend looks perfect!
Published: May. 24, 2023 at 6:04 AM CDT
|
Updated: May. 24, 2023 at 6:29 PM CDT
MONTGOMERY, Ala. (WSFA) - Timing is everything - in life and in weather, as it turns out. After a long stretch of wetter-than-usual weather, we're drying out just in time for the upcoming holiday weekend. We'll dry out this evening and cool down, too. Temperatures will drop into the mid and upper 50s by sunrise Thursday.
Expect a sunny and very nice day tomorrow. Afternoon temperatures will reach the mid 80s with a light breeze, sunny sky and lower humidity levels. If you like that sort of thing, feast your eyes on this!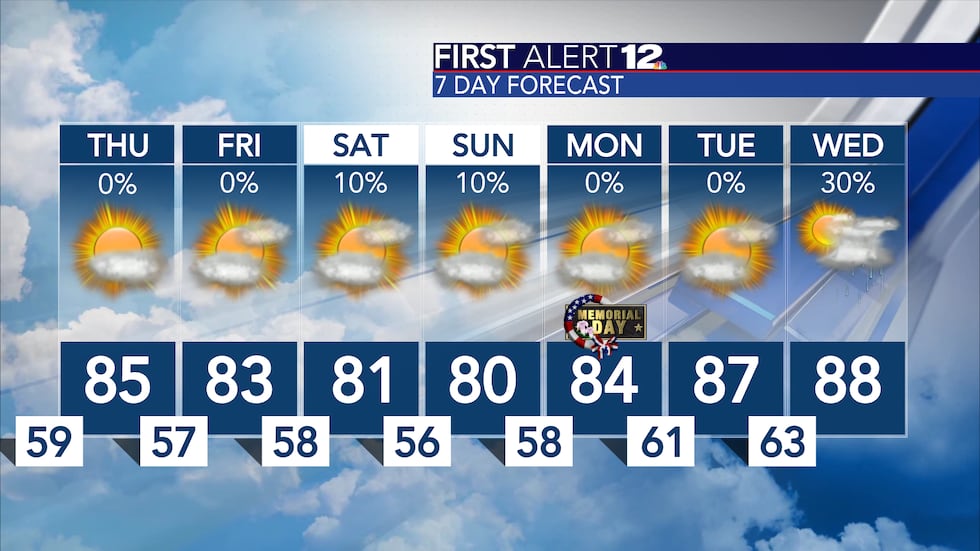 The less humid air mass will support overnight temperatures in the upper 50s to around 60 degrees through the start of next week. That will feel very good and comfortable considering how warm and muggy Alabama can be this time of year. It'll be a great opportunity to give your A/C units a well-deserved break!
We do want to continue mentioning a complex scenario that will evolve Friday and this weekend just to our east. An area of low pressure will move along the South Carolina coast, sending rain and clouds westward into the Carolinas and Georgia.
The million-dollar question is how far west will the rain and clouds go? Most models keep the rain away from Alabama Friday, Saturday and Sunday. A 10% chance of rain is being left in the forecast for now to account for the outliers showing a shower making its way into the state. We will update you if the data starts to point towards a wetter forecast. As of right now, we think it will be dry - but its close enough to mention.
Models do agree that some uptick in cloudiness will occur Saturday and Sunday. I don't foresee it being an overcast weekend by any means. However, I do think there could be more of a partly cloudy sky this weekend as opposed to mostly sunny sky.
As always, remember to download the free WSFA 12 News First Alert Weather app. That way you can gain the latest weather information from the First Alert Weather Team wherever you go. Just search WSFA Weather in the Apple App Store or Google Play store today.
Copyright 2023 WSFA. All rights reserved.