Alabama lawmakers approve budget after disagreements on local projects
Alabama lawmakers on Friday gave final approval to general fund spending bills after sometimes tense disagreements over local projects and budget projections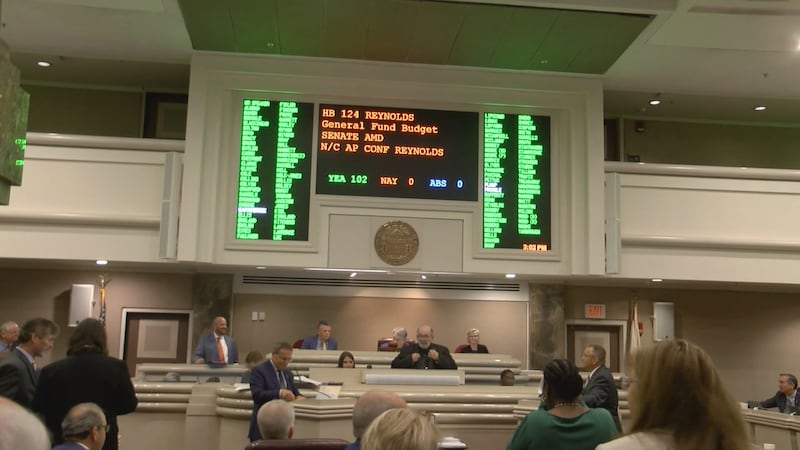 Published: May. 26, 2023 at 7:20 AM CDT
MONTGOMERY, Ala. (AP) — Alabama lawmakers on Friday gave final approval to general fund spending bills after sometimes tense disagreements over local projects and budget projections.
Lawmakers worked through the night before giving final passage to the spending bills shortly in the early hours of Friday morning.
"This is not the best that there ever has been, but it's the best we can get to this evening," said Sen. Greg Albritton, the chairman of the Senate Finance and Taxation General Fund Committee.
Legislators gave final approval to a $3 billion general fund budget for the fiscal year beginning in October and a supplemental spending bill for this year. The bills now go to Alabama Gov. Kay Ivey.
Sharp disagreements had emerged over funding for special projects with some lawmakers saying their districts had neglected.
"It's the poorest region of the state and not one whole million dollars went to west Alabama," Senate Minority Leader Bobby Singleton said.
Lawmakers from Montgomery successfully fought to restore some funding for a gateway project to improve the area around Maxwell Air Force Base. Sen. Will Barfoot said the base is the "lifeblood of Montgomery."
Lawmakers had also disagreed over how much to spend in the upcoming fiscal year because of concerns about a possible economic downturn. The approved spending plan is about $10 million less than a House-passed plan.