NBA mock draft: Wembanyama to Spurs 1st, then Brandon Miller to Hornets
The San Antonio Spurs have the No. 1 pick and there is no mystery about who Gregg Popovich and company are going to bring in to revive the Alamo City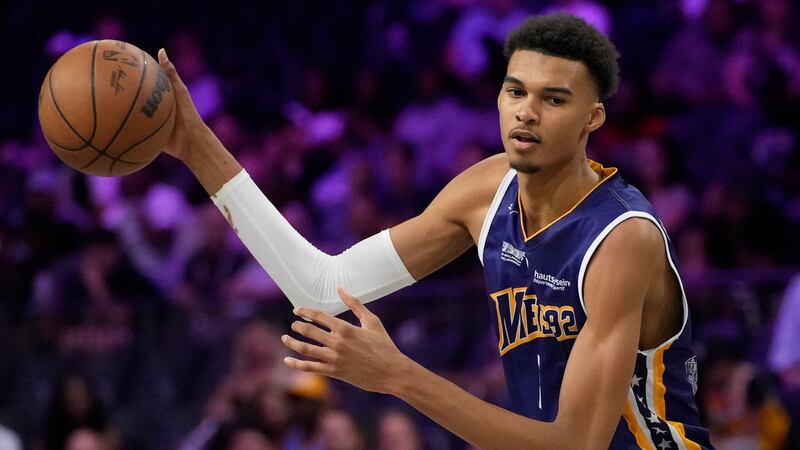 Published: Jun. 1, 2023 at 10:38 AM CDT
There's no doubt who the San Antonio Spurs are going to select with the first pick in this year's NBA draft. Victor Wembanyama could have started packing for Texas once the Spurs learned they had won the NBA draft lottery.
But once the 7-foot-3 French phenom is off the board minutes after the draft begins on June 22, that's when the intrigue will begin.
Scoot Henderson or Brandon Miller to the Charlotte Hornets at No. 2?
The first edition of the AP's 2023 mock draft says it'll be Miller.
1. SAN ANTONIO SPURS: VICTOR WEMBANYAMA, FORWARD, FRANCE
His combination of a center's size and a guard's shooting and dribbling make the 19-year-old a prospect perhaps unlike any other the NBA has seen. The Spurs won five NBA titles after taking Tim Duncan in 1997 the last time they had the No. 1 pick and dream of a similar impact from Wembanyama.
2. CHARLOTTE HORNETS: BRANDON MILLER, FORWARD, ALABAMA
At 6-9, Miller has the size, versatility and 3-point stroke to make him an ideal player for the modern NBA game. The SEC player of the year and tournament MVP as a freshman, Miller would appear to be a good fit playing with LaMelo Ball, though the Hornets, who played without Miles Bridges last season after an arrest for a domestic violence incident against the mother of his children, may have to weigh a negative reaction if they add Miller, who delivered the gun used in a fatal shooting.
3. PORTLAND TRAIL BLAZERS: SCOOT HENDERSON, GUARD, G LEAGUE IGNITE
His athleticism and ability to do it all from the guard spot may have made Henderson the No. 1 pick in many years. This time, he could be part of a trade if the Blazers decide they'd prefer to acquire more veteran help around Damian Lillard — or perhaps Lillard's replacement if they instead decide to build around youth.
4. HOUSTON ROCKETS: AMEN THOMPSON, GUARD, OVERTIME ELITE
At 6-7, Thompson has great size for a guard and the 20-year old showed the ability to step up when it matters most, averaging 17.2 points, 9.2 assists and 7.2 rebounds in the playoffs to lead the City Reapers to the championship last season. The Rockets, after adding Jalen Green and Jabari Smith Jr. in the last two drafts, are positioned to get another good one.
5. DETROIT PISTONS: CAM WHITMORE, FORWARD, VILLANOVA
The Pistons fell to the lowest spot possible in the lottery after finishing with the NBA's worst record and sharing the best odds of landing the No. 1 pick. But getting Whitmore, a versatile wing with a strong build, to add to young pieces such as Cade Cunningham and Jaden Ivey would help ease the sting.
6. ORLANDO MAGIC: AUSAR THOMPSON, FORWARD, OVERTIME ELITE
Amen Thompson's twin brother has been the Overtime Elite regular season and finals MVP the last two seasons and the 6-7 swingman plays big on defense, twice blocking seven shots in a game. The Magic were a team on the rise in the second half of last season and Thompson could help ensure that continues.
7. INDIANA PACERS: JARACE WALKER, FORWARD, HOUSTON
Coming from Houston's rugged program means Walker already plays NBA-ready defense, and the offensive end could come along quickly under Rick Carlisle. At 6-8, 240 pounds, he already has the size and strength to deal with anyone he could face in the frontcourt.
8. WASHINGTON WIZARDS: TAYLOR HENDRICKS, CENTRAL FLORIDA
The 6-9 freshman makes an impact inside and outside on both ends of the floor. He led the American Athletic Conference in blocked shots and shot 39% from 3-point range, becoming the only Division I player last season with at least 60 3-pointers, 55 blocked shots and 35 dunks.
9. UTAH JAZZ: ANTHONY BLACK, GUARD, ARKANSAS
The 6-7 guard seems to have endless energy, playing nearly 35 minutes a game to lead the Southeastern Conference and all 20 minutes in a half 19 times. That included 37 minutes on an injured left ankle in the Razorbacks' NCAA Tournament upset of top-seeded Kansas, when he helped hold expected lottery pick Gradey Dick to seven points.
10. DALLAS MAVERICKS: GRADEY DICK, GUARD, KANSAS
Dick made 83 3-pointers, most in Kansas history by a freshman, and the 6-8 forward could get plenty of open looks when Mavericks opponents focus their attention on Luka Doncic and Kyrie Irving — if Irving remains in Dallas. The Mavs went to great lengths to protect their chances of keeping this pick, tanking their final couple games to boost their lottery odds while still in play-in contention,.
11. ORLANDO MAGIC (from Chicago Bulls): KEYONTE GEORGE, GUARD, BAYLOR
The highest-ranked recruit in program history lived up to the billing in his lone college season, scoring 20 or more points 12 times and averaging 15.3 en route to Big 12 freshman of the year honors. The 6-4 guard could provide scoring punch on a team that was 26th in the NBA in points per game.
12. OKLAHOMA CITY THUNDER: CASON WALLACE, KENTUCKY
A point guard who takes care of the ball and takes it away from opponents, he was fourth in the SEC in both steals per game and assist-to-turnover ratio. The Thunder already have a Kentucky guard thriving in their backcourt in All-NBA player Shai Gilgeous-Alexander.
13. TORONTO RAPTORS: NICK SMITH JR., GUARD, ARKANSAS
Played in just 17 games in his lone college season after recovering from a right knee injury, but that was enough to play himself into lottery consideration. At 6-5, Smith can play either guard spot and would improve the backcourt on a Toronto team whose strength was its wings.
14. NEW ORLEANS PELICANS: JORDAN HAWKINS, GUARD, UCONN
Ballhandling still needs improvement, but Hawkins' catch-and-shoot ability was one of the biggest reasons the Huskies stormed through the NCAA Tournament to their fifth national title. Now it could help create more driving lanes for Brandon Ingram and Zion Williamson.
15. ATLANTA HAWKS: KOBE BUFKIN, GUARD, MICHIGAN
Massive leap from first to second year of college, averaging 14 points as a sophomore after not starting a game while averaging 3.0 points as a freshman. Next leap is to the NBA, where the 6-4 lefty could quickly be a change-of-pace guard off the bench.
16. UTAH JAZZ (from Minnesota): G.G. JACKSON, FORWARD, SOUTH CAROLINA
Would have been heading to college now — perhaps as the No. 1 prospect — before reclassifying last summer to enter a year earlier. Instead, the 6-9 Jackson is on his way to the NBA after scoring in double figures in 25 of his 32 games, averaging 15.4 points.
17. LOS ANGELES LAKERS: JALEN HOOD-SCHIFINO, GUARD, INDIANA
After mixed results with Russell Westbrook and D'Angelo Russell last season, the Lakers' search for point guard help could lead to Indiana, where Hood-Schifino was the Big Ten freshman of the year. Great size in the backcourt at 6-6 but needs to become a better shooter after hitting only 40% from the field in his lone season.
18. MIAMI HEAT: MAXWELL LEWIS, FORWARD, PEPPERDINE
The Heat's success developing undrafted players — they have seven on the roster that has made a surprising run to the NBA Finals — allows them to recover if they miss in the draft. But they might not by looking at the 6-7 Lewis, who made nearly 80% of his free throws and 36% of his 3-point attempts in his two seasons with the Waves.
19. GOLDEN STATE WARRIORS: KRIS MURRAY, FORWARD, IOWA
After averaging 20.2 points — with a 30-point, 20-rebound game in one outing — Murray will try to make a similar first-year NBA impact as twin brother Keegan, who after leaving the Hawkeyes became an immediate starter for Sacramento last season and was an All-Rookie first-team selection.
20. HOUSTON ROCKETS (from LA Clippers): BILAL COULIBALY, FORWARD, FRANCE
The Rockets hoped to land Wembanyama after sharing the best odds to win the lottery. They could look here at his teammate with Metropolitans 92, a 6-6 swingman who doesn't score much yet but whose 7-3 wingspan allows him to impact the game on both ends even without doing so.
21. BROOKLYN NETS (from Phoenix): JETT HOWARD, GUARD, MICHIGAN
His willingness to fire from behind the arc makes the freshman a perfect fit for the 3-point happy NBA. The 6-8 freshman made multiple 3-pointers in 24 of his 29 games for Juwan Howard, his father, and hit three or more in almost half of them. Howard made 36.8% of them while averaging 14.2 points
22. BROOKLYN NETS: LEONARD MILLER, FORWARD, G LEAGUE IGNITE
The Nets have needed more scoring punch since trading Kevin Durant and Kyrie Irving, and Miller looks capable of providing it after averaging 18 points last season. The 6-10 Canadian also averaged nearly 11 rebounds, another area Nets leadership has identified as a priority.
23. PORTLAND TRAIL BLAZERS (from New York): RAYAN RUPERT, FORWARD, NEW ZEALAND BREAKERS
The native of France would bring coveted defensive abilities, though not much in the way of scoring. Still, it would be hard to pass up a 19-year-old whose 6-7 size allows him to defend any forward or guard position.
24. SACRAMENTO KINGS: DERECK LIVELY II, CENTER, DUKE
Is still limited offensively, but the NBA's highest-scoring team doesn't need points. The Kings need someone to help prevent them, and the 7-1 Lively shows promise as a rebounder and shot blocker, highlighted by 14 boards and eight blocks in a game against rival North Carolina.
25. MEMPHIS GRIZZLIES: TRAYCE JACKSON-DAVIS, FORWARD, INDIANA
Had more than 2,200 points and 1,100 rebounds in one of the most decorated careers in Hoosiers history. But in the one-and-done era, the 23-year-old All-American's age may work against the son of former Indiana Pacers forward Dale Davis.
26. INDIANA PACERS (from Cleveland): JAIME JAQUEZ JR., GUARD, UCLA
The do-everything swingman led the Bruins with 17.8 points and 8.2 rebounds, becoming their first Pac-12 player of the year since Kevin Love in 2008. At 6-7, Jacquez does everything well — he's No. 8 in UCLA history in both points and steals — but maybe not any of them at the top NBA level.
27. CHARLOTTE HORNETS (from Denver via New York and Oklahoma City): AMARI BAILEY, GUARD, UCLA
Bailey had a strong finish to his lone college season, averaging 16.7 points on 56% shooting in the Bruins' run to the Sweet 16. The Hornets struggle when LaMelo Ball is out, so the 6-5 guard could be appealing to a team that was fourth-worst in the NBA in scoring.
28. UTAH JAZZ (from Philadelphia via Brooklyn): COLBY JONES, GUARD, XAVIER
With three picks in the first round, the Jazz are positioned to bolster a team that hung around the playoff race much longer than expected. The 6-6 Jones, who made 18-of-21 shots in one torrid stretch last season and 9-of-10 3-pointers in another, could be a nice late addition.
29. INDIANA PACERS (from Boston): NOAH CLOWNEY, FORWARD, ALABAMA
Clowney put up nearly eight rebounds and a block per game in his lone college season. At just 210 pounds on his 6-10 frame, he will need to add strength for the battles inside against NBA big men.
30. LOS ANGELES CLIPPERS (from Milwaukee via Houston): DARIQ WHITEHEAD, FORWARD, DUKE
Arrived at Duke as the high school player of the year but a foot injury led to a delayed start to his college career followed by shooting struggles after it finally began. But the 6-7 forward showed enough defensive and 3-point abilities in his limited time to make himself worthy of a first-round spot.
___
AP Basketball writers Aaron Beard, John Marshall and Tim Reynolds contributed to this report.
___
AP NBA: https://apnews.com/hub/NBA and https://twitter.com/AP_Sports