Harris homer lifts Braves to 7-5 win, deal Mets 1st 5-game skid since 2021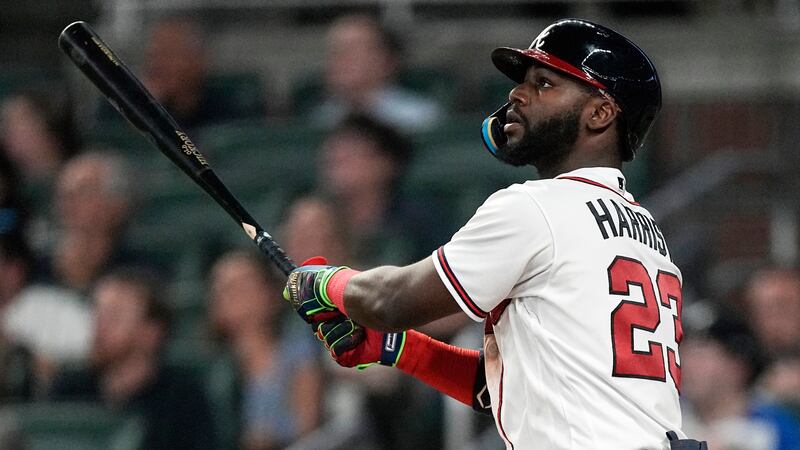 Published: Jun. 8, 2023 at 7:12 AM CDT
ATLANTA (AP) — Charlie Morton went to find Pete Alonso and apologize for hitting him with a pitch that knocked the Mets slugger out of the game.
Alonso appreciated the gesture.
"He came up after I got X-rayed," Alonso said after the Braves beat the Mets 7-5 on Wednesday night. "He was looking for me. He just wanted to apologize. Obviously he didn't mean to. For people speculating for this or that, I just wanted to clear that. Chuckie's a good guy and the situation didn't call for it either. There's nothing to it. I just happened to get hit with an up-and-in fastball."
Michael Harris II hit a two-run, tiebreaking homer off Adam Ottavino in the eighth inning and the Braves rallied for their fourth straight victory.
The third-place Mets wasted a three-run lead for the second straight night. They have lost five straight for the first time since 2021 and at 30-32 dropped 7 1/2 games behind Atlanta in the NL East.
Alonso was hit on the left wrist by a 96 mph fastball from Morton in the first inning. The Mets said Alonso, who leads the major leagues with 22 homers, has a bruise and will get a CT scan on Thursday.
"That's super promising that the X-rays are negative," Alonso said. "I mean we're going to get additional imaging with a little bone scan tomorrow just to double check. It's super encouraging but at the same time we want to see how the swelling plays, you know? Hopefully it goes down sooner rather than later, and I can get right back on the horse."
Alonso was booed in pregame introductions and before his at-bat. A night earlier, Alonso homered in the third inning of a 6-4 loss and shouted from the dugout at Braves starter Bryce Elder: "Throw it again. Throw it again, please. Throw it again."
Some fans cheered when Alonso was hit by the pitch, but the New York first baseman said he harbors no ill will.
"Yeah, I think obviously that's a consequence of what I said in the dugout and the hot mic," Alonso said. "It's just unfortunate because I think it got blown out of proportion. It's just friendly competitive banter. I guarantee you if you were to mic both dugouts, you're going to hear certain things that people could take offense to, but for me I didn't mean anything by it."
Mets co-ace Max Scherzer gave up five runs and 11 hits, one shy of his career high, in 5 2/3 innings.
He struck out 10 in his 111th double-digit strikeout game, passing Roger Clemens for third place on the career list. The three-time Cy Young Award winner was chased in the sixth when Harris hit a tying double and scored on Ronald Acuña Jr.'s RBI single for a 5-4 lead.
"We're competing," Scherzer said. "This is Major League Baseball. You want to go out there and be the best and there are other times that the other team beats you. Today wasn't our day."
Tommy Pham homered and tied the score 5-5 with a seventh-inning sacrifice fly.
Marcell Ozuna doubled in the eighth off Brooks Raley (1-1) and Harris hit a 443-foot drive against Ottavino for his third homer this year. Harris struggled with injuries the first two months of the season, but he's starting to see better results.
"Last night Marcell came up to me and gave me the pep talk I needed," Harris said after going 3 for 4 and raising his batting average to .181. "Before my last at-bat last night he told my season was starting, and ever since then I've been hitting the ball hard and seeing it good."
Nick Anderson (4-0) pitched a one-hit eighth, and A.J. Minter got three straight out for his eighth save in 11 chances.
Francisco Álvarez hit his ninth homer, a solo shot in the second, and Pham went deep for two runs in the fifth as the Mets took a 4-1 lead. Pham, who ran for Alonso, hit his sixth home run and first off a right-hander.
Sean Murphy cut the deficit to 4-3 with a two-run homer in the fifth.
Morton allowed four runs, four hits and four walks in a season-low 4 2/3 innings.
GREAT GRABS
With the bases loaded in the seventh, Acuña leaped against the wall in right to rob Pham of extra bases with the bases loaded and hold him to a sacrifice fly. ... Harris made a tough play with two outs in the eighth, turning to run backward in center and catch Mark Canha's liner near the wall.
"Honestly we have a tremendous defense, and I think it speaks for itself," Acuña said through a translator. "I think you saw what we can do tonight."
DOMINATING
Since winning the first of five straight NL East titles in 2018, the Braves are 55-36 in the rivalry, including victories in 10 of the last 12 meetings. Atlanta has outscored the Mets 71-41 over that stretch and has won eight of nine at Truist Park.
MILESTONE
Braves manager Brian Snitker reached 579 career wins to surpass George Stallings for the third-most in franchise history. Hall of Famer Bobby Cox had 2,149 wins and Frank Selee 1,004.
TRAINER'S ROOM
Mets SS Francisco Lindor had a slight collision with Pham as he caught a flyball in shallow left in the fifth. Lindor stayed down for a couple of seconds but stayed in the game after a quick visit from a trainer.
UP NEXT
Mets RHP Justin Verlander (2-3, 4.25 ERA) will face RHP Spencer Strider (6-2, 2.97) as the teams conclude a three-game series Thursday. Verlander, a three-time Cy Young Award winner, is 2-1 with a 2.57 ERA in three career starts against Atlanta. Strider, tied for the major league lead with 113 strikeouts, is 3-1 with a 5.03 ERA in four career starts and two relief appearances against New York.
Copyright 2023 The Associated Press. All rights reserved.