Former VP Mike Pence speaks at Christian conference in Huntsville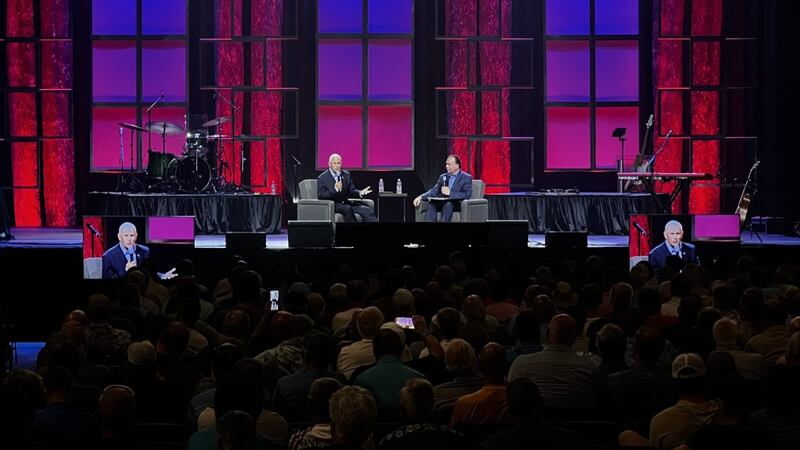 Published: Jun. 16, 2023 at 9:50 PM CDT
HUNTSVILLE, Ala. (WAFF) - Former Vice President and 2024 GOP Presidential candidate Mike Pence gave a speech on Friday night in Huntsville.
However, he is not here for a campaign stop, instead, he will be speaking at a Christian Men's Conference at the Von Braun Center.
For a man who's attended this conference several times, William Matthews says this is a once-in-a-lifetime opportunity. He says there's nothing like it for devout Christian men.
Matthews isn't the only one ready for the conference as all hotels partnered with the event are booked. Walter Walker, another event attendee, says he admires Pence's expression of his religion.
"I think it's awesome for someone who was voted in as a leader of our country who is speaking here tonight to share his views about Jesus Christ and how he feels about it," Walker said. "It's important that we have people like that to share their views because if you don't have anyone to stand up in a leadership role how do you create attention to it? >
Pence made headlines recently when he said he can not defend the recent allegations made against former President Donald Trump when it came to hoarding classified documents.
At this time it's unclear whether the former vice president will bring up politics at all during his visit. But in Pence's book, "So Help Me God", he speaks on how his religious views impact his political ambitions.
The Gridiron is a conference geared toward building Christian leaders out of men with Pence as the leader of the group.
Matthews says the world needs more people like Pence who is very public about his religion.
"Well, it's just great to hear people that aren't in prominent situations. But yet, they have a need for God and [the] joy of Jesus, their Savior. It's just as good to hear that. We don't see enough of that in our world," Matthews said.
Doors open at 5:30 p.m. and the main session and worship begin at 7 p.m. Pence is expected to deliver his speech at 8:20.
Click Here to Subscribe on YouTube: Watch the latest WAFF 48 news, sports & weather videos on our YouTube channel!
Copyright 2023 WAFF. All rights reserved.