'He's going to kill you' | Victim counseled by cop who later killed his wife
Part three of 'Shielded,' which reports that sometimes police officers sent to domestic calls have similar experiences at home.
Published: Jun. 12, 2023 at 10:07 AM CDT
|
Updated: Jun. 19, 2023 at 1:06 PM CDT
ATLANTA, Ga. (Atlanta News First) - Megan Montgomery had been shot with her husband's service weapon before.
In February 2019, the 31-year-old wife had pulled her husband's police handgun to protect herself from him, Montgomery told police. She was shot in her right arm in a struggle over the gun, according to state investigators.
Jason McIntosh told fellow officers he thought he was struggling with his wife over a cell phone, not a weapon, when he heard the gunshot.
Are police officers given special treatment when they are suspects in family violence incidents? After months of research, investigations and interviews, "Shielded" is a four-part series by Atlanta News First Chief Investigative Reporter Brendan Keefe that uncovers cases where an officer in an alleged domestic dispute was treated much differently than similar suspects. When cops are arrested for domestic violence, data shows they rarely get convicted. Many keep their jobs. About half keep their law enforcement certifications – and their guns. We also look at two cases in which officers who were given their guns back killed their wives with those same guns. This series provides resources and other help for not only police and their families, but anyone who might be experiencing domestic violence.
The Hoover, Alabama, Police Department put McIntosh on administrative leave pending an internal affairs investigation. He resigned in March of that year.
A judge issued a mutual protection order against the couple to keep them apart. It didn't work. They both continued seeing each other over the coming months.
>>>SCROLL DOWN FOR RESOURCES FOR VICTIMS OF DOMESTIC VIOLENCE
State investigators determined Montgomery was the primary aggressor because she pulled the gun. Prosecutors declined to file charges against anyone, so McIntosh repeatedly asked for his gun back. It was his duty weapon, but he had purchased the handgun himself.
In May 2019, Hoover police were called to the couple's home again on another domestic call. This time, McIntosh was arrested on domestic violence charges, according to the Hoover Police incident report obtained by Atlanta News First Investigates.
Body camera recordings deleted. Warrants difficult to find. The only vacated family violence arrest by the city's chief judge in a decade. All of that and more happened after Union City officers were called to the home of one of their own lieutenants. Atlanta News First Investigates fought for seven months to uncover and access public records in a case resolved under mysterious circumstances.
Montgomery filed for divorce, got counseling, rented her own apartment and was on her way to rebuilding her life, dedicated to helping other survivors of domestic violence.
McIntosh kept asking state investigators for his gun, even while awaiting trial. An Alabama Law Enforcement Agency (ALEA) investigator met McIntosh in the agency's parking lot in November 2019, and handed the gun over to the former officer.
In response to a question from Atlanta News First Investigates about the parking lot gun exchange, ALEA said, "The gun was Mr. McIntosh's personal property, the investigation was closed, and ALEA had no legal justification for keeping his private property. If the gun had been a department issued service weapon, ALEA would have returned it to the department."
Alabama law prohibits gun possession by anyone subject to an order of protection from abuse, even though the order in this case did not explicitly ban firearms.
Two weeks later, McIntosh shot Montgomery with that same gun and dumped her body in a parking lot.
Days later, a letter arrived in the mail scheduling a date for Montgomery's testimony in the earlier domestic case. Instead, her estranged husband was in custody for her murder.
Originally charged with capital murder because of the existing protection order, McIntosh pleaded guilty in 2021 to a reduced charge of murder and is serving a 30-year prison sentence, according to court records.
Megan Montgomery's mother and stepfather started a non-profit organization in her name. The Megan Montgomery Foundation to Prevent Domestic Violence raises awareness by providing grants to high schools and universities to educate young men and women on the warning signs of unhealthy relationships.
Amanda Perrault never had a chance. Six days after reporting a case of domestic abuse involving her police officer husband, she was killed by a single gunshot to the head. Officer Michael Seth Perrault said his wife had shot herself, but his story didn't add up. Here's why officers accused of domestic violence often keep their guns and their badges.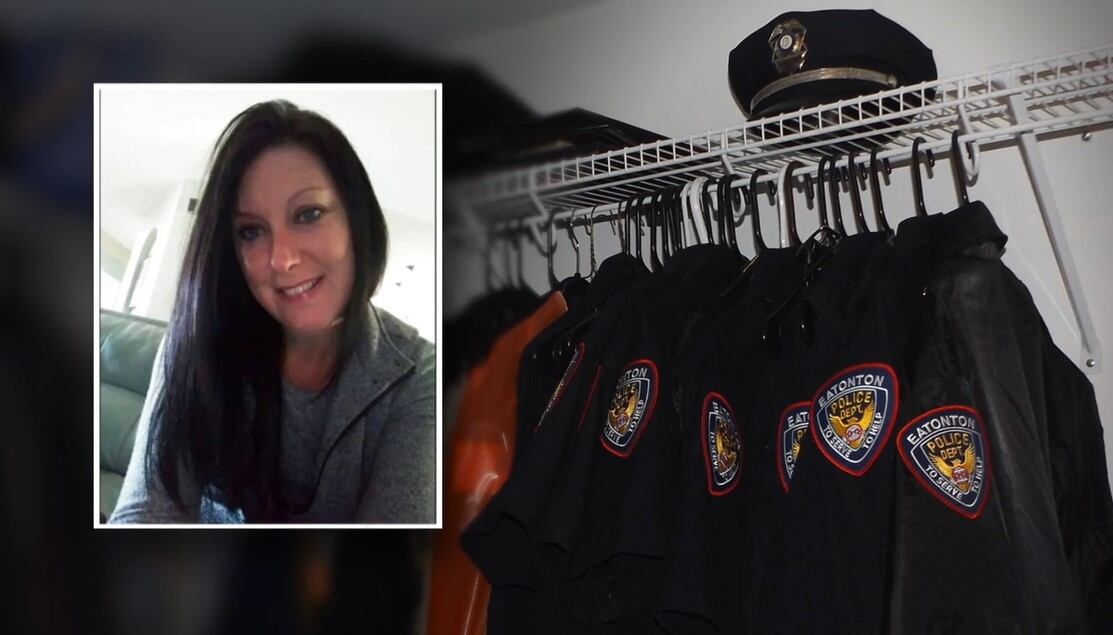 Just a few blocks away from the home where the domestic incidents had occurred, Lola Garcia noticed a familiar sounding name watching news reports of Montgomery's murder and her husband's arrest: Jason McIntosh, the same police officer who had responded to her home on a domestic call before his own marriage ended in murder.
In November 2018, McIntosh was the lead officer responding to a domestic call from Garcia, who called police regarding her ex-boyfriend. According to the incident report, Garcia's ex-boyfriend "began choking the victim." McIntosh reported he "observed scrapes on the victim's elbow."
McIntosh wrote he reviewed a video Garcia had recorded. "You could not really see the incident, but you can hear the victim screaming," he wrote. "The two-year-old child the two share was present and witnessed the incident and was upset."
"My daughter was standing behind me just screaming," Garcia told Atlanta News First Investigates. "I'm going to die and she's going to see it."
"I got a feeling of empathy and just a feeling that [McIntosh] cared," Garcia said. "He explained the procedure to me that was never fully explained to me by any other officer: this is what happens next, the options for filing for a protection from abuse and all those sorts of things that I didn't know existed. I didn't know those resources were there. He taught me all of it."
McIntosh's incident report was written less than three months before he and his own wife would struggle over a gun a few blocks away, resulting in Montgomery's shattered right arm.
Garcia recalls McIntosh was blunt in his response: "Basically he said that if I don't follow through with the charges and do what I need to do to keep him away, that [my ex-boyfriend] was going to kill me."
Garcia's ex-boyfriend was arrested, according to the incident report, and he later pressed charges against Garcia for an earlier domestic incident. Both saw their charges dismissed after they completed a diversion program.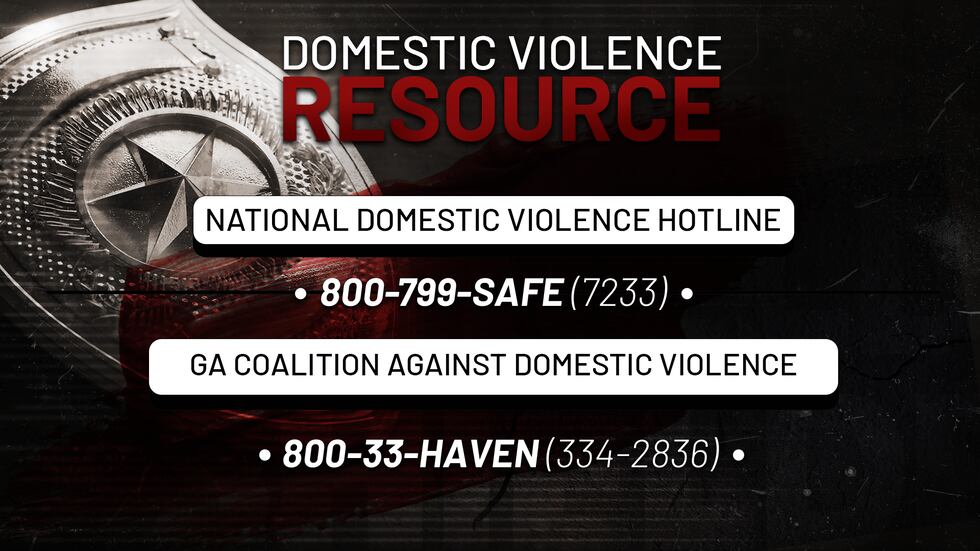 Atlanta News First Investigates has reached out to Garcia's ex-boyfriend with no response.
"It was absolutely terrifying to think that he was the one person that had given me the courage to speak up against my abuser and to actually follow through and press charges," Garcia said. "So to know the reasoning behind how he knew that I would end up dead if I didn't follow through [is] chilling."
"Shielded" is a four-part series by Brendan Keefe, Atlanta News First Chief Investigator, on how police officers are often given special treatment when they are suspects in family violence investigations. This series also provides resources for not only police and their families, but everyone who might be experiencing these terrible experiences on their own.
If there's something you would like Atlanta News First Chief Investigator Brendan Keefe to look into, email him directly at brendan.keefe@wanf.com
MORE IN-DEPTH COVERAGE FROM ATLANTA NEWS FIRST INVESTIGATES
Copyright 2023 WANF. All rights reserved.