Hottest stretch of 2023 so far eyes Central AL
Highs will be in the 90s with heat indices near or above 100 degrees
Published: Jun. 23, 2023 at 11:06 AM CDT
MONTGOMERY, Ala. (WSFA) - The recent stretch of rainy and stormy weather has kept the brutal Alabama heat at bay for the most part. That is set to change this weekend and next week as 90-degree heat eyes the state.
It won't be record-breaking or unusual heat by any means given the fact that we're in late June. After all, the average high this time of year is 92 or 93 degrees. We've just been spoiled recently with the lack of big heat.
It has been hot at times this year though. Montgomery has reached or exceeded 90 degrees a total of 15 times so far in 2023. The hottest temperature registered in the city this year is 94 degrees, which we saw back on May 14th.
The highest heat index so far this year of 101.5° occurred just days ago on June 14th. That's one of only two days with a peak heat index value over 100° so far in 2023. The other day was May 15th when the heat index reached 100.2°.
I'd argue that's pretty unusual.
Typically we see more days with triple digit heat indices in Central Alabama by this time of the year. That's because humidity is usually in abundance here, and average high temperatures are in the 90s throughout the month of June. So the ability to get heat indices above 100 isn't too hard.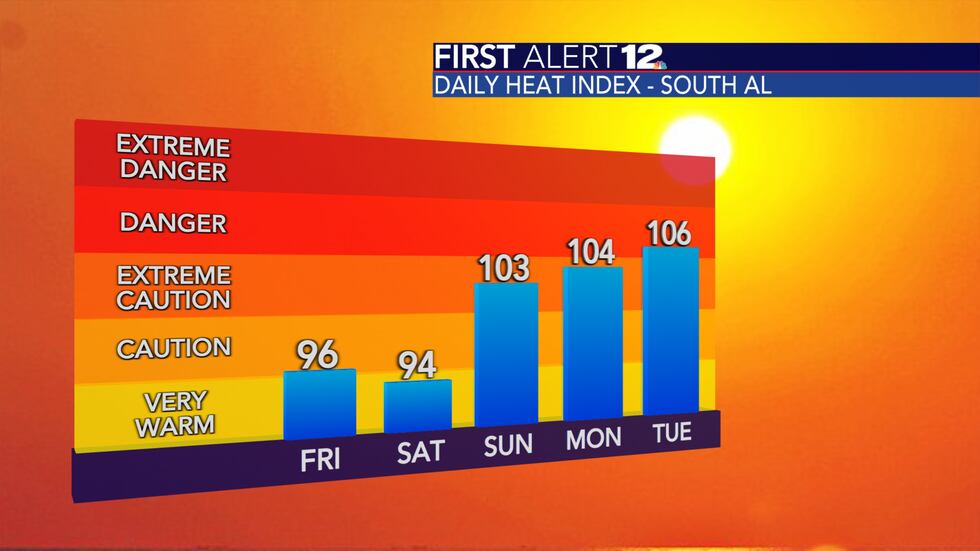 The unfortunate thing is our luck is about to run out when it comes to dodging Alabama's brutal heat and humidity combination. Starting this weekend high temperatures will be in the 90s each and every day through the beginning of July.
Pair that heat with very high humidity values most of those days and you have the recipe for triple digit heat indices across a large portion of Central Alabama. Peak heat indices will likely reach the 100 to 105 range Sunday and Monday along and west of I-65.
The worst of the heat Tuesday and Wednesday will likely be across South and West Alabama. By the end of next week and beyond the heat indices will probably exceed 100 degrees across all of Central and South Alabama.
Many models actually suggest dangerous levels of heat and humidity late next week and next weekend. We're talking heat indices peaking as high as 105 to 112 degrees. This is still a week or so out, so things can and will change at least somewhat. So be sure to continue checking back for updates to the forecast!
Not reading this story on the WSFA News App? Get news alerts FASTER and FREE in the Apple App Store and the Google Play Store!
Copyright 2023 WSFA. All rights reserved.