Heat illnesses are a concern this week
Heat indices will soar well above 100 degrees for most everyone all week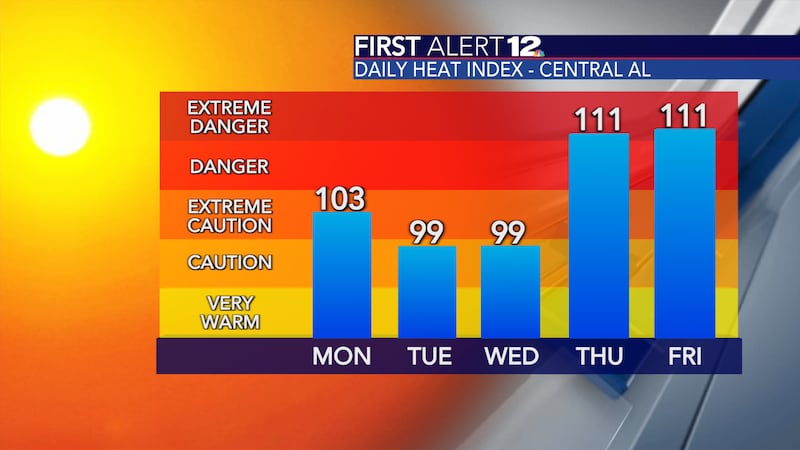 Published: Jun. 26, 2023 at 11:22 AM CDT
MONTGOMERY, Ala. (WSFA) - There's hot, there's very hot, then there's extremely hot. Alabama oftentimes experiences hot and very hot conditions during the summer months being located in the Deep South.
We don't get into that extremely hot category much. That's the level of heat that can cause heat-related illness in a short amount of time if proper precautions are not taken.
When the heat index gets up close to 115 degrees, that's when we consider it extremely dangerous to be outside. With that kind of heat, the development of heat cramps, heat exhaustion and heat stroke can occur very fast in even the healthiest of people.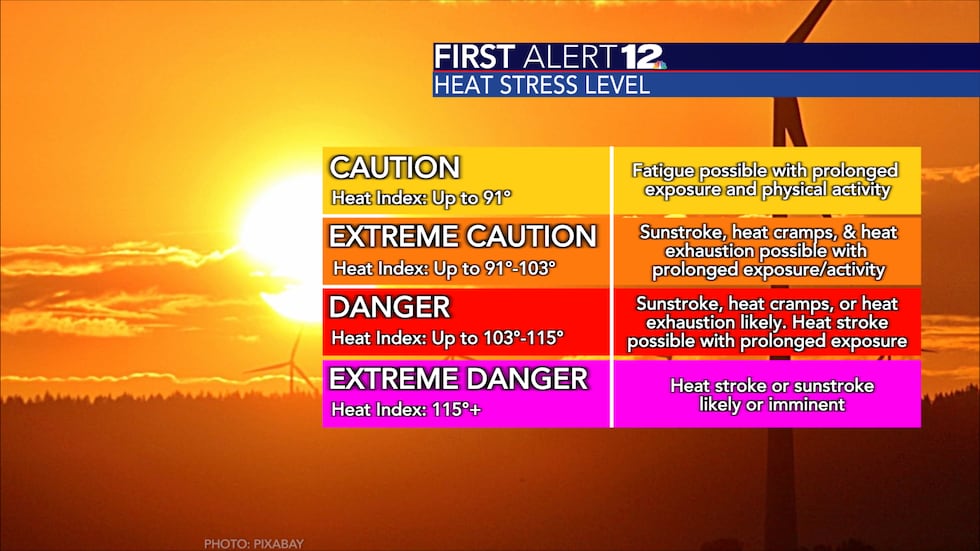 Between this Thursday and Saturday it's very possible that many locations across Central and South Alabama experience a peak heat index as high as 115 degrees. Not everyone will get that hot, but some will.
Even if your heat index peaks at 113 or 114, it's still brutally and dangerously hot. That kind of heat index doesn't happen all that often in Alabama. For perspective, Montgomery hasn't recorded a heat index as high as 114 degrees since August 11th of 2002!
It's certainly possible we reach that between Thursday and Saturday. The absolute hottest of locations could go just above 115 degrees assuming current forecast expectations hold.
Even the days with heat indices between 100 and 110 should be taken seriously. Any heat index over 100° can be problematic if you're ill-prepared or spend time outdoors.
Be sure to check in on your neighbors and family members this week, especially children and the elderly. Staying hydrated, wearing light-colored and loose-fitting clothing, avoiding caffeine and alcohol, and eating small meals are some other great tips in this kind of heat.
Checking to ensure your A/C system in both your home and vehicle is functioning properly is another step you can take heading into the hottest stretch of 2023. Keeping your pets indoors and spending time in the shade or A/C are a couple other things to keep in mind.
The reason why we use the heat index when talking about extreme heat is because it incorporates the temperature and the humidity. In a humid climate like Alabama the temperature is only half the story. We must factor in the mugginess to grasp how truly uncomfortable and hot it is outside.
You can learn more about the heat index, what it is and how to calculate it by checking out this article I wrote back in May.
Not reading this story on the WSFA News App? Get news alerts FASTER and FREE in the Apple App Store and the Google Play Store!
Copyright 2023 WSFA. All rights reserved.