Tips and precautions for impending heatwave
Heat indices will reach 104° to 114¯° Thursday through Sunday
Published: Jun. 28, 2023 at 11:17 AM CDT
MONTGOMERY, Ala. (WSFA) - It's not often the National Weather Service issues Excessive Heat Warnings for Central Alabama. It does happen, just not that often. That's because they are only issued when the heat becomes brutal and dangerous.
This upcoming heatwave will qualify as both of those. There will be at least four straight days of highs in the upper 90s starting Thursday. Some locations may even get to 100 or 101 degrees.
Pair that kind of heat with uncomfortably high levels of humidity and the result will be dangerously high heat indices. All four days will feature heat indices at or above 100 degrees. The absolute worst of the heat and humidity will probably affect the area Friday and Saturday.
That's when all of Central and South Alabama will experience heat indices of 105 to 113 degrees. Some of us will see heat indices that high Thursday and Sunday as well. It won't be that hot for only an hour or two each day either.
We're talking 7-12 hours of heat indices at or above 100 degrees for four straight days in many towns and cities across the region. That kind of heat will take a toll on even the healthiest of people.
So it's important to prepare and practice heat safety during this stretch. That includes things like covering your windows with shades or drapes, cooling your attic, keeping the thermostat consistent, and checking your vehicle's tire pressure and fluids.
Some other things to consider during the upcoming heatwave include staying hydrated, avoiding caffeine and alcohol, eating small and light meals, keeping your pets indoors, and checking in on your neighbors and family members.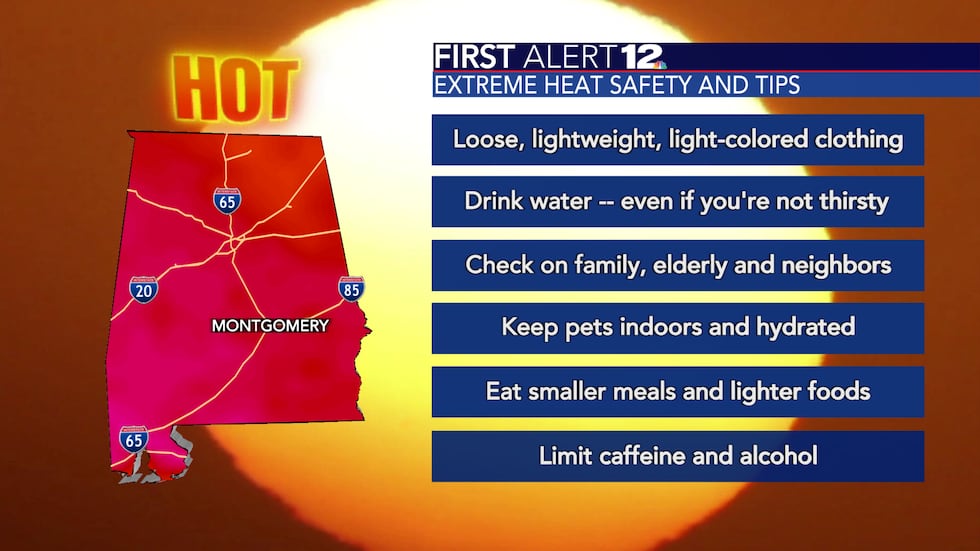 Heat illness can develop very fast in this kind of heat. That includes heat cramps, heat exhaustion and even heat stroke. The latter one on that list is a medical emergency!
It's also possible for heat illnesses to settle in over a period of hours or even days. So just because you feel fine after spending one day outside doesn't mean the next day will go the same. Please be safe, Central Alabama!
Not reading this story on the WSFA News App? Get news alerts FASTER and FREE in the Apple App Store and the Google Play Store!
Copyright 2023 WSFA. All rights reserved.