Atlanta police motorcycles burned in fire started by 'incendiary devices,' officials say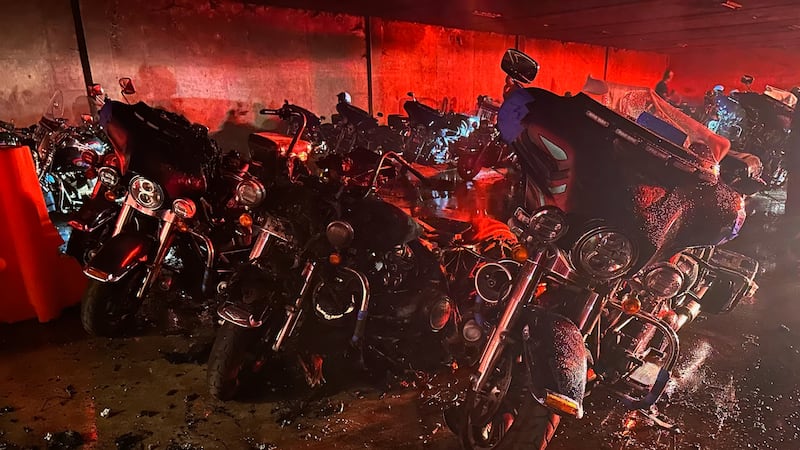 Published: Jul. 2, 2023 at 8:25 AM CDT
ATLANTA (WANF/Gray News) - "Incendiary devices" were found after an early morning fire inside the parking deck of an old Atlanta Police Training Academy Saturday morning, the Atlanta Fire and Rescue Department said.
Crews responded to 180 Southside Industrial Parkway at around 2:20 a.m. after reports of a multi-vehicle fire, they said. When they got there, firefighters said they found multiple motorcycles on fire.
They were able to put out the fire and then said they discovered "incendiary devices," which are used to set fires.
It is unknown if authorities believe it is a case of arson or if any suspects were taken into custody. The fire department said they continue to investigate.
WANF is working to learn more and has reached out to the Atlanta Police Department, the FBI and the Bureau of Alcohol, Tobacco, Firearms and Explosives for a statement.
This location is not to be confused with the planned Atlanta Police training facility that has yet to break ground in DeKalb County. That project has been the subject of protests, some violent, over the past year. It has been dubbed "Cop City" by those against the project. This fire, though, comes at the end of the "Defend the Forest" protesters' "week of action."
Atlanta police said another vandalism incident involving their property was reported at around 1 a.m. When officers arrived at 890 Memorial Drive, they located three APD vehicles that had been damaged.
In a statement in response to the incident, Gov. Brian Kemp said the "attacks on public safety resources are outrageous and completely inexcusable" and called the incident a planned attack that endangered lives and community assets.
"Those are the tactics of organized criminals, not protestors, and their supporters should ask themselves if they truly want to be associated with such radical and violent people," Kemp said. "Working with state, local, and federal law enforcement partners, we will find these criminals and bring them to justice."
Copyright 2023 WANF via Gray Media Group, Inc. All rights reserved.