Local and state associations searching for help amid Referee Shortage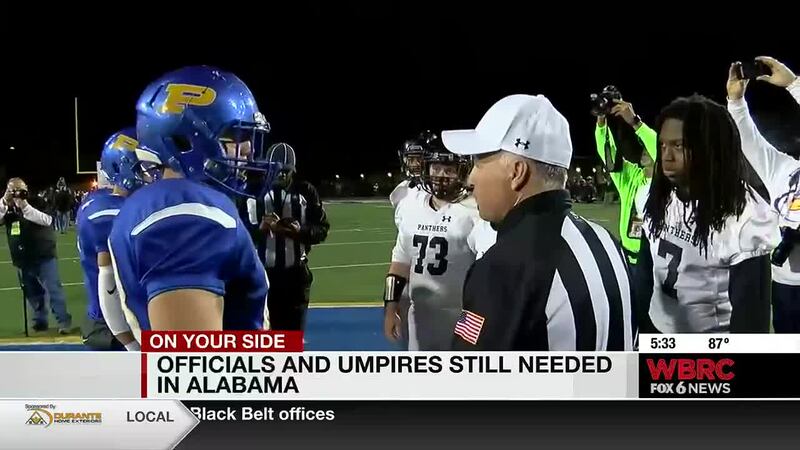 Published: Jul. 10, 2023 at 7:50 PM CDT
BIRMINGHAM, Ala. (WBRC) - A lack of referees is causing concern with the scheduling of games. If more officials are not hired, games may be moved around or canceled all together.
AHSAA's head of officiating, Ken Washington, said that they are working to get 1100 new officials in the doors for this upcoming year.
Currently they have around 6,900 officials, but the extra umpires and referees will allow those who officiate to not have to travel as far. It will also help to keep games on schedule.
However, the AHSAA is far from the only organization searching for help, that includes the Shelby Football Officials Association.
"We have been in need of officials for several years now. The average age of a typical high school official is about 40 something. We need to bring that average age down. We need younger folks who are excited about the game to get out here and learn the rules and become a part of it," said President of the Shelby Football Officials Association David Johnson.
David Johnson says while pay has increased, $110 to $120 a game, it has still been difficult to boost their ranks.
"We average about 75 or 80 members, and we would like to see a hundred plus members. Just to cover all the schools that we engage with and getting those people through the door is very tough." He explained, "We're just looking to put some good, strong officials on the field to administer these games for these student athletes and coaches."
The Shelby Football Officials Association has an interest meeting Tuesday at 6:30 p.m. at the Helena Community Center. To learn more about potentially becoming an official you can click here.
Get news alerts in the Apple App Store and Google Play Store or subscribe to our email newsletter here.
Copyright 2023 WBRC. All rights reserved.