Johnson, Knaus headline list of 15 nominees for NASCAR Hall of Fame's 2024 class
The driver-crew chief tandem won seven titles and more than 80 races.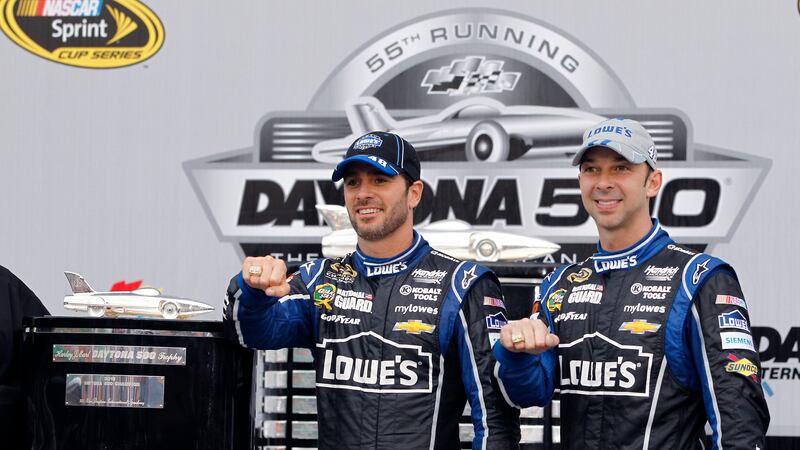 Published: Jul. 12, 2023 at 11:55 AM CDT
CHARLOTTE, N.C. (WBTV) - NASCAR announced its 15 nominees for the 2024 Hall of Fame class on Wednesday, headlined by seven-time Cup champion Jimmie Johnson.
Johnson is joined by his longtime crew chief and current Hendrick Motorsports VP of Competition Chad Knaus. The tandem worked together for all seven of Johnson's titles, winning five in a row from 2006-10.
Johnson and Knaus are on the Modern-Era Ballot, along with Neil Bonnett, Jeff Burton, Carl Edwards and Harry Gant. Ten people were named to the ballot.
Five additional NASCAR figures were nominated to the Pioneer Ballot, including drivers Donnie Allison and AJ Foyt. Those on the Pioneer Ballot had careers that began more than 60 years ago.
The full list of nominees from both ballots, along with career highlights, are below:
Modern-Era Ballot:
Neil Bonnett - Won 18 times in the NASCAR Cup Series including consecutive Coca-Cola 600 victories
Tim Brewer - Two-time NASCAR Cup Series champion crew chief
Jeff Burton - Won 21 times in the NASCAR Cup Series including the Southern 500 and two Coca-Cola 600s
Carl Edwards - Winner of 28 NASCAR Cup Series races and 2007 Xfinity Series champion
Harry Gant - Winner of 18 NASCAR Cup Series races, including two Southern 500 victories
Harry Hyde - 1970 NASCAR Cup Series championship crew chief
Jimmie Johnson - Seven-time NASCAR Cup Series champion
Chad Knaus - Seven-time NASCAR Cup Series champion crew chief
Larry Phillips - First five-time NASCAR weekly series national champion
Ricky Rudd - Won 23 times in NASCAR Cup Series, including the 1997 Brickyard 400
Pioneer Ballot:
Donnie Allison - Ten-time NASCAR Cup Series winner, 1967 Cup Series ROY
Sam Ard - NASCAR Xfinity Series pioneer and two-time champion
AJ Foyt - Won seven NASCAR Cup Series races including the 1972 Daytona 500
Banjo Matthews - Built cars that won more than 250 NASCAR Cup Series races and three championships
Ralph Moody - Two-time NASCAR Cup Series owner champion as mechanical genius of Holman-Moody
In addition to the 15 Hall of Fame nominees, NASCAR also announced five nominees up for the Landmark Award, which honors those who made significant contributions to the growth and esteem of the sport.
The five nominees for the award, along with their contributions, are listed below:
Janet Guthrie - The first female to compete in a NASCAR Cup Series superspeedway race
Alvin Hawkins - NASCAR's first flagman; established NASCAR racing at Bowman Gray Stadium with Bill France Sr.
Lesa France Kennedy - NASCAR executive vice chair and one of the most influential women in sports
Dr. Joseph Mattioli - Founder of Pocono Raceway
Les Richter - Longtime NASCAR executive oversaw competition, helped grow the sport on the West Coast
The 61-person NASCAR Hall of Fame Voting Panel will meet and vote on the recipient of this year's Landmark Award and inductees for the Class of 2024 on Aug. 2.
Related: Celebrating NASCAR's 75-year history at museum's Glory Road exhibit
Watch continuous live news coverage below:
Copyright 2023 WBTV. All rights reserved.