Michelle Kennedy named Preds new president
Kennedy previously served as the team's Chief Operating Officer.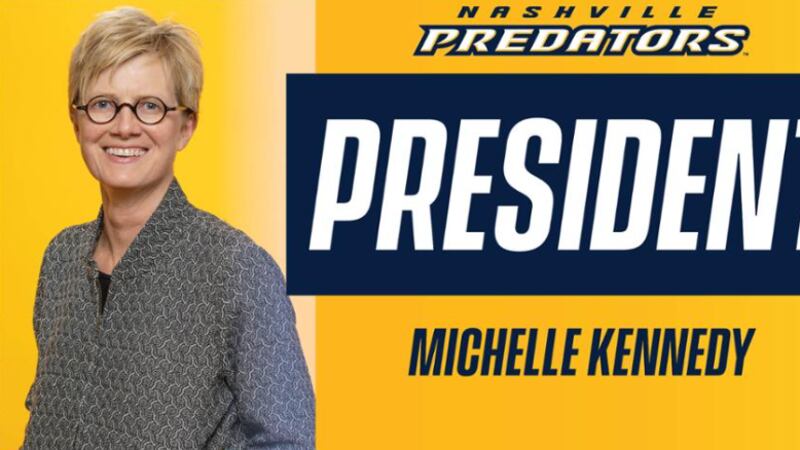 Published: Jul. 14, 2023 at 9:23 AM CDT
NASHVILLE, Tenn. (WSMV) - The Nashville Predators announced a leadership change on Friday morning.
The team has named current Chief Operating Officer Michelle Kennedy as the new "President and Alternate Governor" effective immediately. The team said Kennedy will assume these new roles in addition to her COO title.
Kennedy will head the day-to-day business operations for the Predators and work with Chief Executive Officer Sean Henry on all major initiatives involving Bridgestone Arena, the team and its partners, and fans, according to a press release.
"We are pleased to elevate Michelle to the positions of President and Alternate Governor today," Chairman Herb Fritch said in the release. "Speaking for the ownership group, we have great confidence in Michelle's ability to lead the day-to-day business operations of the organization - she has proven that to us in her 15-plus years with the Predators in her various roles. Additionally, I applaud Michelle for her tireless work ethic, her dedication to our employees and for her commitment to the Nashville community and our fans. She is going to be a great President for all of us."
Kennedy joined the Predators organization in 2008 as an intern from Vanderbilt University. She then was hired as the team's first in-house counsel, adding the role of Chief Financial Officer in 2010. She was named as the Predators' Chief Operating Officer in 2017.
"It has been a privilege to be a part of this organization for the last 15 years," Kennedy said. "My earliest memories in this organization are of our ownership group acquiring a struggling franchise to prevent relocation; the progress we have made since then, becoming a core part of this community, an award-winning venue, and a true hockey town, is extremely gratifying. With that said, I know that the best is yet to come, and that is what excites me the most.
The Predators begin the 2023-24 season on the road in Tampa Bay on Oct. 10. They return to Bridgestone Arena on Oct. 12 for the Home Opener against the Seattle Kraken.
Copyright 2023 WSMV. All rights reserved.