Here's what to expect for the month of August
August is usually hot and muggy with pop-up thunderstorms most days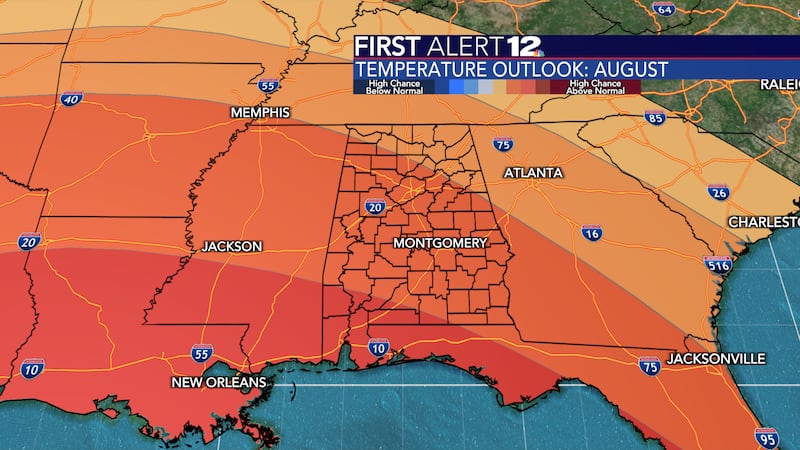 Published: Aug. 3, 2023 at 10:49 AM CDT
MONTGOMERY, Ala. (WSFA) - It's that time again y'all -- time to look at a new monthly outlook for temperatures and rainfall! The Climate Prediction Center (CPC) has released its August outlooks for the U.S. and there is plenty of heat involved.
While it's impossible to predict the exact high temperature each day this month, it is possible to look at the overall patterns forecast to be in place. This allows us to get a general idea of how temperatures and rain chances may behave over the course of the month.
And the pattern this month will favor above normal temperatures overall. Most of Alabama finds itself as having a 50% to 70% chance of finishing August warmer than normal.
With average highs between 92 and 94 degrees that would lead me to believe there will be plenty of days with highs in the mid-90s. Some upper 90s are also a good bet considering August is usually in the top two for hottest month of the year.
Overnight lows in August are usually between 70 and 72 degrees. I'd look for plenty of nights with low temperatures between 72 and 76 degrees based on the overall temperature outlook from the CPC.
As I always say, the outlook should not be taken as an exact forecast. There will likely be some days that wind up below average. On the flip side of that, there could be a few days that are way above average. Only time will tell!
When it comes to rainfall this month, the CPC is not as certain. Most of Alabama has an equal chance of being either wetter than normal or drier than normal. That's what it means on the map below when your location isn't colored.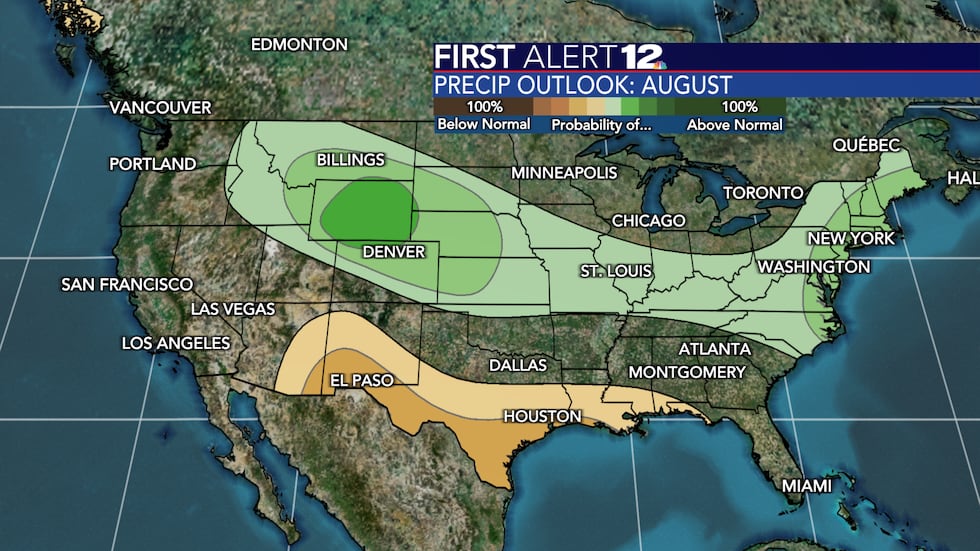 This is likely due to the pattern not really favoring unseasonably wet or unseasonably dry conditions. There's nothing pointing strongly in either direction is pretty much what this outlook is trying to tell us.
What I can say is that August is the 7th-wettest month of the year with an average precipitation total of 4.02″ in Montgomery. There's a really good chance that the month finishes close to that number by the time all is said and done.
If we get a few really stormy days or string together a very dry stretch then the month could end up with a skewed rainfall total. The next week will certainly bring elevated rain chances to Central and South Alabama, but what happens after that remains to be seen!
Not reading this story on the WSFA News App? Get news alerts FASTER and FREE in the Apple App Store and the Google Play Store!
Copyright 2023 WSFA. All rights reserved.