What El Nino means for winter 2023-24
El Nino will continue through winter, and that can have an effect on our weather
Published: Aug. 15, 2023 at 11:24 AM CDT
MONTGOMERY, Ala. (WSFA) - By now you may have heard that Earth is in the midst of an El Niño event. Put simply, this means the sea surface temperatures (SSTs) in the Pacific Ocean near the equator are running above normal.
The exact figures and numerical values behind the current El Niño event can be found by reading the latest discussion by NOAA. The discussions can get pretty science-y and rather complicated as they are full of information.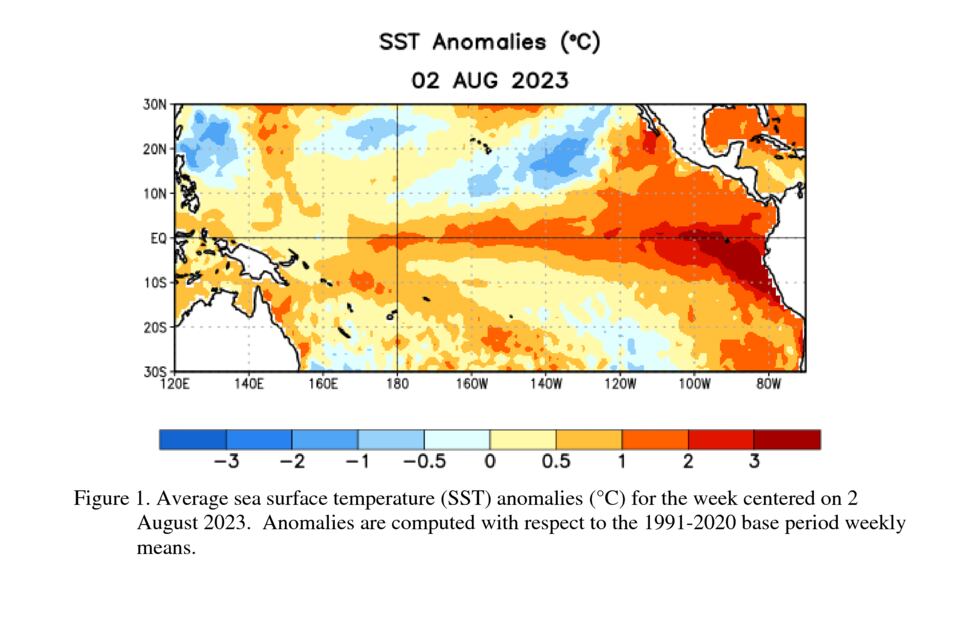 According to forecasters with NOAA, the water temperatures in the equatorial Pacific Ocean will continue to stay warmer than normal. This will keep the El Niño going for the foreseeable future.
In fact, the latest outlook maintains El Niño conditions well into next year. While not exactly likely, there is a small chance this changes the farther we progress into 2024.
The official NOAA forecast has a 95% or higher chance of El Niño all the way through the January-February-March stretch of next year. After that the confidence level starts to come down just a little bit, though El Niño is still the most likely phase (El Niño/Neutral/La Niña) by far.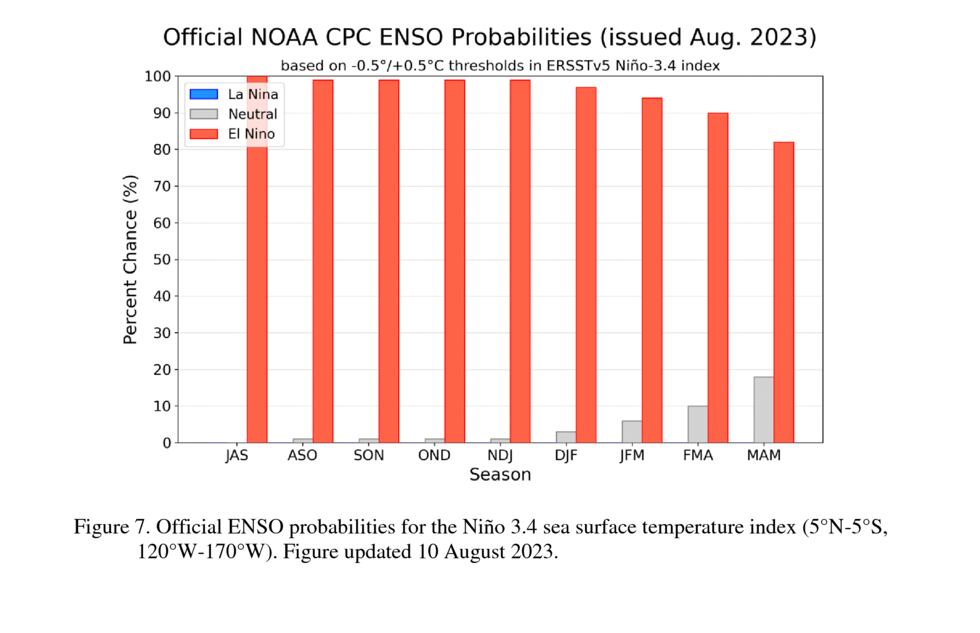 There is more to this whole thing than just saying whether or not we are experiencing an El Niño. The fact that we are in an El Niño has implications on what kind of weather occurs across the globe.
El Niño is most known for its effects on the weather patterns seen in North America during the cold months of October, November, December, January, February, and March. Effects also happen during the spring and summer months to a lesser degree.
What are the known impacts of El Niño on the cold months here in North America and more specifically the United States? The answer in map form can be seen below...
This map is not meant to be taken verbatim every time there's an El Niño in place. Not every El Niño winter ends up behaving exactly like what you see; many do, some don't. That's just the way things are in the world of weather and climate prediction -- it's not an exact science.
Since most cold seasons do end up looking like what you see on the map, it's fair to say the southern half of Alabama, Mississippi and Georgia can expect colder and wetter conditions overall between October and March.
There will assuredly be days that are dry and warm throughout the winter months. There's absolutely no denying that fact. However, the overall pattern this winter should favor more days with below average temperatures and above normal precipitation.
It's important to note that this does not necessarily correspond to wintry precipitation. It remains to be seen if we're cold enough at any point to see wintry precipitation. There is certainly a chance of it given what an El Niño pattern exhibits across the Deep South; it's just impossible to say whether or not we'll see snow months ahead of time.
Not reading this story on the WSFA News App? Get news alerts FASTER and FREE in the Apple App Store and the Google Play Store!
Copyright 2023 WSFA. All rights reserved.