The details on triple digit heat in Montgomery
The city has not recorded a day at or above 100° in 2023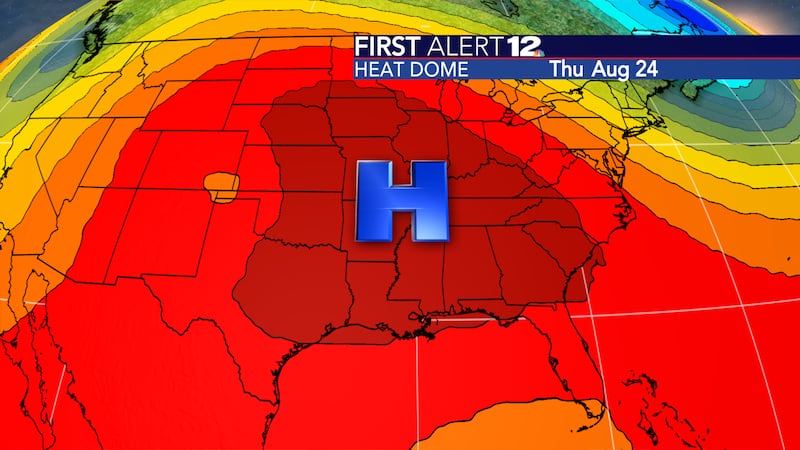 Published: Aug. 17, 2023 at 11:32 AM CDT
MONTGOMERY, Ala. (WSFA) - It's looking increasingly likely that Montgomery will record its first 100-degree day of 2023 next week. Chances are there will be multiple days at or above 100 degrees starting next Tuesday.
It may seem wild to think the Capital City has failed to reach 100 degrees so far this year, especially given the numerous days with extremely high heat index values. But it's true!
It's actually not unusual to go an entire year without recording a 100-degree day in Montgomery. Over the last decade there have been four years without a single day in the 100s. All of the other years had five or less days in the 100s aside from 2019, which had a ridiculous 17 such days.
The average year brings three days at or above 100 degrees to Montgomery. It should be noted that other cities around here have slightly different numbers when it comes to triple digit heat. However, the variance from location to location is minimal.
The most days of triple digit heat observed in a single year is 26. That happened back in the extremely hot year of 1954. Years like that are pretty rare and don't happen often at all whatsoever.
It's more normal to have a year with zero triple digit days than a year with more than 10 such days. Living in the Deep South that may sound counterintuitive and plain wrong. But it's not.
Triple digit heat is just hard to come by because we're oftentimes very humid. The higher the humidity, the harder it is to heat up the air. So most days during the summer are so humid that it's difficult to get to 100 degrees or higher.
If we're going to reach 100 degrees it's going to happen in July or August most times. Of the 235 days that Montgomery reached at least 100 degrees, 74% of them occurred in either July or August. Roughly 16% of those days happened in June, 8% in September and just under 2% in October.
This further supports the idea that the upcoming heatwave is not unprecedented. It is completely normal to have a few days with highs at or above 100 degrees each year, and since we have not had any yet there's really nothing too unusual about next week.
For those keeping score at home, the cities across Central and South Alabama to record at least one day with a high temperature of at least 100 degrees this year include:
• Troy with 4 days (max: 100°)
• Evergreen with 8 days (max: 103°)
• Mobile with 3 days (max: 101°)
• Selma with 8 days (max: 105°)
• Atmore with 1 day (max: 101°)
• Dothan with 1 day (max: 101°)
• Demopolis with 4 days (max: 104°)
Not reading this story on the WSFA News App? Get news alerts FASTER and FREE in the Apple App Store and the Google Play Store!
Copyright 2023 WSFA. All rights reserved.