Big highlights from week 2 of Friday Night Football Fever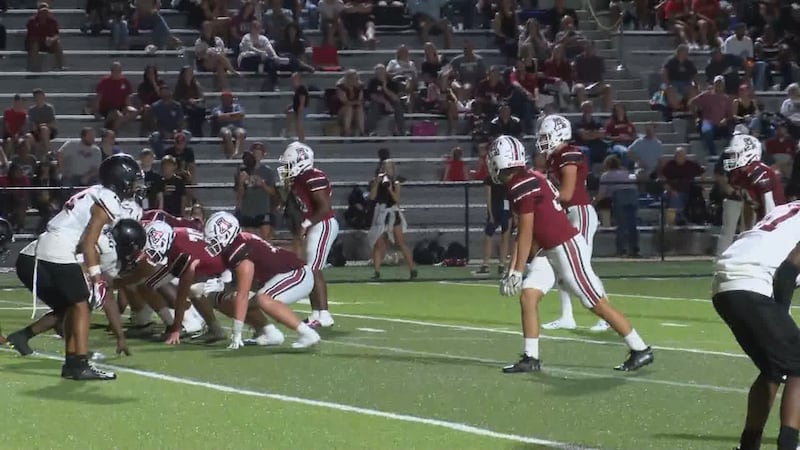 Published: Sep. 1, 2023 at 11:50 PM CDT
MONTGOMERY, Ala. (WSFA) - Week 2 of Friday Night Football Fever is in the books. Here are some of the highlights.
It was a top 10 matchup in Covington County as Andalusia hosted Anniston. In the fourth quarter, running back Jordyn Skanes bulldozed into the endzone to make it 39-0. The Bulldogs poured it on against Anniston, winning 39-0.
Alabama Christian Academy had its first game of the season. The Montgomery Catholic Knights hosted the Eagles. ACA scored first in this game, but the Knights answered to make it 7-0. Catholic went on to win the game 49-12.
Montgomery Academy was on the road visiting Trinity. The Wildcats quarterback Walker McClinton found multiple targets in this game in Winston Phillips, Xavier Boswell and Ross Sanders. Trinity won 34-7 and is 2-0 on the season.
There was a rivalry in Dallas County as Southside-Selma visited Selma. It was a defensive battle until the second quarter. Marquarius Reese found wide receiver Derrick Smith as he broke multiple tackles and scored a 65-yard touchdown for the Panthers. Southside won 22-8.
Georgiana and McKenzie are about 10 minutes from one another, and they battled it out on the gridiron Friday night. The Panthers ended up putting 54 points on the board and went on to win 54-14.
At Red Level, the Tigers hosted the Florala Wildcats. Florala quarterback Rayshon Coleman took the opening kickoff to the house to start the game. Coleman then threw a 50-plus yard touchdown to Elijah McMeans. McMeans also rushed for a 50-plus yard touchdown. Wildcats wob big 48-13.
Sign up for the WSFA Newsletter and get the latest local news and breaking alerts in your email!
Copyright 2023 WSFA. All rights reserved.