'Love Lives On': Proposed legislation aims to end remarriage penalty for surviving military spouses
Widows and widowers forfeit benefits by remarrying before age 55
Published: Sep. 11, 2023 at 4:39 AM CDT
(InvestigateTV) — It's a little-known federal law that impacts tens of thousands of military families across the country. Specifically, the spouses fallen heroes leave behind.
If those widows and widowers remarry before age 55, they must forfeit certain survivor benefits.
"The current law means that a surviving spouse who remarries before the age of 55 loses all their benefits. They lose their money from the VA and the DOD, they lose health insurance, education benefits, access to VA home loans, the right to be buried with their late spouse, all of it," said Ashlynne Haycock-Lohmann, deputy director for government and legislative affairs at TAPS, or the 'Tragedy Assistance Program For Survivors.'
TAPS is a national nonprofit that supports bereaved military families across the country. Haycock-Lohmann said she frequently hears concerns about the remarriage penalty for surviving spouses.
"It's very, very archaic," she said. "And it's heartbreaking for our survivors to have to decide between moving forward in their grief or losing the financial benefits they rely on."
For instance, the surviving spouse of U.S. Army Staff Sergeant Michael Simpson faced this issue herself.
"2013 is when he left on the deployment to Afghanistan that he didn't come home from," Krista Simpson said. "They were coming back from a mission, he was riding an ATV, and he hit a pressure plate improvised explosive device."
Krista Simpson still gets emotional as she speaks about that overwhelming loss.
"The doctors told us that he had opened his eyes really big and said 'wife, kids, I love' – and then he went into cardiac arrest," she said.
In the immediate aftermath of his death, she remembers feeling a mix of both sorrow and stress.
"I mean, how could I have been 35 with a three and a one-year-old, and my husband is gone?" Krista Simpson said. "I'm a stay-at-home mom. How am I going to care for my children and keep this roof over their heads? And I got very nervous."
She said that's why the benefits she'd soon receive as a surviving military spouse would prove to be crucial.
"Those benefits allowed me to stay home with my children, I didn't have to put them in day care. I didn't have to go to work," Krista Simpson said. "I could allow our family to just take one step at a time."
She and her sons did exactly that for several years, until a friendship with one of her late husband's fellow soldiers became something more.
"Mike and Gus were teammates, I didn't know Gus when they deployed," she said. "I started to realize how well he cared for me and the boys, and I never thought anyone could love us like Mike, and Gus is just this incredible servant. He puts everyone before himself, especially us, no matter what."
It was only when she knew she wanted to marry Army Master Sergeant Gus Anderson, that the issue of surviving spouse benefits began to resurface.
"It was when I declared that Gus and I were going to get married, that many people came to me and said, 'I don't know if you should do this, you're going to lose your benefits, everything,'" Krista Simpson said.
Haycock-Lohmann and the team at TAPS believe it's past time for that age restriction to be lifted, saying it dates back to the Vietnam era.
"People are always shocked when I explain this penalty to them," Haycock-Lohmann said, adding that TAPS has found that in the post-9/11 era, the average age of a surviving spouse is mid-twenties or early thirties. "We are asking them to wait 20 to 30 years to remarry. Which makes zero sense."
She said TAPS has researched the age restriction extensively and believes that thousands of surviving military spouses could benefit if it's changed.
"Approximately 65,000 surviving spouses under the age of 55 receive benefits from the VA. Less than 5% under 55 have actually legally remarried because of this penalty," Haycock-Lohmann said. "What ends up happening is surviving spouses choose not to legally remarry and instead stay in long-term relationships. They might be engaged for 10, 15, 20 years, and then when they turn 55, they go ahead and do the legal route, because they can maintain their benefits if they remarry after the arbitrary age of 55. Most surviving spouses are not in the financial situation to give up those benefits."
That's the difficult reality Gold Star widow Elizabeth Davis said she lives with every day.
"This shouldn't be a financial choice. It should just be about honoring a legacy for a life lost in duty to country," Davis said.
Her husband, U.S. Marine First Lieutenant Matthew Davis, was killed in 2014, leaving behind Elizabeth and their six-year-old daughter.
"He was on duty on base at Camp Pendleton, and another Marine was drinking and driving and evading police," she said. "And Matt pulled out in front of this drunk driver who was evading the police, and that act cost him his life."
Davis wiped away tears as she shared the story of her husband's death.
"You learn to work through it, but it doesn't really ever go away," Davis said.
And that heartache lingers, even as she eventually let love back into her life.
"I met my fiancé through another military widow," Davis said.
Davis and Marine Master Sgt. John Lewis have been engaged for several years. They also have a son together and are raising him alongside Elizabeth and Matthew's now 15-year-old daughter.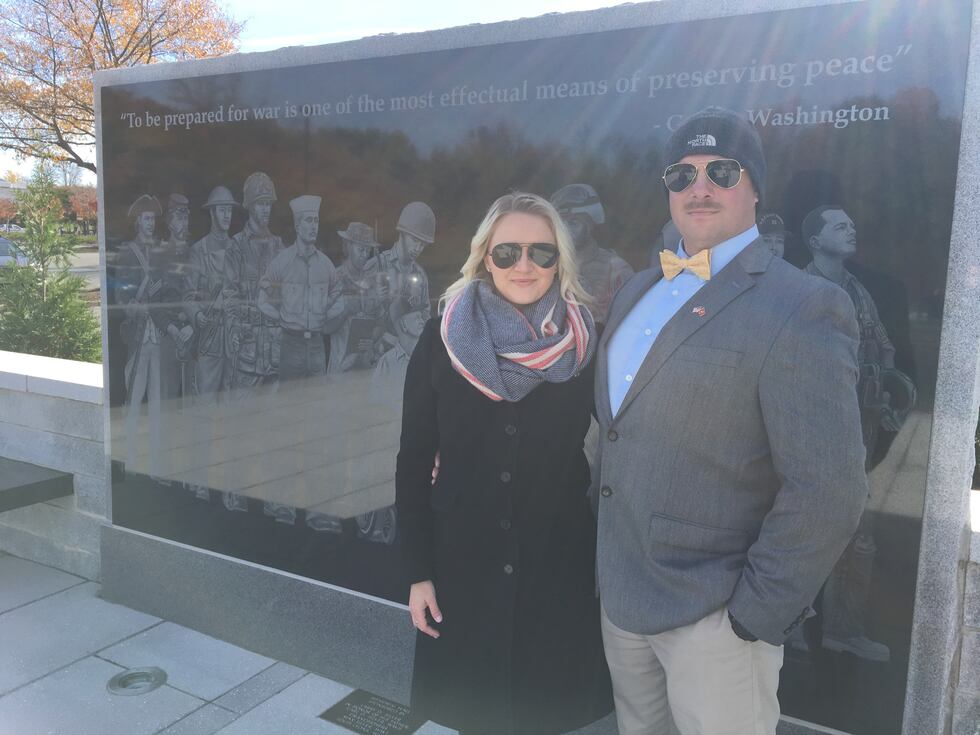 But the couple has decided not to get married, at least not yet, because doing so would result in the termination of Davis' surviving spouse benefits.
"It feels like a punishment for being happy," she said, adding that she was just 26 years old when her husband died. "You receive these benefits as a result of the government sending your spouse to do something very dangerous, that ultimately cost them their life… and they say they want to make sure our survivors are taken care of and supported, but then on the other hand telling me I can't be happy until I'm 55."
Krista Simpson echoed that sentiment.
"The statement is made that we owe you a debt of gratitude that can never be repaid, and then all of a sudden you realize, unless you move forward and find love again," she said.
In the end, after many tough conversations, Krista decided she would not delay her remarriage and would thus forfeit her survivor benefits.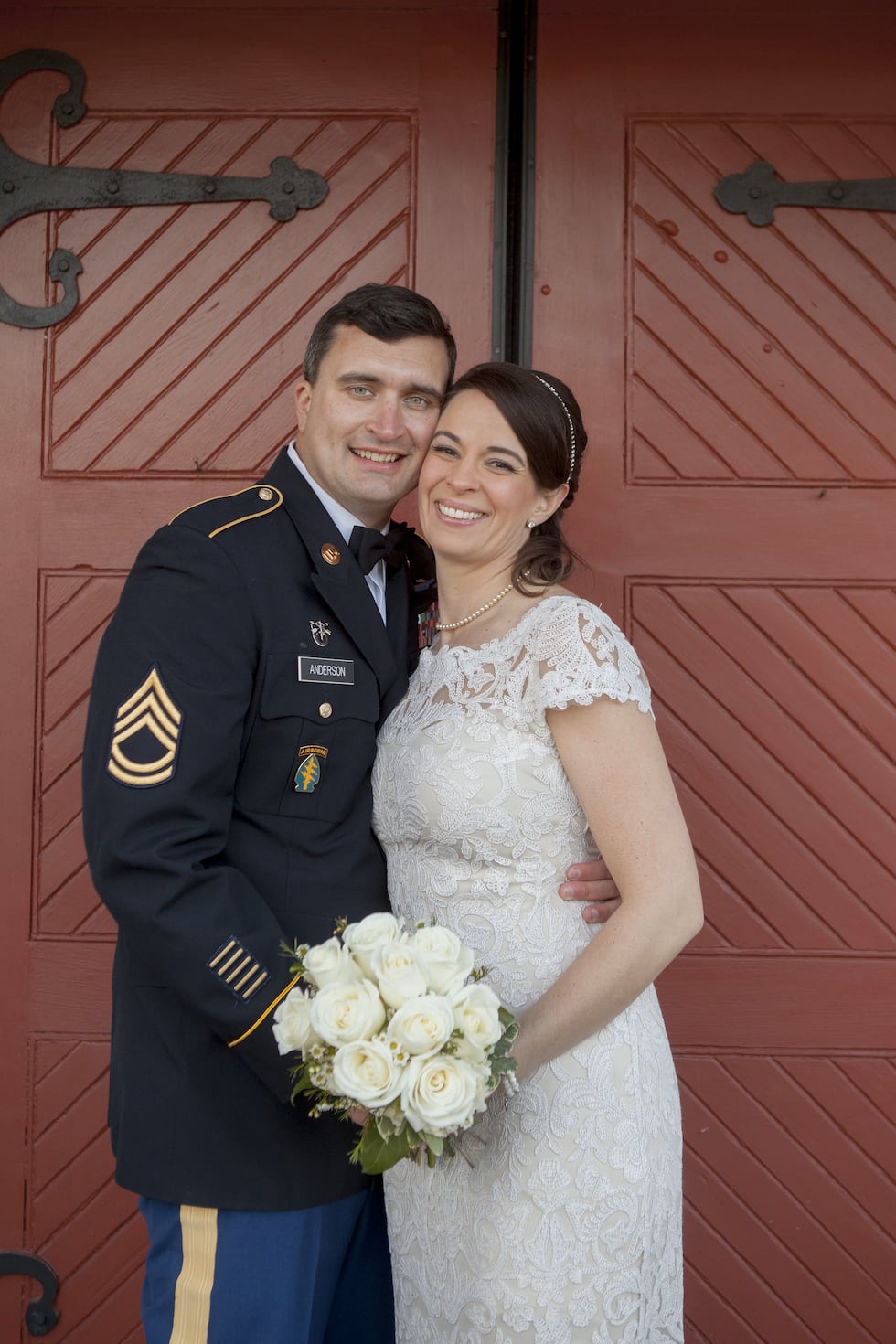 "There were a lot of financial consequences to our marriage," she admitted. "And I do know that if Mike could sit here today, he would be angry and hurt by what he gave and what he had to leave behind, to know that his wife wasn't allowed to find someone to help raise his boys without losing the benefits he sacrificed his life for."
These two Gold Star widows and many others have joined TAPS in advocating for a change.
"We are really hoping to bring this issue to light," said Haycock-Lohmann, who has spent months talking about this issue with lawmakers on Capitol Hill.
In April 2023, Democratic Senator Raphael Warnock and Republican Senator Jerry Moran co-introduced bipartisan legislation they're calling the 'Love Lives On Act.' It would allow spouses of deceased service members to retain survivor benefits if they remarry, no matter their age.
"We deserve to see this change. The military as a whole deserves to be supported," Davis said.
The bill was first referred to the Senate Committee on Veterans' Affairs, where Haycock-Lohmann was among those who offered testimony in support of the bill.
"I think it will take a little bit of time, but I do think we are moving toward a place where this is a conversation people are ready to have," she said.
While financial implications of the 'Loves Lives On Act' are certainly part of those conversations, Haycock-Lohmann does not believe that should be a deal breaker.
TAPS estimates the change would cost about $2 billion over 10 years.
"$2 billion over 10 years, which is not cheap, but it's also not expensive compared to so many other things they look at," Haycock-Lohmann said. "It's actually not that much in the federal budget."
The Department of Veterans Affairs has also weighed in, providing comments during the same Senate Committee on Veterans' Affairs hearing that TAPS testified at in late April.
"VA supports the Love Lives On Act, but cites certain concerns," a VA representative said during that hearing.
InvestigateTV+ also reached out to the VA for a response.
In an emailed response to our questions, Mike Frueh, Principal Deputy Under Secretary for Benefits at the Department of Veterans Affairs, said the agency would provide "technical assistance and/or views concerning legislation" upon a request by Congress.
Frueh then referred InvestigateTV+ to written comments that were submitted to the Senate's Committee on Veterans' Affairs, in which the VA largely expressed support for the 'Love Lives On Act,' but suggested some amendments to the bill's language.
The VA also noted its support for the bill is "subject to the availability of appropriations" and included its own cost estimate, writing in part: "No mandatory costs are associated with section 2. Mandatory costs associated with section 3 are estimated to be $10.8 million in 2023, $147.9 million over five years, and $354.5 million over 10 years. No mandatory costs or savings are associated with section 7."
You can view the VA's full statement and analysis of the proposed 'Love Lives On Act' starting on page 13 of this document.
We asked Krista, now Krista Simpson Anderson, what those three words mean to her: 'Love Lives On.'
"I live this life, and I am determined to show my children what a beautiful life it can be because that's what Mike died for," she said. "And I hope people understand that moving forward doesn't mean moving on. That we are who we are today because we loved and lost, but that we get to love again. And it takes courage to do that."
Several other senators, a mix of Democrats and Republicans, have signed on as co-sponsors of the Love Lives On Act. Companion legislation has also been introduced in the House of Representatives.
We spoke to Senators Moran and Warnock about their proposed legislation and why they feel the remarriage restriction on surviving military spouses should be lifted. You can hear what they had to say in the video below:
Copyright 2023 Gray Media Group, Inc. All rights reserved.