First Alert: Little to no rain through next week
Typical late September heat will stick around through the weekend and into next week.
Published: Sep. 21, 2023 at 5:03 AM CDT
|
Updated: Sep. 21, 2023 at 6:52 PM CDT
MONTGOMERY, Ala. (WSFA) - More quiet weather is on the way for central and south Alabama now through at least the end of the day Sunday. Highs will be toasty, the sky will feature a good deal of sunshine each afternoon and the humidity will stay pretty low.
Courtesy of the humidity remaining low the afternoons will feel tolerable despite highs reaching the upper 80s and low 90s; upper 80s is considered normal in Montgomery as summer comes to a close.
There isn't much rain in the forecast over the next 7 days. Some isolated showers developed early this morning and that means a few quick hitting pockets of rain could stick around through lunchtime with additional isolated showers possible in east Alabama this afternoon. Coverage today will be low and many will avoid this activity!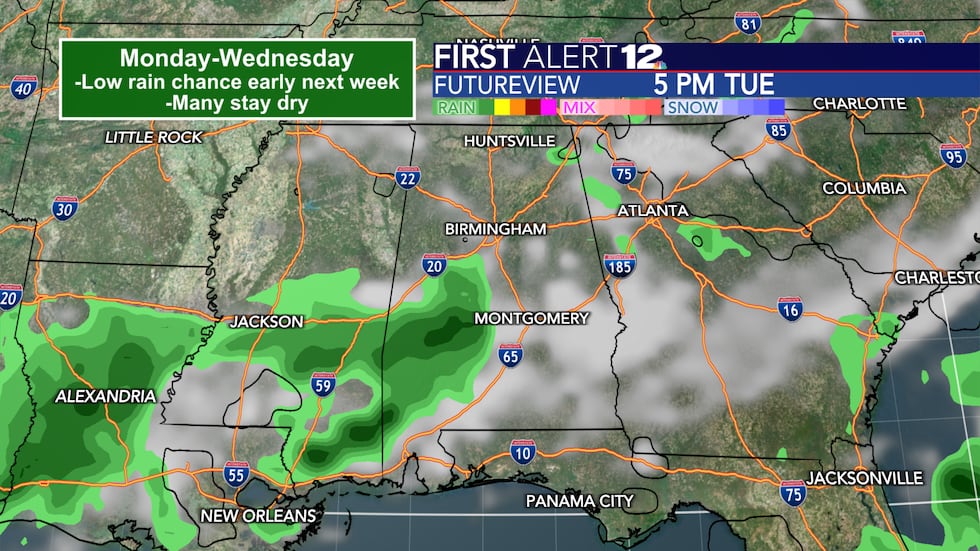 Then we're monitoring some more low rain chances into next week. We are keeping those chances on the low end Monday, Tuesday and Wednesday until better agreement exists between forecast models.
As of now, we wouldn't bank on seeing any sort of major wet weather next week. It's possible that rain chances rise a little bit for the start of next week. Even if that happens, it is unlikely that we see widespread beneficial rainfall.
While the afternoons remain warm the overnight hours will stay on the comfortable side of the scale. While there are no more 50s in the forecast; it's middle and upper 60s thanks to the nighttime humidity levels coming up a bit. Even with that occurring it will still be pretty comfortable at night and in the early morning.
Tracking the Tropics: There continues to be multiple areas being monitored by the National Hurricane Center. One is Hurricane Nigel, which is moving farther north over the open waters of the northern Atlantic. Then there's an area with a "high" chance of development over the next several days way out in the eastern Atlantic.
Closer to home there is Potential Tropical Cyclone Sixteen, located offshore of the southeast coast of the United States. The NHC will initiate advisories on this system, despite its proximity to Alabama, will likely not impact our weather regardless of whether or not it receives a name.
As always, remember to download the free WSFA 12 News First Alert Weather app. That way you can gain the latest weather information from the First Alert Weather Team wherever you go. Just search WSFA Weather in the Apple App Store or Google Play store today.
Copyright 2023 WSFA. All rights reserved.