A look into where drought conditions exist in Alabama
Drought conditions are impacting Southwest Alabama
Published: Sep. 21, 2023 at 11:18 AM CDT
MONTGOMERY, Ala. (WSFA) - It's the driest time of year, on average, in Central Alabama. That's just the way things work out given the patterns we see this time of year. In fact, September and October rank as the two driest months of the year.
As a result there are often drought concerns this time of year in Alabama. Even if the first 8 months of the year are wet it's possible to see abnormally dry conditions settle in during September and October.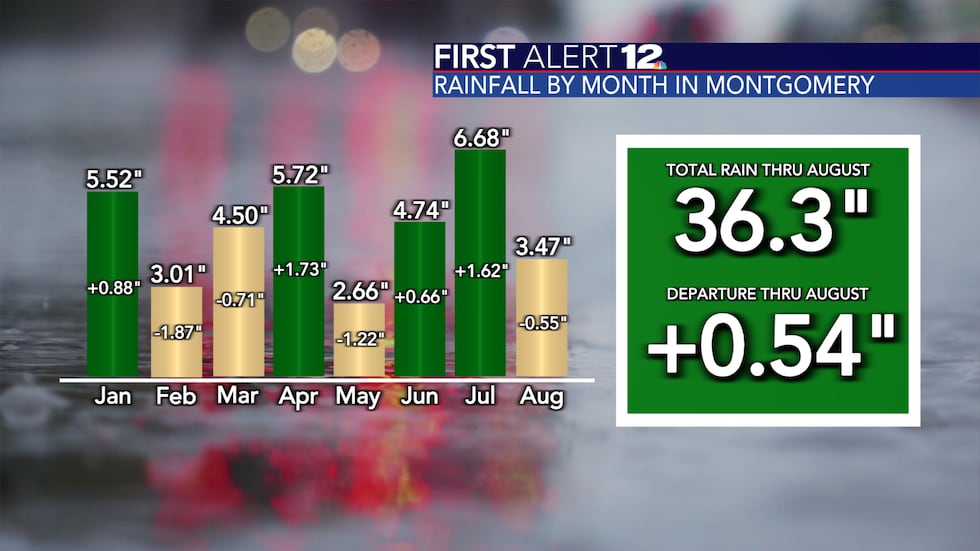 That's where most of Central Alabama stands right now. For Montgomery specifically, the first 8 months of the year -- January through August -- wound up just above normal with about 36 inches of rainfall. Even September has been a bit wetter than normal to date.
So Montgomery is still free of any drought concerns. The same is true for much of Bullock, Chambers, Coosa, Elmore, Lee, Macon, and Tallapoosa counties. East Alabama is where things have been a bit wetter, thus drought is not an issue there.
Not everyone across the state is as fortunate. Plenty of locations, especially in South Alabama, are running below normal in the rainfall department. Pair that with the abundance of dry, hot days of late and you've got the recipe for drought conditions.
Over the last week the amount of Alabama experiencing abnormally dry or drought conditions has risen from 44% to 77%. That's a substantial jump for a period of only 7 days.
That leaves about 23% of the state without any drought concerns as of the September 21st update from the U.S. Drought Monitor.
The full breakdown of the drought categories looks like this:
Abnormally dry: 52.89%

Moderate drought: 13.54%

Severe drought: 8.56%

Extreme drought: 2.30%

Exceptional drought: 0%
Each of those numbers is higher than where it was exactly one week ago. Those values are also higher than we were three months ago and where we stood at the beginning of the year.
Given the current forecast expectations over the next week it's likely that another expansion of drought conditions occurs with next week's Drought Monitor update. Limited rain will fall over the next week, with some locations possibly staying entirely dry.
Fortunately this is not projected to be a longstanding drought. Still, the current conditions mean soil moisture content is low and that results in browning grasses. Sensitive plants and crops will also experience stress, especially for those in South Alabama.
Not reading this story on the WSFA News App? Get news alerts FASTER and FREE in the Apple App Store and the Google Play Store!
Copyright 2023 WSFA. All rights reserved.