First Alert: Fall begins, but temperatures rise
Rain chance stays low for the foreseeable future
Published: Sep. 22, 2023 at 5:40 AM CDT
|
Updated: Sep. 23, 2023 at 8:00 AM CDT
MONTGOMERY, Ala. (WSFA) - The weather will be sunny and dry through the upcoming weekend, but temperatures might run a little hotter than we'd all like. Fall officially began at 1:50 a.m. this morning, but as we transition into the new season, we are also tracking a warming trend. Temperatures today and Sunday will be on either side of 90 degrees.
Skies will be mostly to partly sunny each day this weekend and humidity values will remain low. That means even with the slight warm up, conditions will remain comfortable both days this weekend.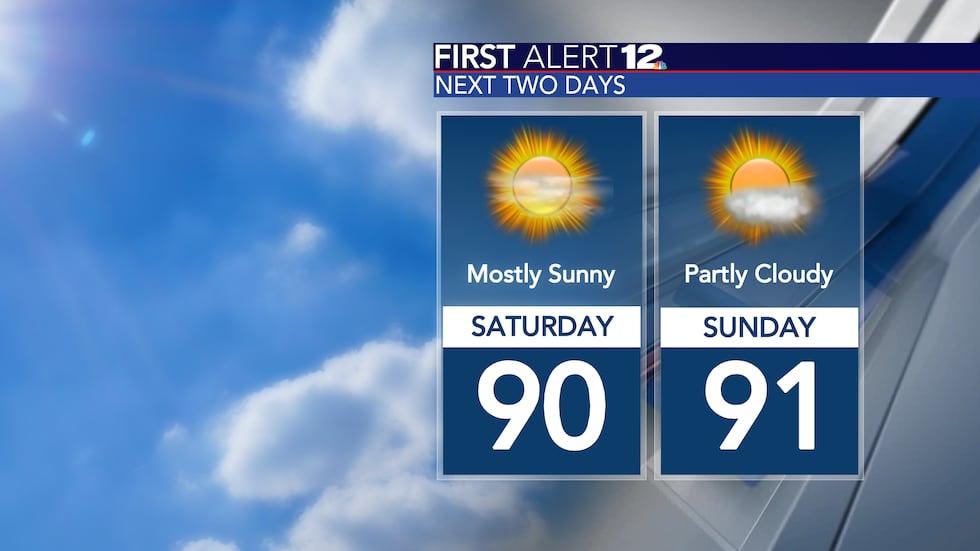 Overnight lows through the weekend will hover in the 60s under a fair sky. Low temperatures are forecast to increase slightly as we move into next week, and that is a trend we are also tracking with humidity values as we push toward the start of next week.
In fact, the week ahead will be fairly similar to what we are tracking this weekend. Afternoon highs will be in the neighborhood of 90 degrees Monday and Tuesday, with a brief downward trend with temperatures for the second half of the upcoming week. A few isolated showers and storms could pop-up at times next week, but these will be the exception rather than the rule.
Unfortunately a large chunk of southwest Alabama remains in a significant drought. Our prospects for widespread, soaking rain are very low through at least the end of next week and that trend will likely last longer.
As always, remember to download the free WSFA 12 News First Alert Weather app. That way you can gain the latest weather information from the First Alert Weather Team wherever you go. Just search WSFA Weather in the Apple App Store or Google Play store today.
Copyright 2023 WSFA. All rights reserved.