First Alert: A few places get rain, many do not
Cooler, drier weather arrives late this week
Published: Sep. 25, 2023 at 5:28 AM CDT
|
Updated: Sep. 25, 2023 at 6:28 PM CDT
MONTGOMERY, Ala. (WSFA) - After a mostly sunny, dry and warm weekend we will experience a few minor changes to the forecast... the first full week of fall will feature higher humidity, more clouds and low-end rain chances across parts of central and south Alabama. By no means is rain guaranteed to fall in your city this week; in fact, coverage of wet weather should stay low to very low most of the week.
The one exception may be Wednesday, which has a higher chance of showers and storms in our latest forecast.
Thanks to the humidity being higher this week the amount of cloud cover will go up starting today. That doesn't mean it will be gray, overcast and dreary, but it does mean our sky will be partly to mostly cloudy as opposed to sunny like we had over the weekend.
Temperatures will reach 90° both today and tomorrow, then fall back into the mid to upper 80s for the rest of the forecast. The average high in late September is running around 87 degrees, so it'll be near normal over the next week!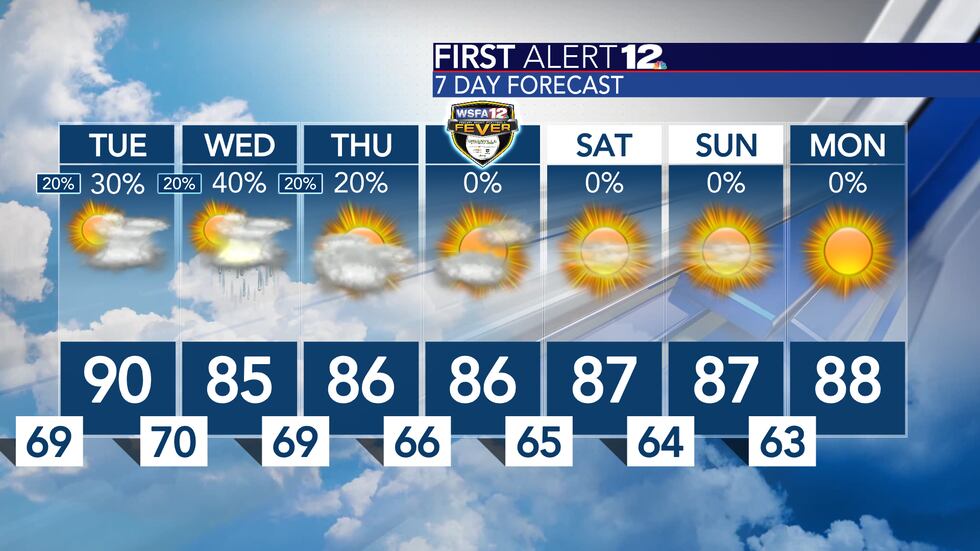 Low temperatures won't be as comfortable or refreshing thanks to the higher humidity levels. Instead of upper 50s and lower 60s, overnight and early morning temperatures will only fall into the upper 60s and lower 70s this week.
Heading into the weekend things will change a bit. The humidity will come down a little bit, rain chances will be non-existent and overnight low temperatures will a little more comfortable in the middle 60s.
As always, remember to download the free WSFA 12 News First Alert Weather app. That way you can gain the latest weather information from the First Alert Weather Team wherever you go. Just search WSFA Weather in the Apple App Store or Google Play store today.
Copyright 2023 WSFA. All rights reserved.