Isolated rain possible today and tomorrow
Many will stay dry each day; everyone is dry starting Thursday
Published: Sep. 26, 2023 at 4:52 AM CDT
|
Updated: Sep. 26, 2023 at 3:15 PM CDT
MONTGOMERY, Ala. (WSFA) - The humidity returned to central and south Alabama on Monday and it will stay with us at a noticeably for the rest of the workweek. In addition to the more muggy conditions, there will be plenty of cloud cover and a few pop-up showers possible; it won't rain all day or even on everyone, but the opportunity for some rain still does exist on an isolate scale.
By no means is rain guaranteed to fall in your city this week. Coverage of wet weather is likely going to stay at or below 30% both today and tomorrow... starting Thursday rain is unlikely as the pattern turns drier.
Thanks to the humidity being elevated the amount of cloud cover will be high at times - much like what we saw yesterday. That doesn't mean it will be gray, overcast and dreary, but it does mean our sky will be partly to mostly cloudy as opposed to sunny like we saw this past weekend.
Temperatures will reach upper 80s for most with a few of the hotter towns just a tick above 90°. Afternoon highs fall back into the low 80s tomorrow and the mid 80s Thursday; upper 80s are then in the forecast each afternoon starting Friday.
The average high for today's date is around 87°, so it'll be near normal most days.
The next two nights won't be very refreshing thanks to the higher humidity levels. Lows will fall into the upper 60s and lower 70s.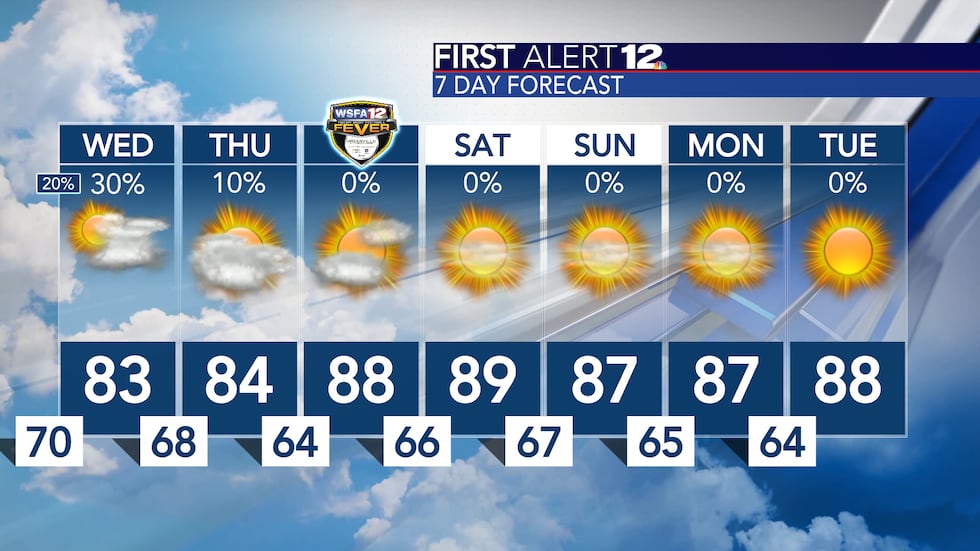 Heading into the weekend, and especially next week, things will change a bit!
The humidity will come down a little, which will result in a bit more sunshine each day beginning Friday. That drop in humidity also means slightly more comfortable nighttime temperatures. Middle to upper 60s are in the forecast Thursday night and beyond.
Out in the tropics there are a couple of systems being watched for development. One is way out in the eastern Atlantic with a high chance of developing into our next named storm of the year. The other is Tropical Storm Philippe, which will likely stay out to sea and be a non-factor for the U.S.
As always, remember to download the free WSFA 12 News First Alert Weather app. That way you can gain the latest weather information from the First Alert Weather Team wherever you go. Just search WSFA Weather in the Apple App Store or Google Play store today.
Copyright 2023 WSFA. All rights reserved.