A very warm and dry start to October
Only a slight chance of a shower exists Thursday night through Friday night
Published: Oct. 2, 2023 at 5:00 AM CDT
|
Updated: Oct. 2, 2023 at 3:04 PM CDT
MONTGOMERY, Ala. (WSFA) - The dry and sunny weather will march right along as October gets underway... the sky will be sunny both today and tomorrow with highs in the upper 80s. Wind speeds will be up around 10 mph during the afternoon hours, making it a bit breezy at times. A few clouds will arrive Wednesday, with a few more getting added into the mix by Thursday; each of those days will be entirely dry, but we will be getting ready for our next cold front!
High temperatures will remain in the upper 80s for the remainder of the workweek with wind speeds near or just below 10 mph.
While upper 80s may seem rather toasty, it's important to note the humidity levels will remain in check all week long - that means the upper 80s will feel tolerable despite them being above average for early October.
Friday will once again feature upper 80s under a partly cloudy sky. However, there is a chance of a shower in central and south Alabama Friday into Friday night as a pair of fall cold fronts pass through Alabama. Unfortunately, most everyone will likely stay dry despite their passage.
While there will be a lack of rain with those fronts, there will not be a lack of fall-like air. Temperatures will drop quite a bit behind them this weekend as highs drop into the 70s and lows fall into the lower 50s. Pair a breeze and partly cloudy skies with those temperatures and it will actually look and feel like fall!
Lower 80s are back next week with plenty of sunshine. The breeze we'll have this weekend will disappear next week as high pressure edges closer to the Deep South.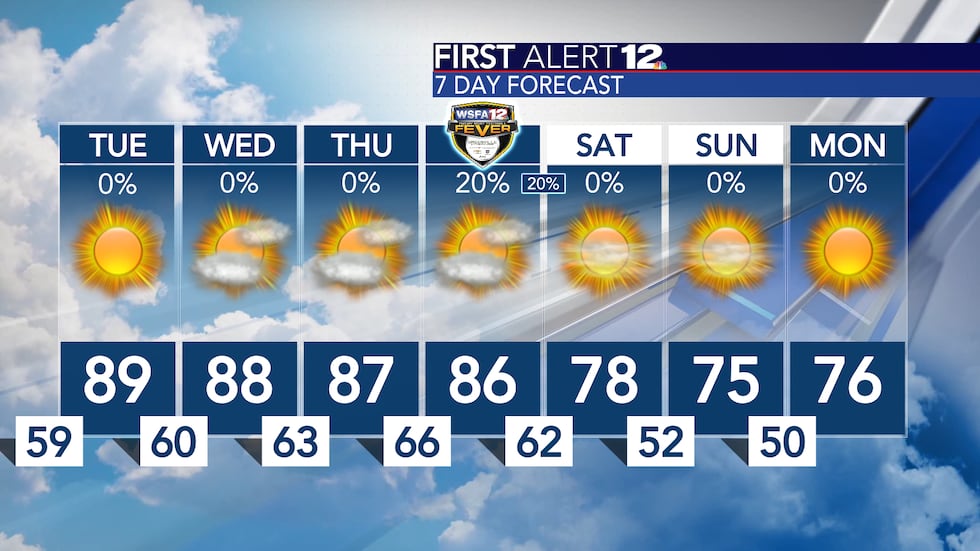 As always, remember to download the free WSFA 12 News First Alert Weather app. That way you can gain the latest weather information from the First Alert Weather Team wherever you go. Just search WSFA Weather in the Apple App Store or Google Play store today.
Copyright 2023 WSFA. All rights reserved.