Winn-Dixie throws 104th birthday party for Congressional Gold Medal recipient Romay Davis
Published: Oct. 26, 2023 at 5:27 PM CDT
|
Updated: Oct. 26, 2023 at 5:35 PM CDT
MONTGOMERY, Ala. (WSFA) - Beloved Montgomery resident and Congressional Gold Medal recipient Romay Davis was showered with attention Thursday to mark the occasion of her 104th birthday!
Davis, who still works at a local Winn-Dixie grocery store, has been showered with a birthday celebration by the company every year since she turned 100. She said she can't believe the outpouring of love she gets every year.
She arrived in an antique car with a big smile and was immediately greeted by a waiting crowd that ushered her inside.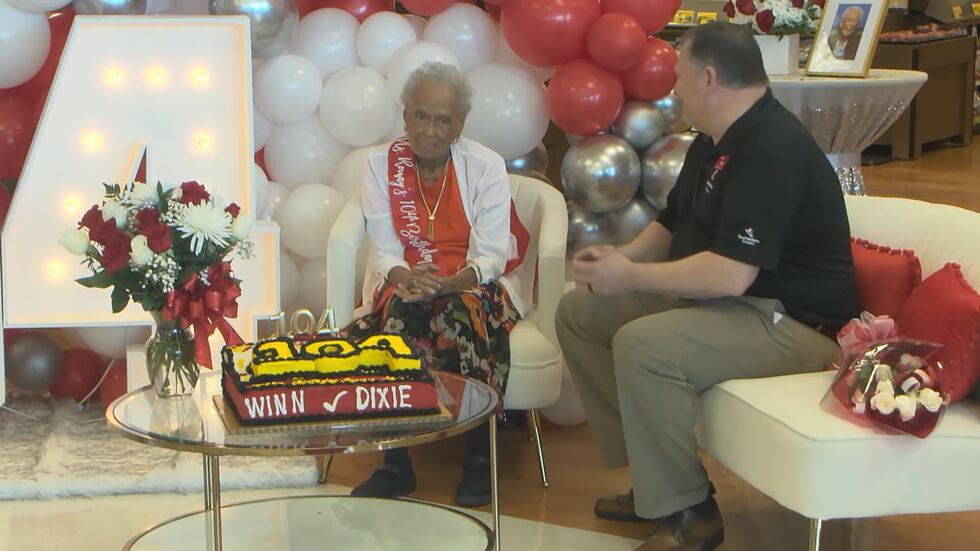 "It's exciting. It's numbing. It's hard to believe, you know?" Davis explained. "Me pictured in all of this. You have to be glad that things are happening, glad that you can participate. That gives me joy!"
On Thursday, the grocery store transformed once again into a celebration of its favorite employee, alongside her family, friends and those in the community who wanted to visit and honor her. The party included a grand entrance featuring a performance from Park Crossing High School's band, remarks from company leadership, meet-and-greet time with Alabama nonprofit community partners, a cake cutting ceremony, and more.
Winn-Dixie's parent company also honored Davis in another special way, naming its donation grant after her! It's now officially the "Romay Davis Belonging, Inclusion and Diversity Grant," which works to address racial disparities in education, health care and food insecurity. The fund has already given out donations totaling more than $1 million to grant recipients and will name the latest recipient nonprofit organizations for 2023 following Davis' actual birthday on Oct. 29.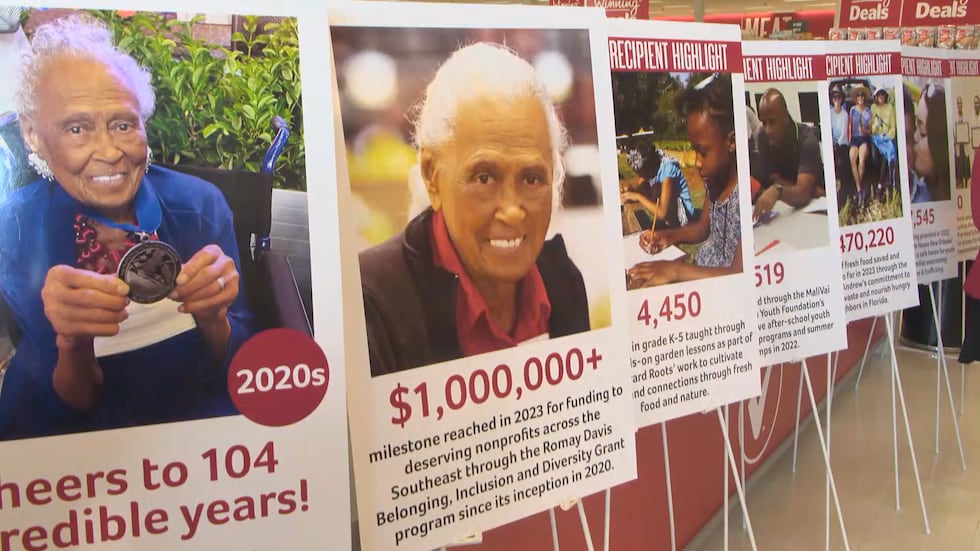 The celebration comes more than a year after, perhaps, the biggest honor of Davis' life, the awarding of the Congressional Gold Medal, the highest civilian honor presented by the United States Congress.
Davis enlisted in the Army in 1943 as a Private First-Class member of the US Army 6888th Central Postal Directory Battalion, nicknamed "Six Triple Eight." During a time when women and people of color faced discrimination, her battalion was a predominantly Black, all-female unit deployed overseas and cleared a massive backlog of mail in a mere three months by sorting an average of 195,000 pieces of mail per day! After her discharge from military service, Davis enjoyed many accomplishments including becoming a NYU multi-degree scholar, working in real estate and fashion, earning her taekwondo black belt, and more before rejoining the workforce as a Winn-Dixie associate in 2001.
"We are deeply rooted in the communities we serve, and part of our story includes incredible associates like Ms. Romay. As we celebrate her 104th birthday, we hope to express our deepest gratitude for being a part of her extraordinary story," said Raymond Rhee, Chief People Officer for Southeastern Grocers. "During her military service, Ms. Romay sorted mail to bolster crucial morale for troops. This year, we are proud to return the favor by sorting her birthday mail from those near and far."
Winn-Dixie is giving those beyond the Montgomery community a chance to shower Davis with appreciation, setting up a mailing address where handmade or signed cards can be sent. Those wishing to send one can do so by mailing it to:
Romay Davis c/o Southeastern Grocers
8928 Prominence Parkway, Building 200
Jacksonville, FL 32256
In addition to the Congressional Gold Medal, Davis was recently awarded the first Lifetime Achievement Award at the 10th annual Women Who Shape the State event in March. In 2022, she was honored by The National WWII Museum in New Orleans at its American Spirit Awards with a Silver Service Medallion, a recognition reserved for those who have served our country with distinction.
Not reading this story on the WSFA News App? Get news alerts FASTER and FREE in the Apple App Store and the Google Play Store!
Copyright 2023 WSFA. All rights reserved.