First Alert: Rain lasts through midday Thursday
The most widespread and soaking rain will fall now through tonight
Published: Nov. 15, 2023 at 5:10 AM CST
|
Updated: Nov. 15, 2023 at 7:01 PM CST
MONTGOMERY, Ala. (WSFA) - An area of low pressure is slowly moving across the northern Gulf of Mexico. This will continue to send pockets of light to moderate rain our way tonight and at least through the morning hours Thursday.
It will also keep things gray, damp, breezy, and chilly. After a cool day, lows tonight will be in the mid 50s. Add in a breeze of 10-20 mph and it will feel even colder outside.
That breeze will continue through your day Thursday before calming as we head into Friday. Temperatures will rebound a little bit more Thursday thanks to the rain ending for most of us by around midday... highs will reach the middle to upper 60s.
Once the rain ends Thursday, things should be mostly dry through the weekend. The one exception will be a few isolated showers with a passing cold front late Friday and Friday night. These chances are very low for now.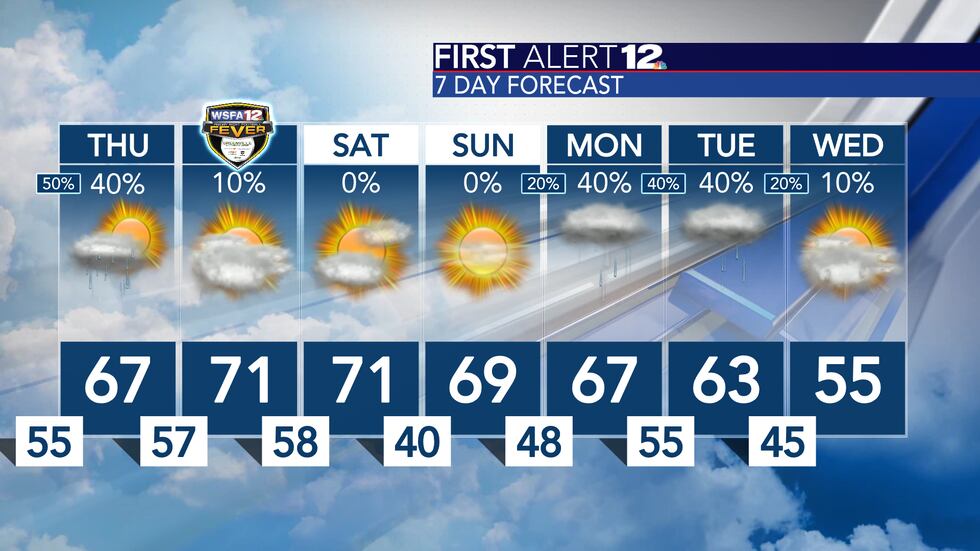 Our sky will remain mainly cloudy Friday despite the drier forecast. Highs will make a run at 70° degrees by the afternoon. Sunshine returns for the weekend with partly cloudy sky Saturday and mostly sunny conditions for Sunday!
Clouds will then quickly increase late Sunday into Sunday night ahead of our next weathermaker that will bring more rain to the state early next week. Timing with our next system, as of this writing, looks to be Monday morning through Tuesday afternoon.
This system looks to bring the region more beneficial rainfall for the state of Alabama early next week. The good news is things should dry out for the day before Thanksgiving, Thanksgiving Day and Black Friday.
Temperatures will reach the upper 60s this weekend, the mid 60s Monday and the lower 60s Tuesday. Your early look at Thanksgiving paints a chilly picture as high temps may struggle to exceed 60°!
As always, remember to download the free WSFA 12 News First Alert Weather app. That way you can gain the latest weather information from the First Alert Weather Team wherever you go. Just search WSFA Weather in the Apple App Store or Google Play store today.
Copyright 2023 WSFA. All rights reserved.