How often Montgomery sees snowfall
It has been nearly 6 years since the last 1″+ snow event
Published: Nov. 15, 2023 at 11:12 AM CST
MONTGOMERY, Ala. (WSFA) - Snow is not a common part of our weather in Alabama, especially across the southern half of the state. It's not often we have to even mention the word here in the Montgomery region.
However, it can and does snow here from time to time. Freezing rain, sleet and extreme cold can also pay a visit to Alabama ever so often. For that reason, the National Weather Service declares a week in mid-November Winter Weather Awareness Week.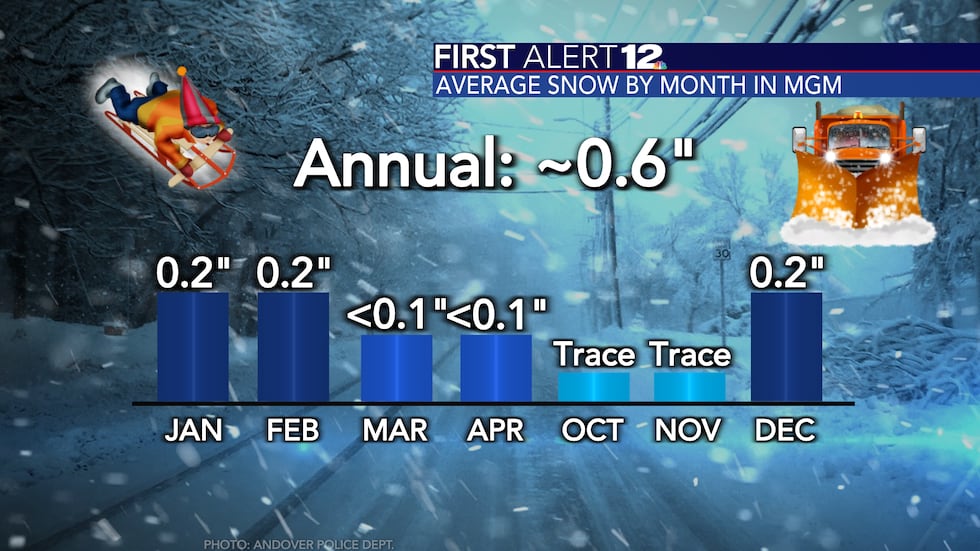 For this write-up I'm going to talk specifically about snow here in Central and South Alabama. And while we don't see it often at all, Montgomery does technically average just over a half-inch -- or about 0.6″ -- of snowfall per winter season.
That, of course, is an average -- not what happens every year.
The average snowfall for Montgomery is that high because we've had some winters with hefty snow totals. That results in a slight skewing of the average towards the higher side of the spectrum.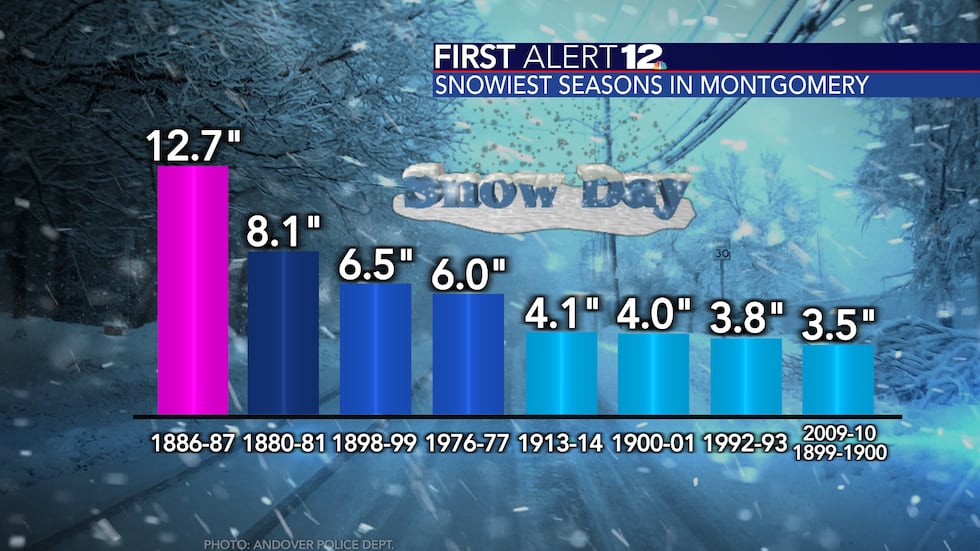 The snowiest winter in Montgomery's recorded history came way back in 1886-87 when more than a foot of snow accumulated. The city's second and third snowiest winters also came in the late 1880s.
The most recent winter season to feature a significant amount of snow was 2009-10. That winter brought 3.5 inches of the white stuff to Montgomery.
The most recent measurable snow event period came in the winter 2017-18. Montgomery picked up a few inches of snow that winter thanks to two separate snow events -- one in December and one in January.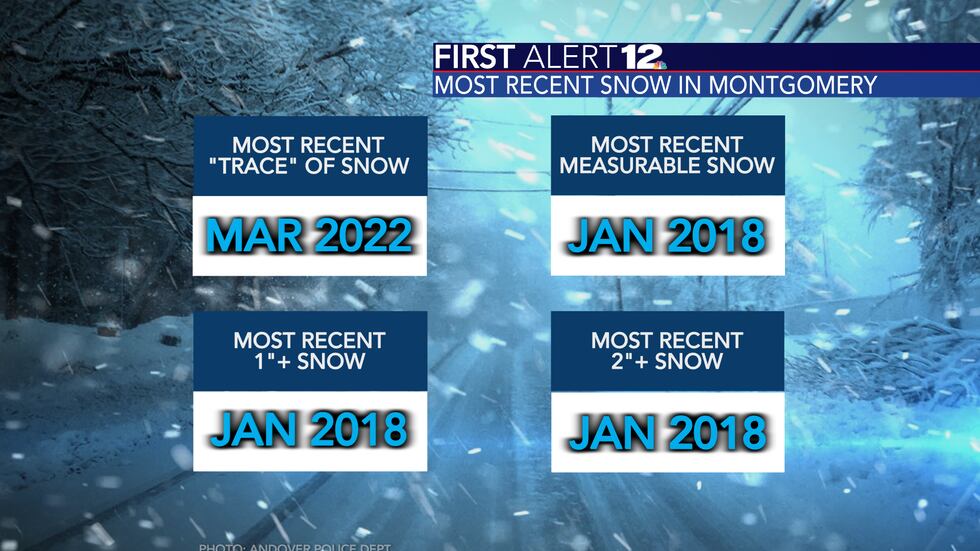 The most recent date with at least a few flakes flying was March of 2022. If snow falls but doesn't accumulate, the total in the record book is considered a "trace." Other recent trace snow events include January 2022, November 2018 and December 2017.
If you're curious about the most snow to ever fall in a given month, look no farther than below...
October: trace

November: trace

December: 11.0″

January: 6.0″

February: 4.1″

March: 3.8″

April: 0.8″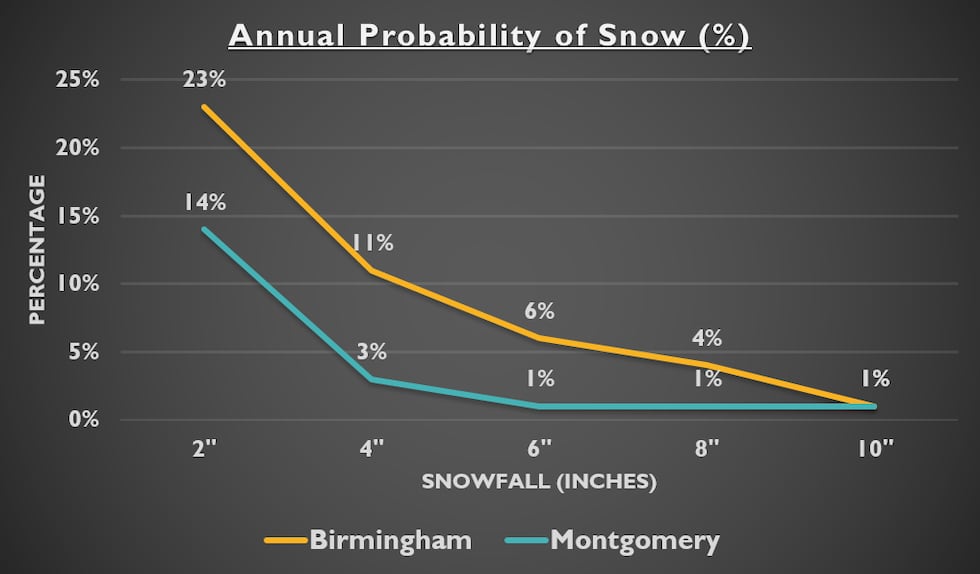 There's really no way to predict whether or not a given winter will produce snow in Central Alabama. We can look at historical averages though, and by doing so we see that the annual chance of receiving snow in Montgomery is quite low (as expected).
Per the National Weather Service, the chance of getting at least 2″ of snow in Montgomery in a winter season is just under 15%. The annual probability of at least 4″ of snow in Montgomery is even lower around 3%.
As expected, cities north of Montgomery like Birmingham, Huntsville, Jasper, Muscle Shoals, Anniston, Gadsden, and Cullman have noticeably higher probabilities of seeing snow each year.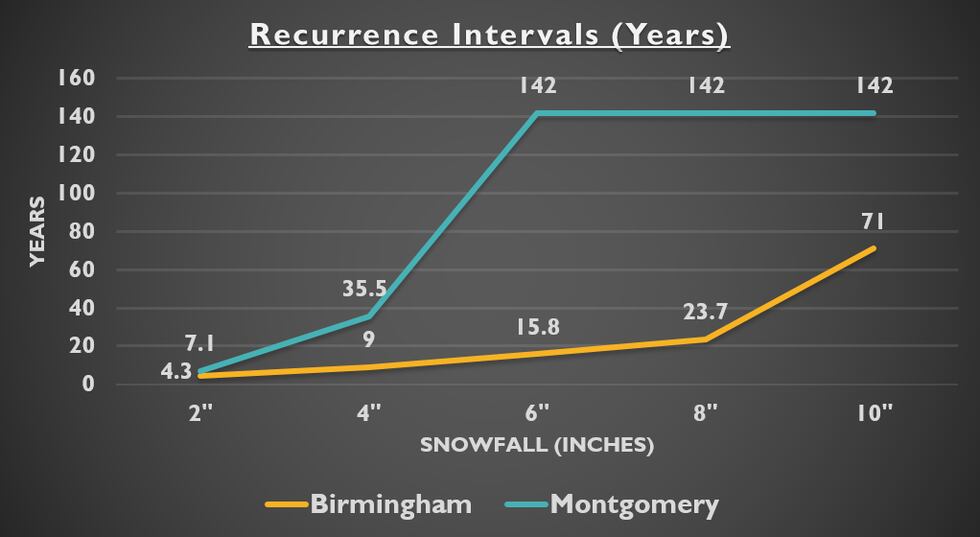 Another way to look at our annual chance of seeing snow is using something called the recurrence interval. This tool allows us to see how many years pass, on average, between each winter with varying amounts of snowfall.
For example, Montgomery goes about 7 years, on average, between each event with at least 2″ of snow. The average number of years between snow events above than 2″ goes up fast -- those are extremely rare here!
The two graphics above only show snow events of at least 2″. There's nothing shown for a snow event totaling less than that. So it's safe (and fair) to assume that we see snowfalls of 1″ or less much more often. It's still not something that happens all that often, but every three to five years there is usually an accumulating snow event.
Not reading this story on the WSFA News App? Get news alerts FASTER and FREE in the Apple App Store and the Google Play Store!
Copyright 2023 WSFA. All rights reserved.