'The Crown' auction will feature costumes, props and furniture from the hit Netflix show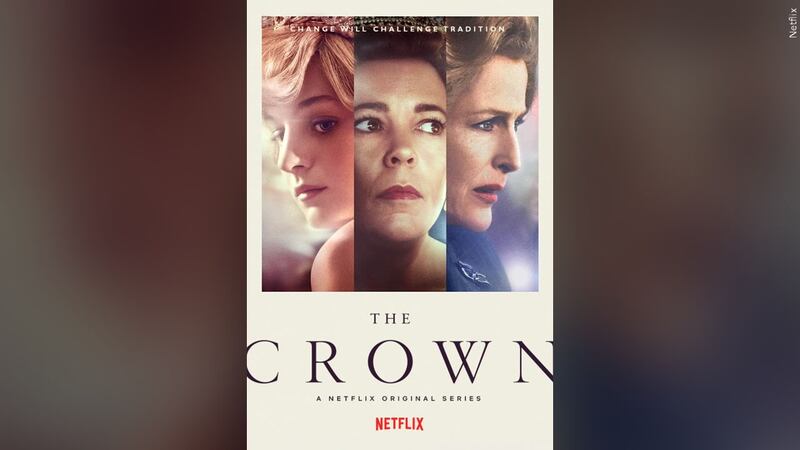 Published: Nov. 20, 2023 at 12:22 PM CST
(TMX) - Nearly 450 props, set pieces and costumes from "The Crown" are set to be auctioned off in February, following the sixth and final season of the hit Netflix show, auction house Bonhams announced Sunday.
Bonhams said the "once-in-a-lifetime" Crown Auction exhibition will open Jan. 11, 2024, with a live auction of some 150 lots held in London on Feb. 7. An online auction will run from Jan. 30 to Feb 8.
"The iconic costumes, props and set pieces from 'The Crown' are extensively researched and made with truly impressive attention to detail by master craftspeople," Charlie Thomas, Bonhams UK Group Director for House Sales and Private & Iconic Collections, said in a statement.
"Not only is this an incredible opportunity to own pieces from the landmark show, but it is also the closest anyone can come to owning the real thing – be it the façade of 10 Downing Street or Princess Diana's engagement ring."
The recreation of Number 10 Downing Street façade and front door is offered in the sale with an estimate of $25,000–$37,500, while the replica wrought-iron gates of Buckingham Palace, are estimated to sell for $7,500 to $10,000.
Among the many pieces up for sale are the ordaining dress, Imperial Mantle and red Coronation robe worn by Claire Foy portraying young Queen Elizabeth II in Season 1, Episode 5, "Smoke and Mirrors." The set is expected to fetch an estimated $25,000–$37,500.
A reproduction of the Gold State Coach is expected to sell for between $37,500 and $62,500, while a reproduction of St. Edward's Chair, used in coronations, is expected to sell for between $12,500 and $25,000.
The costume version of Princess Diana's black, off-the-shoulder "revenge dress" worn by Elizabeth Debicki in Season 5, Episode 5, is expected to fetch between $10,000 and $15,000.
A variety of ball gowns, banquet gowns and wedding dresses worn by the actresses portraying the Queen, Princess Margaret and Princess Diana will be available, along with a Harvard sweatshirt and leopard print swimsuit worn by Elizabeth Debicki as Princess Diana.
Proceeds from the live auction will be used to establish the Left Bank Pictures –The Crown Scholarship program at the U.K.'s National Film and Television School.
"We are thrilled that future talent flowing from the National Film and Television School will benefit from the exceptional items generously donated by Left Bank Pictures and 'The Crown'," said Jon Wardle, Director of the National Film and Television School.
"Since its inception, the dedicated craftsmanship of over 60 NFTS alumni has been pivotal in bringing such an iconic series to life. The proceeds from the auction will play a crucial role in supporting life-changing scholarships, ensuring the next generation of film and television makers are given the opportunity to benefit from our world-renowned training, paying forward The Crown's legacy for many years to come," Wardle said.
"The Crown" was written and created by Peter Morgan and produced by Left Bank Pictures and Sony Pictures Television. The second part of its final season will debut on Dec. 14.
Copyright 2023 TMX via Gray Media Group, Inc. All rights reserved.