Storms are gone, cooler and drier conditions arrive soon
Our weather pattern shifts ahead of Thanksgiving!
Published: Nov. 20, 2023 at 6:07 AM CST
|
Updated: Nov. 21, 2023 at 8:06 PM CST
MONTGOMERY, Ala. (WSFA) - Talk about a slow moving cold front! It has been impacting parts of Alabama for almost 24 hours, but now our threat for wet weather will fade and cooler, drier air will settle on into our atmosphere.
Noticeably cooler air filters into the state later tonight into Wednesday, with afternoon highs dropping into the upper 50s to lower 60s Wednesday and Thursday. We expect cool and mainly dry weather for the Turkey Day Classic in Montgomery on Thursday with temperatures dropping through the 50s during the second half.
A very weak system will brush Alabama late Thursday night into Friday morning, this could bring a few light and spotty showers; this rain won't amount to much, nor do we expect any severe weather problems with that system.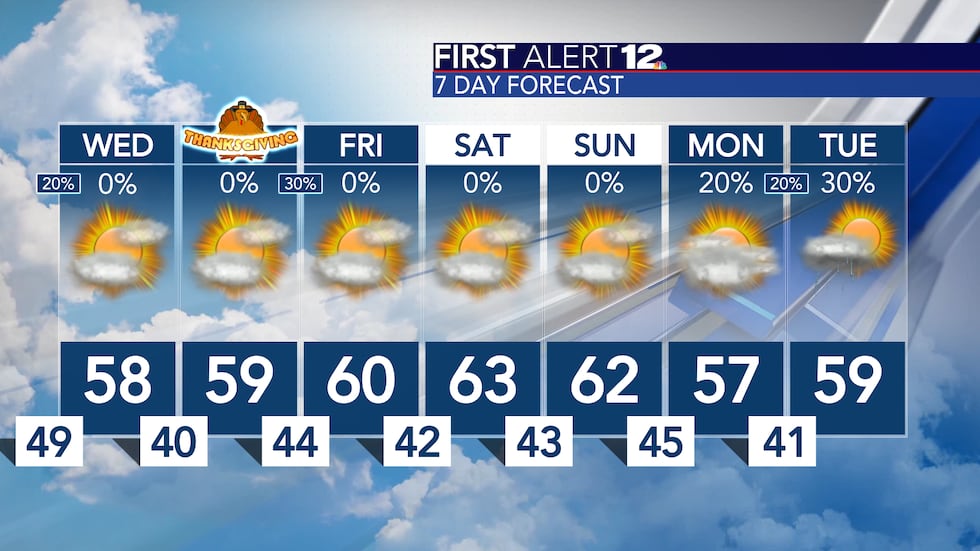 The latest data has trended drier for the upcoming weekend! Saturday and Sunday will both be dry and cool days with afternoon highs in the lower 60s and overnight lows in the low to mid 40s. This means dry, cool weather in Auburn for the 2023 Iron Bowl... kickoff temperatures will be near 60°, falling through the 50s in the second half of the game.
Our next rain chance rolls back into the state on Monday into Tuesday of next workweek, followed by another shot of colder air by the middle of next week.
As always, remember to download the free WSFA 12 News First Alert Weather app. That way you can gain the latest weather information from the First Alert Weather Team wherever you go. Just search WSFA Weather in the Apple App Store or Google Play store today.
Copyright 2023 WSFA. All rights reserved.