Montgomery mother hopes lawmaker can become "colorblind"
Published: Apr. 1, 2014 at 2:44 PM CDT
|
Updated: Apr. 11, 2014 at 3:15 AM CDT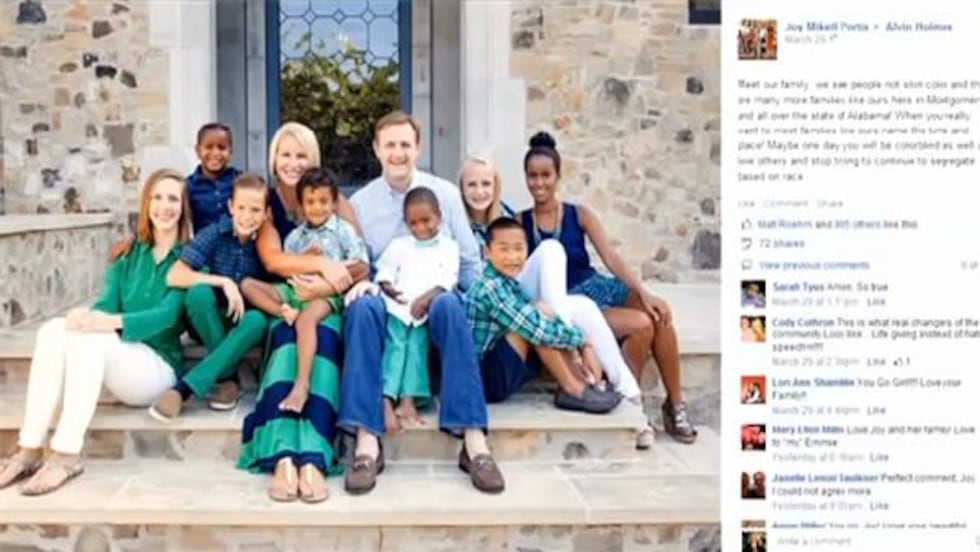 MONTGOMERY, AL (WSFA) - Comments made by an Alabama lawmaker continue to make waves and now, a Montgomery mother is speaking out.
Montgomery Representative Alvin Holmes' made controversial remarks about race during an abortion debate in the State House.
Holmes suggested that some of his white colleagues would not oppose abortion if their daughter got pregnant by a black man. He also claimed not enough white parents adopt black children.
"I will bring you $100,000 cash tomorrow if you show me a whole bunch of whites that adopted blacks in Alabama. I will go down there and mortgage my house and get it cash in 20 dollar bills and bring it to you in a little briefcase," Holmes said.
Joy Portis, a Montgomery mother, took to Facebook to react and she has been blown away by the feedback that continues to pour in over her post directed at Rep. Holmes regarding his speech.
"I was just shocked by the amount of support from the community. It was really encouraging," she said.
Portis posted a picture of her husband Cole  and herself, surrounded by their eight children, telling Holmes that they are one of many Alabama families who have welcomed children of different ethnicities into their homes with open arms.
"Meet our family. We see people, not skin color, and there are many families like ours here in Montgomery and all over the State of Alabama! When you really want to meet families like ours, name the time and place! Maybe one day you'll be colorblind as well and love others and stop trying to continue to segregate based on race," she wrote with the picture, which proudly shows the couple's three biological children and their adopted children, including their two daughters from Ethiopia, their biracial son with Downs Syndrome and African American son.
The family has also been joined by two foster children and an exchange student and the Portis' are in the process of adopting their ninth child from China.
The post has 1000 likes and has scores of comments and shares.
"Families are created in all different ways, in all different colors and all different abilities. We love our children. I don't look at them and see my African American child or my child with Downs Syndrome. We love them all the same," Joy Portis told WSFA. "Life is precious. We are all created in the image of Christ and whether your skin color or your ability or disability, their life is valued and precious and we need to be here to open our homes when they're not wanted."
Rep. Holmes said he was aware of the Facebook post and that he respects Portis and her husband.
"I commend her and her husband for having a lot of mixed children, taking them in and taking care of them but I can guarantee you one thing- you can count the number of white families in Alabama that are going to do that," he said Monday.
Holmes, a Democrat, said he stands by the comments he made on the State Floor and admitted to getting a lot of "ugly" telephone calls afterwards.
"Let me say this to the people of Alabama, I'm 100% for integration and interracial marriage. In fact, I was the one who led the fight in the state legislature for interracial marriage. On the other hand, I made a statement that there are a lot of whites in the state of Alabama who do not want their daughters marrying black men and I still stand by that statement. Not all white people but many, many, many do not want their white daughters marrying black men and having black children and I still stand by that statement. I know that I'm right. They know that I'm right but they will never admit publicly that Alvin Holmes is right on that particular issue," he told 12 News.
As for Joy Portis, she says she continues to work with her husband at local churches, speaking with other families about becoming foster parents and she continues to see more couples adopt and foster kids in need of a loving home, taking race out of the equation.
"I hope that as a state and a community and just individuals, that that's how we would continue to see each other and not based on our color," she said.
The Portis family tells us that they plan to meet with several other adoptive and foster families in Alabama who have reached out to them for support after seeing the Facebook post.