Jeff's Journal - 50th Anniversary: Earl Hutto
Published: Jan. 21, 2005 at 4:17 PM CST
|
Updated: Feb. 23, 2005 at 12:04 PM CST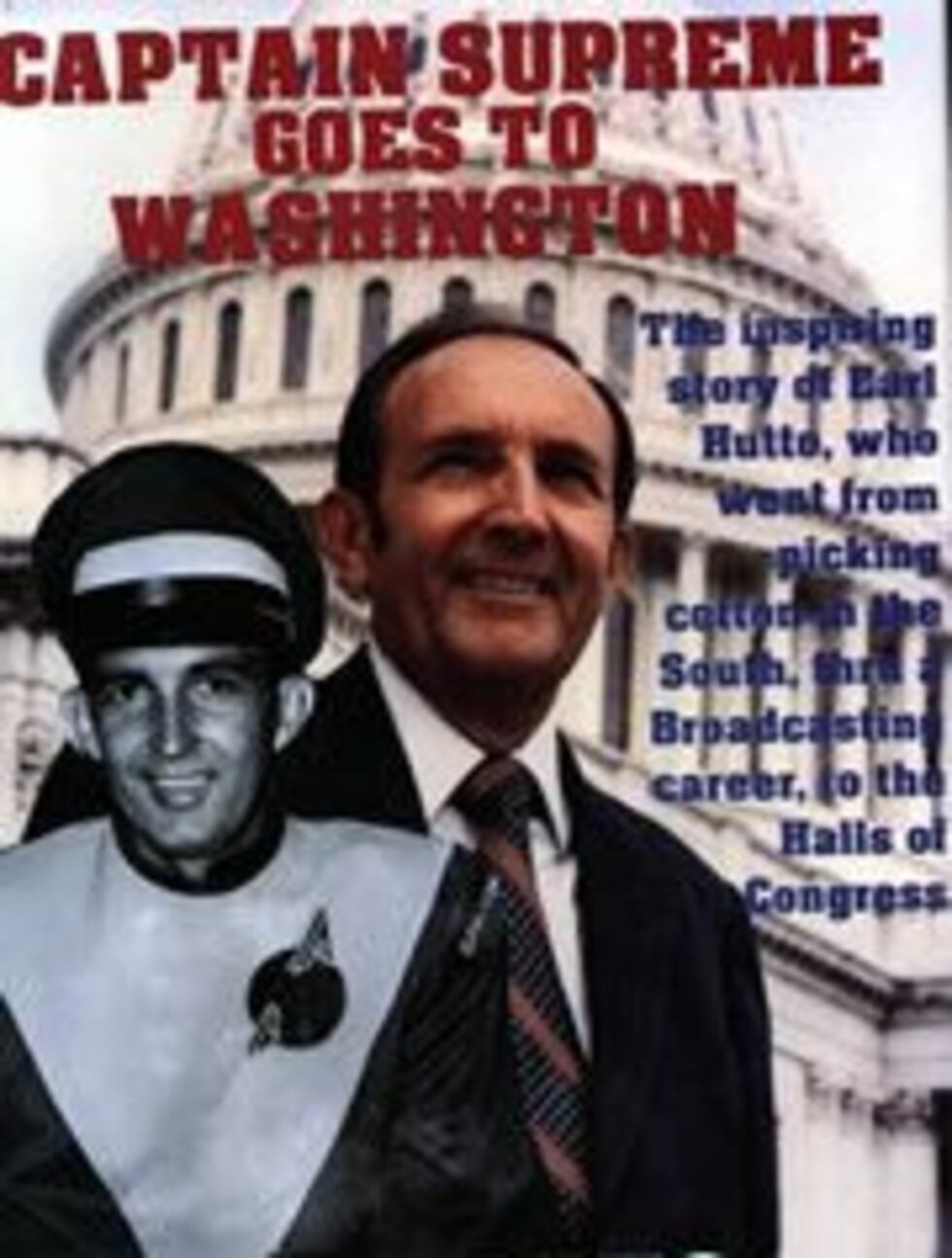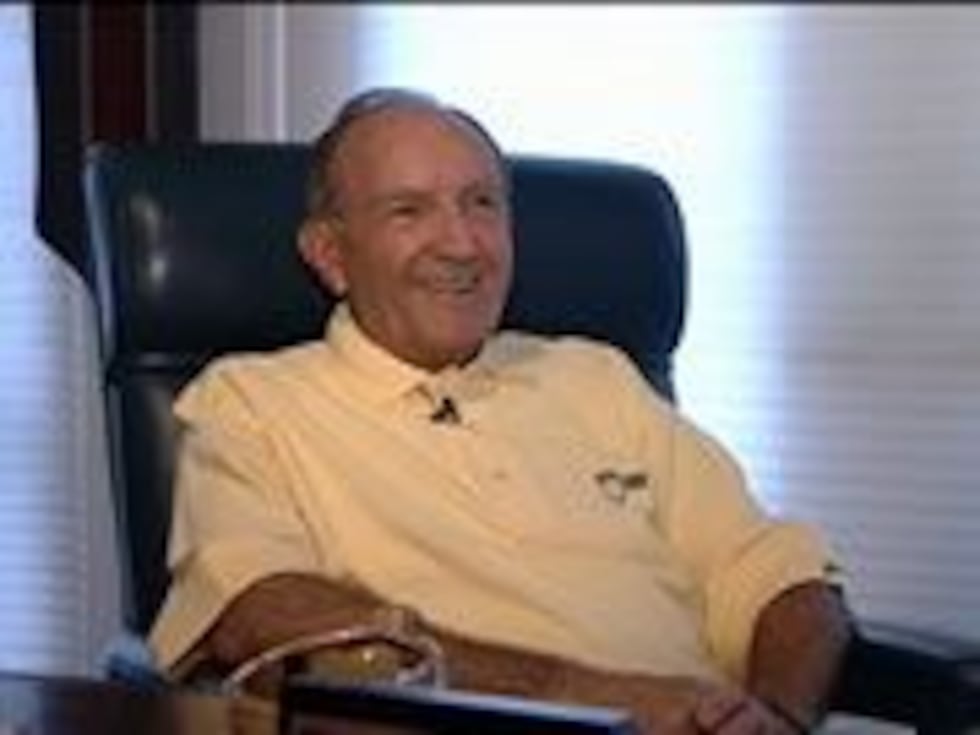 Captain Supreme Goes to Washington.
Intriguing title for a book, wouldn't you say?
"Captain Supreme" is the nickname Earl Hutto acquired as a young sportscaster in the 1950's in Pensacola.
Washington is where he went for 16 years (1979-1994), serving the Florida panhandle in the U.S. House of Representatives.
In between (1961-1963), Earl Hutto served two years at WSFA-TV, the station's second Sports Director.
If anyone has lived the "American Dream," it's Earl Hutto.
Born in poverty in rural Dale County, he became the first member of his family to graduate from high school and college (Troy University).
After teaching business in high school in Cottonwood for two years, he put his broadcasting degree to good use, working in radio in Dothan, then becoming the first Sports Director at WEAR-TV in Pensacola.
"Dothan Ice Cream Company sold Supreme Ice Cream, the South's finest," Mr. Hutto tells the Journal. "They had markets in southwest Florida. They bought my sportscast, and bought a kid's show - Rocky Jones Space Ranger."
"They decided that I would be 'Captain Supreme'," Mr. Hutto recalls, "so they got a uniform that looked more like an airline pilot's, because the Space program hadn't really gotten going then. So I did the commercials on Rocky Jones Space Ranger as Captain Supreme."
Before Captain Supreme went to Washington, he came to Montgomery. In 1961, Leroy Paul left WSFA for a career in business. The station hired Earl Hutto to anchor sports and host the Auburn Football Review.
Mr. Hutto remembers Coach Shug Jordan as an "outstanding gentleman and a good football coach."
"Those two years ('61 and '62) were not good for Auburn," Mr. Hutto says, "because they lost to Alabama by lopsided scores. (34-0 in '61, Coach Bryant's first national championship season, and 38-0 in '62).
"Coach Jordan shared with me that he caught a lot of flak," Mr. Hutto says. "He got a lot of nasty letters and phone calls."
Mr. Hutto fondly remembers a trip to Tuscaloosa to interview the Bear and preview the season for the Crimson Tide.
"I remember going to the University of Alabama to film our preseason show. It rained like everything, but about the time that we were supposed to go out on the field - and this is true - Coach Bear Bryant walked out, and it quit raining," he recalls with a laugh.
Producing the Auburn Football Review was an all-night proposition for Mr. Hutto.
"It was was an arduous task and I could've made it easier, but I didn't like the idea of going from one play to another without a huddle. So I put in a lot of footage between every play so it would look more like a regular game, and people seemed to like that a whole lot."
Mr. Hutto remembers getting only an hour or two of sleep before it was time to get back to the station Sunday afternoon to meet Coach Jordan.
Long hours. Sleepless nights. That deserved a raise, Mr. Hutto thought. WSFA's Station Manager, Carter Hardwick, disagreed.
"I was making 75 dollars per show, and I thought it was worth a little more than that. Mr Hardwick didn't see that. He said no. And I felt very strongly about that, so I left."
Wow! Quitting your job because the boss wouldn't give you a raise? I suspect everyone who's ever worked has had that thought cross their mind. But actually going through with it?
That's why I refer to Mr. Hutto as a "man of principle."
Mr. Hutto was out of work for several months before he landed a job at a station in Panama City, Florida.
"It was a blessing in a way because it wasn't easy to find a job," Mr. Hutto remembers. "I can relate to people out of work. It made me pretty humble and thankful when you do have a job."
Before he left WSFA, Mr. Hutto remembers visiting the Alabama Legislature with Carl Stephens (who would succeed him as Sports Director) one night after the news.
"They were working late at night," he says. "Sitting up in the gallery, I made a casual comment that Carl reminded me of later on, something like, 'I wouldn't mind being a legislator sometime.' Never thought that I would."
Mr. Hutto covered sports and news in Panama City, where he also met his wife, Nancy. He frequently made the short trip to Tallahassee when the Florida Legislature was in session. After another decade in broadcasting, Mr. Hutto decided to scratch that political itch.
Just like that late-night comment to Carl Stephens a decade earlier, Mr. Hutto casually mentioned before one broadcast that he wouldn't mind being a state representative. "One of my cohorts said, 'Hutto, I believe you could win that representative's race,' and I got to telling myself, 'I'm going to run,' but I figured when I got home that night to tell Nancy, she'd say, 'No way!' But instead she said, 'When do we start?'"
After three terms in the Florida Legislature, Mr. Hutto ran for the United States House of Representatives in 1978. He won in a landslide. A conservative Democrat, he served in the Congress for 16 years before retiring in 1994.
"It's unbelievable for a tenant farmer's son, a sharecropper, to be able to do what I've done and be in the congress of the United States," Mr. Hutto says.
But, he says, the tenor of the debate is different now than it was when he served. "I'm glad I'm not there now," Mr. Hutto says. "It's so partisan. So much bickering. But I have good friends on both sides of the aisle."
"I do hope and pray that we'll return to some civility, because it's really bad now in our country."
Mr. Hutto welcomed me and Derek Steyer into his home in Pensacola one afternoon recently to tape our story on WSFA's Sports Directors (which will air on WSFA 12 News at 6 Feb. 21-25).
In his office, you'll find the desk he used throughout those eight terms in Congress. On top of the desk sits a well-read copy of the Good Book.
On the walls are pictures of Mr. Hutto with the four presidents under whom he served: Carter, Reagan, Bush and Clinton.
His Earl Hutto Foundation raises scholarship money for college students (including those at his alma mater - "Go Trojans!" he says).
The Huttos' two daughters, Lori and Amy, live nearby. The day we visited, all three granddaughters were on his lap in the rocking chair.
Does retirement get any better than that?
For me, meeting Earl Hutto was a "Supreme" privilege.
Next week, we'll catch up with WSFA's third Sports Director, Carl Stephens.
Hope to see you then!
God bless - Jeff