City and state officials discuss I-65, I-85 interchange issues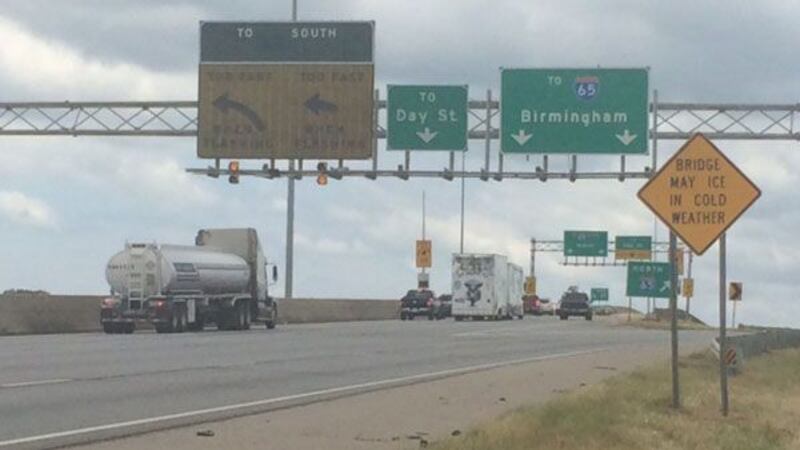 Published: May. 21, 2015 at 10:09 PM CDT
|
Updated: May. 30, 2015 at 1:31 AM CDT
MONTGOMERY, AL (WSFA) - Every day hundreds of vehicles drive through the Interstate 65-Interstate 85 interchange and many drivers get concerned every time they travel on that section of roadway.
"People just zoom past and don't consider other people," said Stephanie McCoy, a Montgomery resident.
"We have had a number of accidents there and mark my word, more accidents are going to occur unless and until something is done about it," said Milt Belcher, who also lives in Montgomery.
According to Montgomery Mayor Todd Strange, there have been at least 65 accidents along the interstate interchange in the past five years with some being extremely serious, even fatal.
You may recall just a few weeks ago, an 18-wheeler fell from the overpass onto West Jeff Davis Avenue. The driver of the truck died.
The interchange is a problem the mayor agrees needs to be addressed.
"It was designed 40 years ago. It's not capable of handling the traffic if you're going much over 30 or 35 miles an hour," Strange said. "When it was designed it wasn't anticipated that we would have the big rigs that are there."
Strange believes there are some things, not just construction, that can be done.
"What we would love to do is put a mechanical speed detection device there. But under Alabama laws you can not in fact do that," Strange said.
He says what makes it even more difficult to fix is the city can't do much because it's not city property.
Thursday the mayor met with Alabama Department of Transportation officials to figure out what can be done.
"I would just hope that we don't have to have a catastrophic event like the junction in Birmingham had before we can get action on this," Strange said. "Because we are going to continue to have people killed there. We are going to continue to have traffic jams because when anything happens on that interchange it just shuts the city down."
Strange tells WSFA 12 News he is hopeful after Thursday's meeting.
He says speed mainly causes the issues. Strange says now they are looking to reduce speed through infrastructure along with law enforcement, perhaps even doubling the fine in that area.
He says ultimately design improvements might help, but that's so far in the future they can't wait and must do something soon, hopefully within the next few months even.
ALDOT leaders say speed is the major problem.
"Every indication we have seen with crashes in that interchange indicates speed is a contributing cause," said Tony Harris, a spokesperson for ALDOT. "Today's discussion between the city and the department centered around enforcement and what can be done from a safety counter measures standpoint in the existing interchange. Both the city and ALDOT have common concerns about that location and will work together to address those."
Copyright 2015 WSFA 12 News. All rights reserved.