Gov, ALGOP have pointed response to Clinton's 'Jim Crow' comments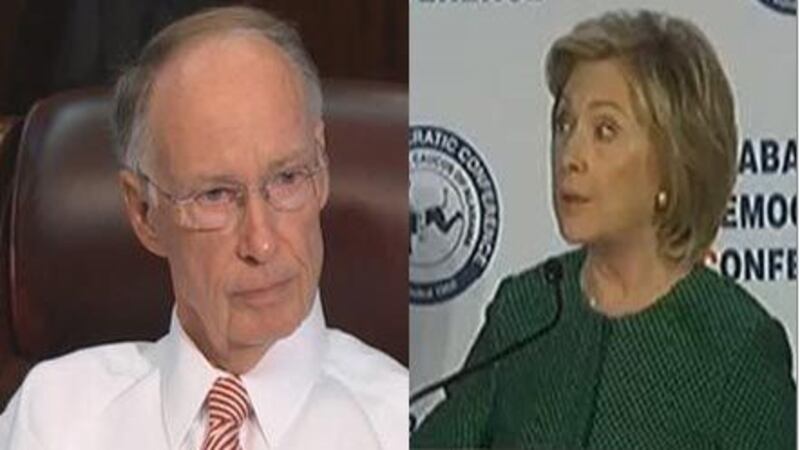 Published: Oct. 19, 2015 at 3:01 PM CDT
|
Updated: Nov. 18, 2015 at 4:29 PM CST
MONTGOMERY, AL (WSFA) - Former U.S. Secretary of State and Democratic presidential candidate Hillary Clinton spoke at the Alabama Democratic Conference in Hoover Saturday, and her comments about Alabama didn't go unnoticed by state leaders.
Clinton focused several topics in her speech, including the importance of voting and how protecting that right is essential. But when the focus of her speech turned to the recent battle over the closing of 31 satellite DMV offices, mostly in the state's poor Black Belt region, she quickly grabbed the attention of Governor Robert Bentley. Clinton again asserted that the closures were "a blast from the Jim Crow past".
The governor didn't hold back on his critique of Clinton's visit, saying she was only trying to score political points.
"It seems Mrs. Clinton isn't as well versed in Alabama's budgeting process as she is in exploiting a situation for her personal political gain," the governor said. "If she were, she would know the closure of 31 Alabama Driver's License offices is based on a shortfall in funds appropriated by the state Legislature to the Alabama Law Enforcement Agency."
The Republican governor continued against the Democratic presidential frontrunner, "To claim this decision is based on race is absolutely not true. Suggesting otherwise should be considered an effort to promote a political agenda, an area where Mrs. Clinton has often clearly demonstrated her expertise."
And Bentley offered a plan, of sorts.
Alabama will continue to work toward solutions to solve our budget shortfalls. Meanwhile Mrs. Clinton can work to solve our country's $18 Trillion debt, in the unfortunate event she is elected President." - Alabama Gov. Robert Bentley
Clinton's visit also drew the ire of Alabama Republican Party Chairwoman Terry Lathan, who said Clinton's, "inaccurate and divisive language this past Saturday in Birmingham once again illustrates how out of touch she is with Alabama," and called the remarks "insulting to all our citizens."
"Hillary is simply distracting everyone because her record is a failure and her leader, Barack Obama, is presiding over years of economic decline." - Alabama GOP Chairwoman Terry Lathan
Lathan said the ALGOP wants Clinto to "set the record straight about Alabama's easy way of getting a free photo ID for citizens and to finally step up and discuss her failed record."
Clinton's stop in Alabama is the latest by a presidential candidate, who have mostly been Republicans seeking their party's nomination. Alabama has not voted for a Democrat for president since Jimmy Carter in 1976.
Copyright 2015 WSFA 12 News.  All rights reserved.