New Yorkers treated to AL beach, food in creative marketing campaign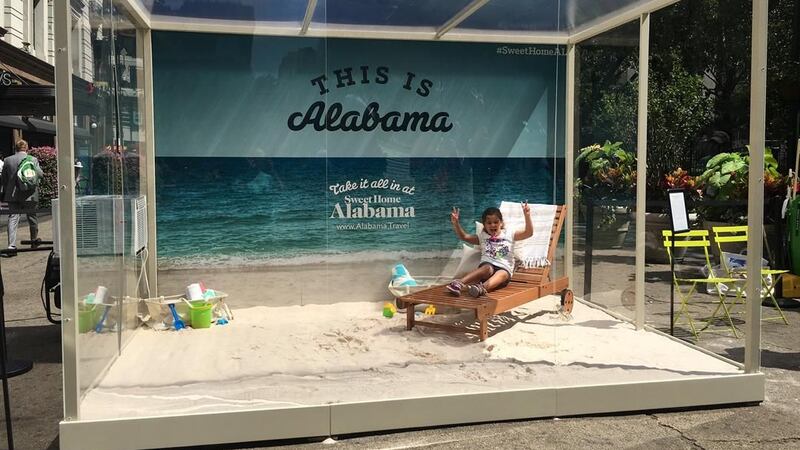 Published: Jul. 25, 2016 at 8:12 PM CDT
|
Updated: Jul. 25, 2016 at 9:32 PM CDT
MONTGOMERY, AL (WSFA) - An Alabama beach in the middle of Manhattan? Yep. That's what happened last week as New Yorkers made their way around the nation's most populated city. So why was an Adirondack chair and beach toys from a state a thousand miles away bringing smiles to residents of NYC? It's all part of a well crafted tourism campaign.
New York City took on a bit of Alabama with a realistic-looking sandy beach, samples of good food, and a tour bus dedicated to the sounds of the Yellowhammer State, all courtesy of "Savor Alabama" a new marketing campaign by the Alabama Tourism Department.
The campaign included one of those popular double-decker tour buses, taken over and transformed with a custom-wrap, urging a little more calm in a very busy part of the world.
One one side, the bus looked like a moving beach scene, emblazoned with "This is Alabama" as it crisscrossed Manhattan. Those aboard enjoyed multiple stops at all the major landmarks, including Times Square and the Empire State Building, where they took in tour experiences showcasing the sights and sounds of Alabama.
On the other side of the bus was another of Alabama's secret weapons: It's delicious foods. More on the food sampling further down...
"Touring a whole state while visiting a city that is in a different state altogether, seems like an impossible feat," said Lee Sentell, director of the Alabama Tourism Department. "But we brought the sights and sounds of Alabama with us, and are eager to engage with people in creative ways that allow them to walk away feeling excited about a new vacation destination."
The bus's tour guide was Brendan Powers, the man featured in all of Alabama's Road Trip commercials, and he was joined by musicians from Alabama who shared a live performance throughout the tour.
Now more about that food...
What would you do if you found a giant plate with a big red button in the middle of your city? You'd probably push that button, and you wouldn't be alone! Plenty of New Yorkers did just that 'for a taste of Alabama'. The result was a sample of Belle Chevre cheesecake, and plenty of smiles.
"New York is known for their amazing cheesecake," Sentell said. "Belle Chevre's goat cheese cheesecake offers a twist on a city favorite! We thought the similarities would be a delightful way to show that everyone can find comfort, and great food, in Alabama."
The cheesecake vending event happened at Chelsea Triangle. Folks like this NYC employee were greeted by a hand offering a sample of the Alabama delicacy! Now that's some Southern Hospitality.
If you've ever been to NYC, you know it's a concrete jungle; miles and miles of pavement below those skyscrapers. So what better way to explain why a tourist should consider Alabama than the white, sandy beaches? Grab your flip flops!
Folks near Herald Square, like this little girl, were greeted with a replica of Alabama's Gulf Coast in order to relax for a moment. In addition, sounds and scents filled the booth, giving those inside an opportunity to savor the experience of a trip to an Alabama beach.
Visitors were encouraged to "feel" Alabama by pausing to sit on a beach chair. Below their feet was authentic, snow-white beach sand brought in from Baldwin County. A backdrop of the coastline finishes the concept.
"We are turning the table and bringing the beach to New York, so that they can experience it for themselves," Sentell,explained. "We are excited to be able to introduce one of Alabama's most treasured gems, and the sensations and wonders that go along with it, to a new audience."
"There's no denying that Alabama offers a unique blend of natural beauty, historic importance and rich culture," Sentell said. "We feel offering a one-of-a-kind blend of technology, interactive experiences and Southern hospitality presents an opportunity to display Alabama in a memorable fashion that accurately sums up the state as an ideal travel destination."
The campaign drew praises from Gov. Robert Bentley.
"What the Alabama Tourism Department did was reveal the true Alabama to an entirely new audience," Gov. Bentley said. "This campaign was innovative in its approach to reaching new audiences. I hope that some of those introduced to our "Great State" last week will soon make their way here to experience all Alabama has to offer."
So whether it's "Go Yankees" or "Go Mets", pull up a lounge chair and feel the sand. It may spark a "Roll Tide" or "War Eagle", and if the Dept. of Tourism has its way, a trip south to see the real thing.
Copyright 2016 WSFA 12 News. All rights reserved.