Little Free Library arrives In Tallapoosa County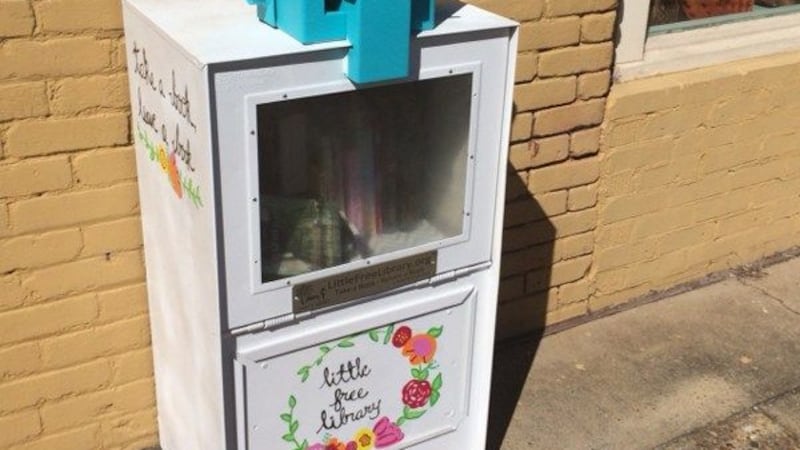 Published: Sep. 29, 2016 at 2:54 PM CDT
|
Updated: Sep. 29, 2016 at 8:59 PM CDT
ALEXANDER CITY, AL (WSFA) - At first glance, the little vending machine on Main Street in Alexander City appears to be just another newspaper stand but that is not the case.
It is actually the new Little Free Library.
It's the brainchild of Jamie Foshee, who is the assistant librarian at the Alex City Public Library.
"It's important for us because of our love of books. We love books and love the kids. It's a community book exchange," said Foshee.
Although the Little Free Library is new to Tallapoosa County, it is not new in other parts of the country.
The original Little Free Library started seven years ago in Wisconsin by a man who conceived it as a tribute to his mother who was a book lover and school teacher. Today, there are an estimated 15,000 little free libraries worldwide.
"You walk up and find one that interests you. You can take the book and keep it forever if you want, or you can bring it back and bring one of your books from your home and leave it for someone else to read," said Foshee.
Chelsea Lloyd had the assignment of cleaning up what used to be an old newspaper vending machine and painting it, including coming up with the catch phrase 'take a book, leave a book.'
"I worked on it for about a week. The thought of sharing books, that really appealed to me," said Lloyd.
No doubt book lovers will marvel over this creation once word gets out. Foshee is aware there is always that risk of someone wanting to leave inappropriate materials inside the box.
"I believe people will use good discretion on what to do," Foshee said.
Right now, the Little Free Library has more than 20 books; a number that is bound to grow over time.
The Little Free Library in Alex City is the only one so far in Tallapoosa County. There are books waiting to be read, stories that could very well take you where you've never been before, a journey that won't cost a dime.
Copyright 2016 WSFA 12 News. All rights reserved.