Parents voice school bus safety concerns after 7-vehicle crash
Published: Nov. 30, 2016 at 9:19 PM CST
|
Updated: Dec. 1, 2016 at 4:33 PM CST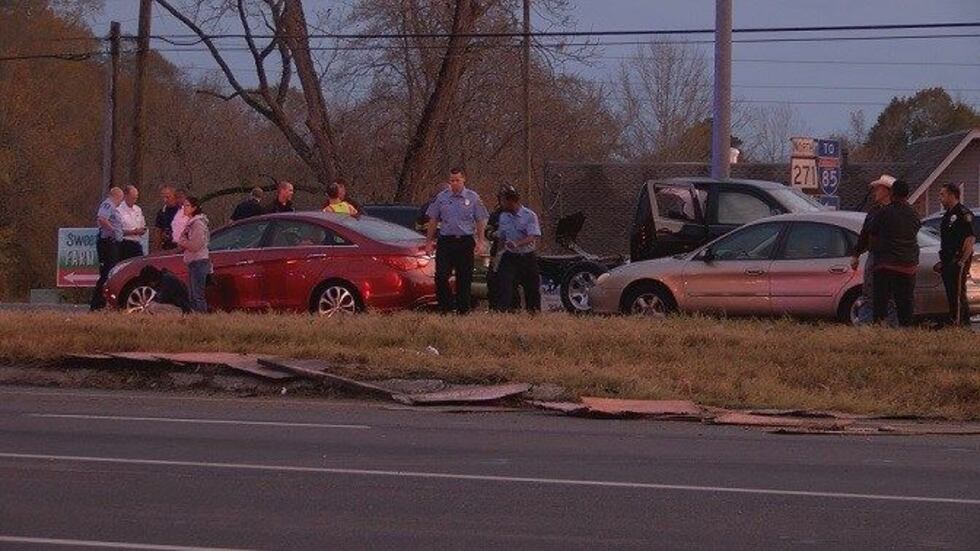 MONTGOMERY, AL (WSFA) - Several people are recovering following an accident involving a school bus, tractor trailer and several cars that shut down a major Montgomery intersection for hours.
It happened at Troy Highway (Highway 231) and Taylor Road around 4 p.m. Wednesday.
Five people were injured and taken to the hospital.
Backups in every direction caused traffic headaches during rush hour as crews worked to get the scene cleaned up. The intersection reopened at 7:30 p.m., but workers were still on the scene after 10 p.m., making sure the roadway was safe to drive on again due to liquid spills from the wreckage.
Witnesses described a very bad scene, indicating that one person had to be cut out of their vehicle and that another driver was covered in what appeared to be oil. Then there were the 20 students on the bus belonging to Montgomery Public Schools, who endured a very frightening ride.
A photo taken from the crash site by Lt. Regina Duckett, spokeswoman for the Montgomery Police Department, shows children coming off the bus, surrounded by debris scattered across the road.
Three of Darrel Scott's children were on board the bus. He says kids screamed as they were propelled forward on impact, leaving some with minor scrapes and bruises.
"It was very frantic with what was going on on that bus but they made it out safe. They hit their heads on the seats but other than that, they're fine," he said.
Investigators say the tractor trailer ran a red light and struck two vehicles. That caused a chain reaction of crashes involving the school bus and three other vehicles.
"The cause of this crash is under investigation," Lt. Duckett said. "We did have five people who were transported, two adults and three juveniles. The last update is that they are stable, non-life threatening. The school bus was involved but the bus sustained very minor damage and no children on the bus were injured."
Traffic was rerouted off of Troy Highway for a period of time and some drivers said they waited more than an hour to get through. At one point, congestion on Taylor Road went to the interstate. But motorists were glad to hear that there were no serious injuries.
"It scared me because I'm not used to seeing all of these flashing lights. I'm glad the children are alright because it could have been one of mine. I feel for the families and I just hope everyone will be OK," said Quntrezzee Greenwood.
Greenwood was trying to get back to Troy when she got caught up in the traffic from the accident. She decided to wait it out by pulling into a gas station.
"It didn't look too good coming up the highway so I've just been sitting here praying for everyone involved and that God was with everyone," she added.
Darrel Scott says school buses need seat belts for the young passengers they transport.
Last week, a school bus in Chattanooga, Tennessee crashed, killing six children and injuring even more. The tragic incident sent shock waves across the country and reignited the debate on whether the buses should be required to have seat belts/shoulder harnesses.
"I think seat belts on the bus will really help out a lot. Some things are just out of your hands, but seat belts are something I think they can implement and put on the buses," Scott said. "I just pray that everybody will be OK."
State Troopers with the Motor Carrier Safety Division conducted a post-crash commercial vehicle inspection at the request of the Montgomery Police Department, as local and state agencies investigate the accident.
On Thursday, two people who were injured, both juveniles, were still in the hospital.
It's unclear if the driver of the tractor trailer will face any charges.
Copyright 2016 WSFA 12 News. All rights reserved.