Giraffe at Montgomery Zoo thrives after unique procedure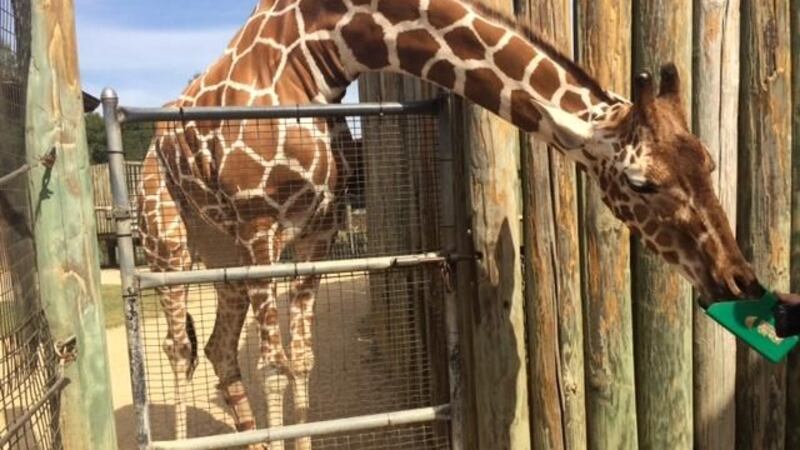 Published: Feb. 3, 2017 at 11:00 PM CST
|
Updated: Feb. 3, 2017 at 11:18 PM CST
MONTGOMERY, AL (WSFA) - With the assistance of a university and a business nearby, along with some love and hard work, Montgomery zookeepers were able to save a giraffe that likely wouldn't have had a chance elsewhere, even out in the wild.
At first glance, Jenna is a typical giraffe, yet if you take a closer look you may notice something different. The 11-year-old, 14-foot-tall animal has a brace along her right leg.
In January 2010, Jenna was spooked and fell down inside the barn. She broke some bones in her leg, which caused a tendon to contract. That forced her to walk on the top of her hoof.
"We knew at that point it was do-or-die," said assistant animal care manager for Montgomery Zoo Jason Bienlen. "We had to immobilize her and find out what's going on or the worst case scenario, euthanize her."
Bienlen said, typically, a giraffe can't survive this type of injury, and it's not believed a zoo has ever been able to save a giraffe in this situation. With the help of Auburn University's College of Veterinary Medicine and an Opelika prosthetic company, Hanger Clinic, the Montgomery Zoo did the unthinkable.
"Hanger Prosthetics came down, and they looked at it. We took a mold, and they actually designed that prosthetic brace, and that's what we've used ever since," Bienlen explained.
Experts say they continuously monitor Jenna to make sure she is not in pain and make adjustments when needed. It's believed she will always have to wear a brace, but she should live for another 20 years.
The hope is that her case will make a difference for zoos and animals all over the world.
"It's huge! In giraffes, it's unheard of to keep a giraffe still alive after something like this happening," Bienlen said. "So this really is a big deal. Zoos are pretty close knit. When something happens and they don't have the knowledge to do it, first thing they do is pick up the phone and call other zoos. We're always very open to sharing. I think it definitely will help out other zoos and not just in the United States but throughout the world, because this is a worldwide thing, there's giraffes in captivity everywhere."
Bienlen says giraffe populations in the wild are declining. "There's gonna come a point someday where this is where you can only see giraffes is here at zoos. That's unfortunate but that's what we're looking at in the future unless something is done."
Copyright 2017 WSFA 12 News. All rights reserved.